A Black Cat called Panther
A Black Cat called Panther
Last Update:
February 28, 2021

Hello everyone, my name is Panther, and my owner is Yvonne. She is a member of Wealthy Affiliate.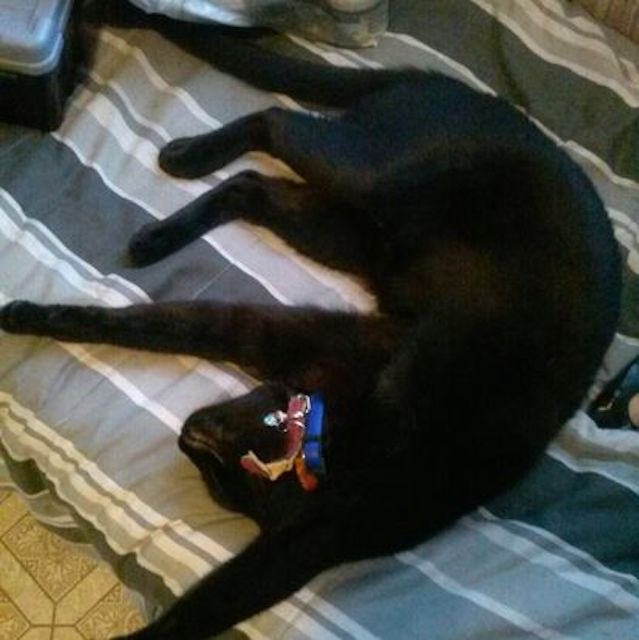 I am resting at the moment from helping out researching and typing Yvonne's next Blog. She talks to me a lot about it; thank goodness it's nearly finished. Then we can all go back to watching a movie in bed on her iPhone.
I like cuddling up to Yvonne; she is warm and not afraid of my black look. When she took the photo of me, I was trying to get some sleep. So I did a big Meow for the camera. I'm saying, Hello.
When we are not busy with work and Wealthy Affiliate I will catch a rabbit or a rat. I don't eat them I bring them home for the dogs to eat. They don't bring anything home for dinner.
One day I caught a big rat and carried it home, and I dropped it in front of the dogs; they looked at it, looked at me. I don't think they liked getting a rat for dinner; I know Yvonne didn't, but instead of getting a scolding, she said, good boy Panther, job well done, here have some cat biscuits.
I'll tell you a little story about me. I was born in Alice Springs, during the big mouse plague between South Australia and the Northern Territory. My mum taught my sister and me how to kill mice in a caravan repair shop. They also used to sell food, packet chips, sweets, rice, and lots more lovely human food.
Before we were old enough, mum did all the catching of mice. The mice one day ate through a whole stand full of Smith Chips. Mum could not keep up with the task independently, so she started training us as soon as we were old enough. We finally got all of them, or they moved on.
I have a sister called Lily, and we together travelled from Alice Springs to Tennant Creek; we lived in Tennant for two years. Then we crossed the Queensland border to Rockhampton. We were there for twelve months. Then we travelled down the east coast to Newcastle and stayed with Stuart's mum. She was very ill. Us animals lived downstairs under the house. Lily and I were kept busy eradicating mice and rats around the area.
After 12 months in Newcastle, we travelled to South Australia. We have been here for five years. Everyone here has cats. They help keep the mice away from the grain. Most of them live in sheds where the bales are stored for the sheep and cattle.
That's the story of me. I wish you all success at Wealthy Affiliate.
YvonneBray's Posts
100 posts