Wishing Everyone a Happy New Year
Wishing Everyone a Happy New Year
Last Update:
January 01, 2022
Hello WA Friends,
I just wanted to take a short minute and wish everyone a Happy New Year here in WA.
The night went as expected around here with dinner and back to work on my posts. Fireworks were blasting off until the early hours of the morning, we get a lot here that shoot them.
This past week I spent going through 26 posts fixing them for SEO. Some have already ranked. Many of the posts were not indexed and had issues that Google alerted me about.
Once I saw the old posts and the issues I decided to look at my entire site while it's still early enough. These posts were from 1000 words to over 2500 words and many looked terrible.
Images and many other issues made me want to make them right, not as much for me but more so for my readers landing on my post.
So I've been consistently working on the posts every day and when they score 97 to 100% in AIO I've republished them. They're doing better rank-wise and read much better than before.
I'm more than halfway through the posts on my site and I plan to continue until all are done. Once complete I will start creating more content daily and forge ahead.
I removed pretty much all affiliate links and left my sidebar banners to refer visitors towards. Hopefully, these actions will continue ranking posts that were otherwise not indexed.
I have several that Bing ranked quickly to the number 1 spot, most of the rest are on page 1.
Some that were previously on pages 2 - 5 are now on page one of Bing, look at this image. This is 28 days and I submitted the first batch to Google search and Bing on Dec. 26th.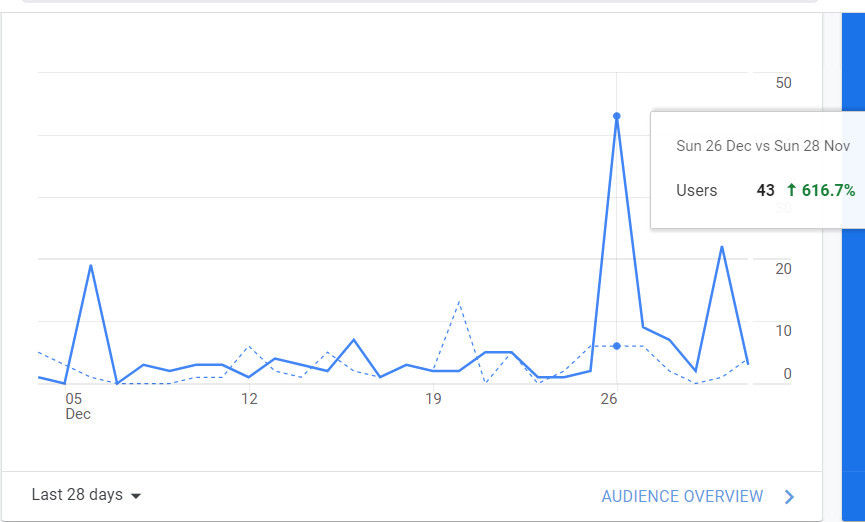 Analytics shows the spike on that date which was unexpected and it motivated me. Moving forward I plan to continue creating content and focus on the social media aspect.
That is after I go take a short nap, I hope everyone has a great day.

Happy New Year!
John
Webcash2us's Posts
60 posts