Les Waller's Weekly Update #11 & #12
Last Update:
November 28, 2020

Past 2 weeks not much to update, as a matter of fact I was just going to say no more updates until 2021.
However, something happened last night. :-O
Remember the YouTube shorts videos I talked about?
Well, my exercise channel went from 50 subs to 149 subs overnight. Here's the kicker, one video got 69,000 views equaling 366 hours of viewtime!!! So, tell me shorts videos aren't important if you are trying to grow a new channel!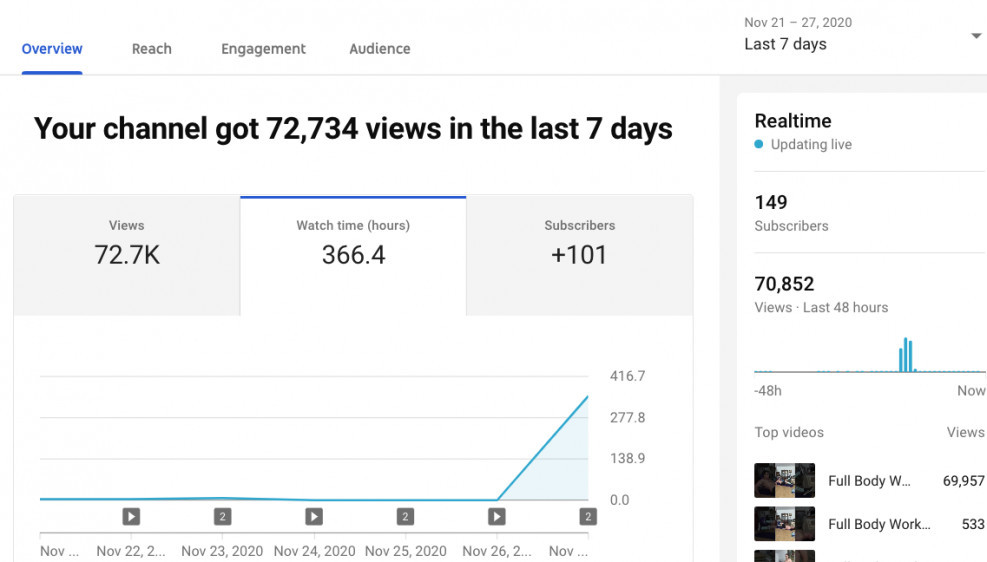 It's just too funny, I was laughing for a good 3 minutes after waking up to this.
Anywho, no real updates, my priority is still finding a job after 19 Jan 21.
Oh, yeah, I'm a little (lot) disappointed. In August in reply to a comment I made, Kyle said wait for the changes in October and it'll be sure to help you getting to the 100.
Well, the changes came in November and none of the training was updated so it didn't help me in the least. And, once I found out I was losing my job I stopped spending money on ads.
Once I'm sure of a new job I'll start working things that are out of date in the boot camp trainning but I'll have to rely on others in WA to help with my questions because I have a feeling that the "training" I need will be in the uber premium account. Booo!!!
I won't join the uber premium account until I'm earning enough to pay for it from WA referrals. Then I'll have no problem upgrading as its a tax writeoff.
How were your past 2 weeks? Any significant progress?
Hope you all (Americans, that is) had a great turkey day! And for everyone else hope you had a successful two weeks!!!
Love you like my brother!
Les
Wallerdog's Posts
30 posts