WA Vegas Conference 2022 - My best year yet!
Last Update:
March 03, 2022

Hi folks, I rarely blog in WA (something I aim to fix in 2022), but I wanted to write up this post on my experiences in the recent Wealthy Affiliate Vegas conference which I returned home from a month ago and touch base on how awesome it was and more importantly why you're in the right place to achieve all your online goals and what to expect in the year ahead!
The first thing I want to say is that this conference was logistically very different for me than any other I've done before and here's why:
For starters, I took a 5 day road trip prior to the conference starting (phase 1):
Officially the WA conference would begin Jan 30th, but I decided to land there on the 25th and upon arrival, I quickly got myself a rental car and began a personal road trip I'd been wanting to take for a few years and that was a trip across Arizona (and some parts of Utah).
For the first 2 nights of that trip, I stayed in a city called Flaggstaff which is close to one of Arizona's most popular gems: Sedona. I would then spend a day and a half exploring this region and let me tell you, it is stunning. Red rocks, caves, challenging and scenic hikes, everything an adventurer like myself could ask for!
I did so much hiking in one of my days there (over 20 miles) that I actually injured myself pretty seriously, but would I let that stop me from continuing my plans? Absolutely not!
The 3rd day I went north to the Grand Canyon which would be my first time there. I hiked a little down one of the main trails there but had to turn back because of the injuries. I went back up and then made my way to Monument Valley (Utah).
The next 2 days involved me going back to Arizona, but this time heading westward to Kanab, Utah, then checking out some national parks there again (Zion, and Bryce), before heading back to Vegas, but not before making a few stops along the way, including:
Kannara Creek Falls (an icy walk in water inside a canyon to a waterfall).
Valley of Fire State Park (awesome park near Vegas).
Doing some incredibly scenic drives on Interstate 15 and getting a speeding ticket for speeding (according to the cop, I was of course innocent ;)).
Here are just some of the many pictures from that crazy adventure: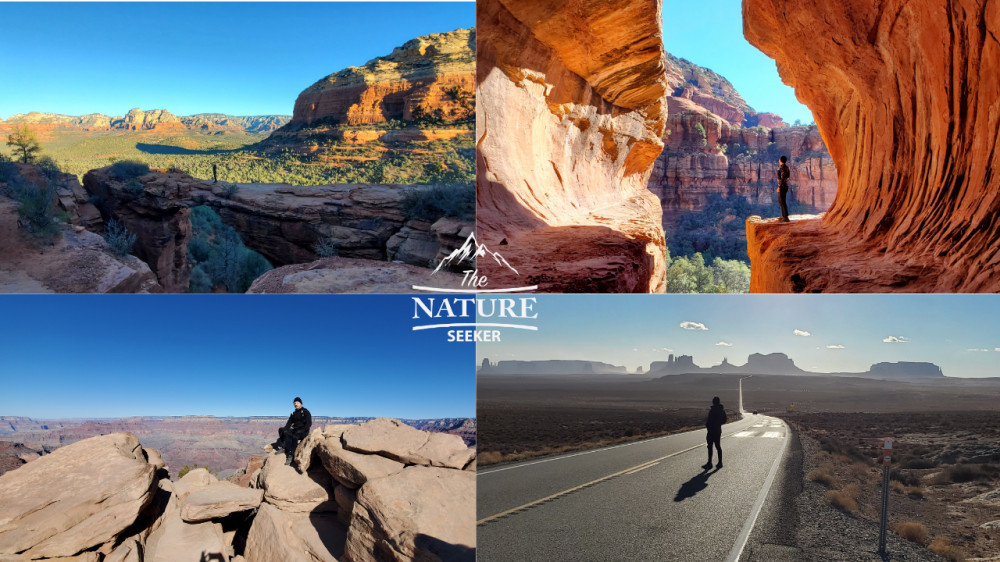 Phase 2 (Return to the WA conference!):
From the moment I returned from my trip, it was straight to the conference to see Kyle, Carson and the rest of the group. This time around, there wouldn't be that many of us as usual due to the annoying policies across the world restricting people from travel. At the same time, this would be our reunion after the fact that we had to cancel our 2021 conference due to the pandemic.
Seeing the guys again was amazing and surreal to say the least! And from the moment that conference began, it was right back to where we left off the last time: Good and productive times, the details of which are explained in Kyle's post on Vegas here.
This time around, as with every conference before it, we all focused on how to do several things:
Continue to grow our businesses.
Continue to help WA grow.
Continue to help YOU, the members grow and succeed.
And for every single goal, we came out with an action plan, and more importantly things that are going on right now behind the scenes that are accomplishing all of that, especially the last part where we help you succeed: By offering more classes, more training, more tools, and more of everything you've come to know and love about WA, but in a more optimized fashion so you can get more out of your membership here.
The fun times were also happening in WA as well! We went to a hockey game, played at the tables, had amazing food and more.
Kyle and Carson always know how to show us an amazing time and I can't thank the guys enough for everything they did for us for this conference, and everything they do for all of us behind the scenes.
I came in to Vegas with a little bit of pessimism on my end because 2021 was a bit more difficult for me in the business department than any other year prior and there even a part of me which wondered if this would be my last year there.
But afterwards, I came out of the conference with a renewed sense of hope, optimism, ambition and everything I needed to push ahead in 2022 to make it my best year yet and in addition to that, also help others in WA do the same. It's another major thing I want to thank Kyle and Carson for and that is no matter what circumstances exist, those guys always push forward and look for opportunity, optimism and ambition no matter what. It's an important reason for why they (and ultimately us) are successful.
Phase 3 (One more road trip to end my 3 week hiatus):
On the final night of my Vegas stay, a buddy of mine flew in and the next day, we started on an 8 day road trip. 6 of those days, he'd be with me, and the last 2, I'd be by myself again. The same night he came by, Eric, one of our super affiliates was still in Vegas (he was supposed to leave days ago, but his flight kept getting moved/cancelled) and so the 3 of us went out to dinner: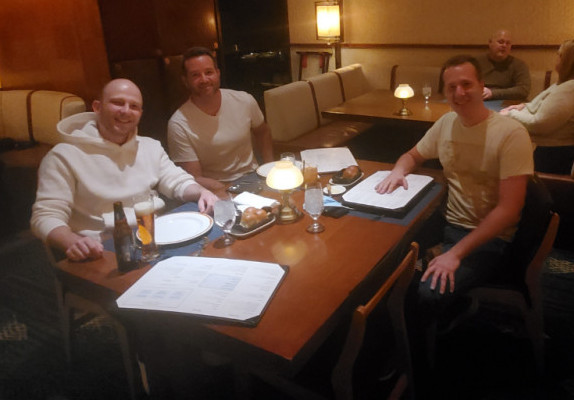 The day that proceeded, I felt like I was on cloud 9, with 2 phases of my trip in the books and awesome experiences in pretty much every part of the trip, I was ready to commence the final phase and the goal was to make sure I get everything I could out of it!
And so my buddy and I exited Vegas, and our first stop was to Joshua Tree National Park, where we found a secret hike that involved caving to some extent. Here's some more pictures from that fun experience (and others):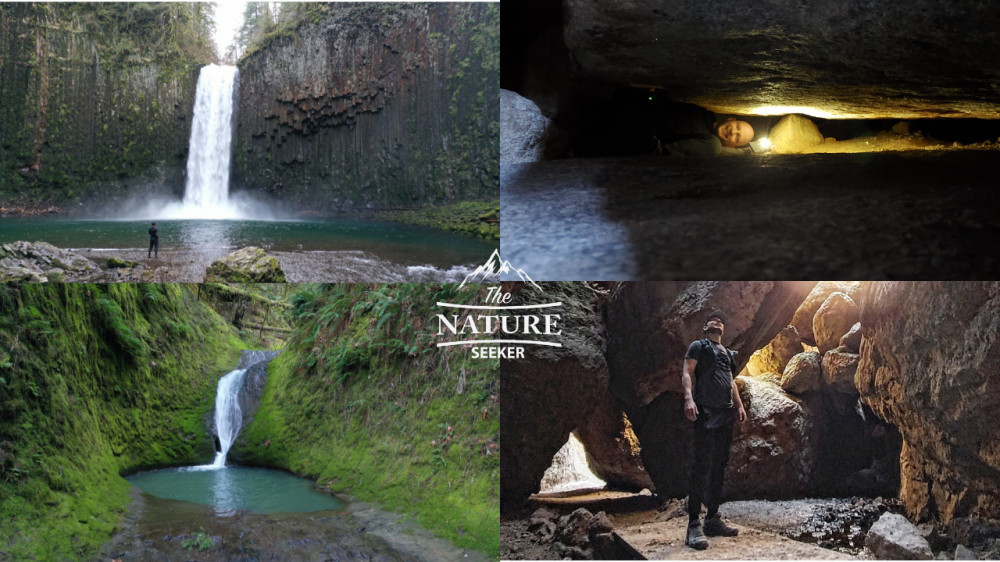 After that, we went to LA to meet with an old friend of mine, and the next day, headed up north, slowly making our way through several beautiful nature areas and meeting other awesome people. Here's what went down:
We went to Angeles National Forest.
We also took a boat ride at Pyramid Lake (awesome experience).
We checked out Pinnacles National Park.
I saw more of my old friends from the east coast who moved to the west.
Fell through some snow and had to be rescued by an onlooker (at Lake Tahoe).
Went to the west coast to enjoy the beautiful areas there.
Went to Oregon, dropped my buddy off there and then went to explore more of Oregon (secret waterfalls, long hikes, even hot springs!).
And of course, there was so much more that went down during those next 8 days. But by the end of it, I was staying in Portland, checking ou some sights in Columbia River Gorge, and honestly looking forward to getting home and getting back to work!
My plane took off around midnight on Feb 15th and I landed back in NYC at 8 a.m. Caught up on some much deserved rest and then resumed my work!
Overall, these 18 days I took for the trip were amazing. I love the outdoors and mixing it in together with the Vegas conference, to me provided an awesome balance of fun, work and hanging out with amazing friends, while also having a productive time in the process. It's something I aim to do in the future!
I want to once again thank Kyle and Carson for everything they did for us this year, inside and outside of WA and want to reassure anyone who is doubtful or not where they want to be yet, that this is the right place to be if you seek online success. We are here to help you and this year, more than any before it, we want you to utilize the tools, support and training here to make the most out of your membership!
Onward and up! And for anyone wondering, I will also be resuming my Premium Plus classes very soon (just working on improving my lighting and filming accessories).
Thanks for reading!
Vitaliy
VitaliyG's Posts
74 posts