Google, heard of it?
If you are like me, you rely on Google for pretty much everything, from research, to product reviews, to solutions to problems. Google has billions of users, actively using their search engine every day to find stuff.
Introducing Search Engine Optimization...
Our goal with our website, in particular in the first 6-12 months with it is to get lots of rankings in Google (and other search engines) and to do so for FREE.
This is accomplished through what is called Search Engine Optimization (SEO), which is something that you are going to become very knowledgeable with in a short period of time. You are going to learn how you can show up in Google, get traffic, and generate a lot of revenue as a result.
I have created a video walking you through the fundamentals of a successful SEO ready website and I also show you how to set-up your The SEO Framework plugin, which is going to be the framework for getting your website prepared for SEO.
SEO is NOT Rocket Science.
People tend to overthink SEO and think there is MORE to it than there actually is. Part of the problem is that there is so much misinformation online about SEO.

I can tell you, first hand, it is not rocket science. You don't need backlinks, you don't need to know some random secret, you don't need PBN's (if you don't know what that is, don't worry) and you don't need to be an expert author.

There are a few basic components to SEO that are going to be our focus as we move you through the training. I am going to give you a quick overview of these, not to add to complexity or overwhelm you, but rather add simplicity.
Initial Website SEO Set-Up (which we will be covering today)
Keyword Selection
Content Length
Content Structure
Engagement
Social Elements
Time (Authority)
Frankly, wipe clean your SEO knowledge. You are going to be learning how to rank not just now, but for years to come as you move through the Bootcamp training. It is in my best interest to see you succeed with your SEO and I want you to see results!
The Incredible, Long Term Opportunity With SEO.
SEO is a long term traffic opportunity that is not going anywhere. As more people come online and more people spend time online, they are searching for things at a higher rate than ever.

The average person performs over 130 searches per month in Google, and Google is currently getting over 5.2 BILLION searches per day. And that is just Google.
That is traffic that YOU can leverage. With 4 BILLION people active online, it is going to be your job to intercept people through "search terms" (keywords) that they enter in Google, build trust through helping them, then make a recommendation of products and services.
In the case of your Affiliate Bootcamp website, Wealthy Affiliate will be one of the websites that you can recommend and earn a great deal of income with.

People simply are not going to stop searching, in fact, as people become more and more connect with MORE devices, the number of daily searches only goes up. This creates an incredible and very much growing opportunity for you as an affiliate marketer.


Task 1: Set Up Your Website Up For SEO
Search Engine Optimization (SEO) is a very important aspect of any website's success.

In this task we are going to be setting up a plugin that makes our website code (the stuff behind the scenes of our website) friendly for search engines like Google so they can index and rank our sites properly. This is going to be very powerful for your website content getting ranked in search engines going forward, so DO NOT skip this task.

Since you activated The SEO Framework plugin within the last lesson, you should see the "SEO" item (see below) with your main menu now in your Wordpress back office. If you click on that menu item, it will open up the settings area where you manage your SEO settings.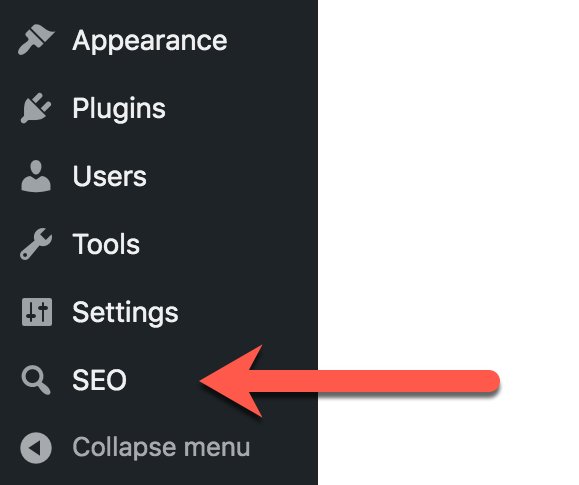 The main section you are going to be updating here is the Homepage Settings section. If you scroll down you will find this. There are two sections that you will be updating there:
Home Title - This is the title of your website that will show up when you get ranked in Google and other search engines. This won't actually show up on your site.

You want this to reflect the actual title of your website that you created with your site, but also add something to make it a bit more captivating.

Ideal Length: 40-60 characters, keep under 60


Home Description - This is a description of what your website is about and how it will benefit people. Don't overthink this part, you just want to be descriptive as to what your site is.

Ideal Length: Under 160 characters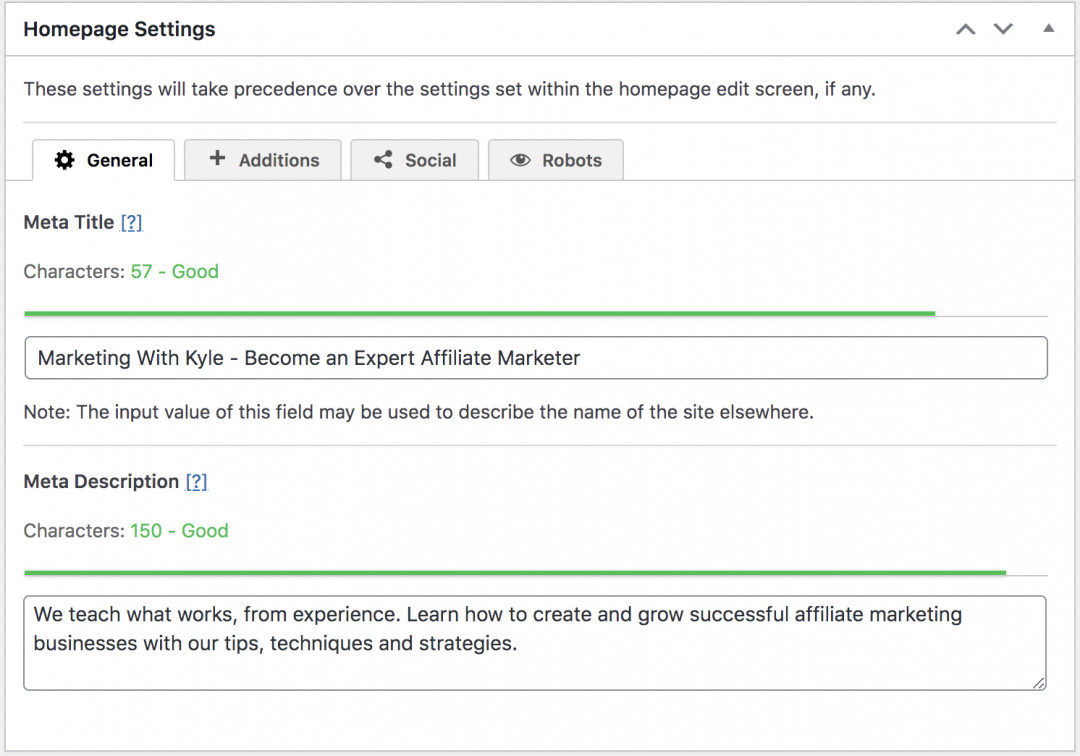 Although there are a TON of other settings, you are not going to need to update any of these at the moment, not for SEO purposes.
When you are done updating your Homepage Settings, scroll down to the very bottom of the page and click the "Save Settings" button.
Upon doing this, you are done. Your website is set-up and SEO READY! :)

A few important points things to take note of here about The SEO Framework:
You DO NOT need pay for the "Upgrade". Some plugins have "upgrades", but in this case the free version The SEO Framework is more than adequate for your needs.
You won't see these changes to the actual side of your website. The work is done behind the scenes within your websites HTML code. It is making your code friendly for search engines.
Awesome, your website is all set-up for SEO now! As you build out your new pages/posts, they will automatically be optimized for Google and other search engines. If you have any questions about the set-up process, leave them in the comments below and we will give you a hand.
Top Helpers in This Lesson