Welcome to the Affiliate Bootcamp!

Are you ready to learn a lot, have a bunch of fun, build a full time income and brand, and promote a platform that you can believe in, trust and that can truly help people in a positive way?
If your answer is yes, then you are definitely in the right place and I know you are going to love what we have in store for you in the upcoming lessons.

First things first though, a little run down of the affiliate program at Wealthy Affiliate and how this training will work.
Who Am I & Why Do I Care?
I am Kyle, co-founder of Wealthy Affiliate. I am going to be walking you through the process of building a business online, through the promotion of WA and likely other programs. I have been actively working with close to 2.7+ MILLION affiliates since 2005 and I have helped MANY create full time, 6-7 figure businesses online.

That is my absolute focus with you. Success.
I want to help you build a full time business and an established brand online. I also want to personally be hanging out with you every year at our fully paid for, annual Super Affiliate Conference in Las Vegas (more on that later).

Wealthy Affiliate is mine and Carson's passion (me on left with family, Carson on right). We live and breathe Wealthy Affiliate and as time goes on, the platform here truly evolves and gets better with every day that passes. We built WA based on helping people succeed, and we don't have any plans to divert from our core principles.
If you are committed to this training, I am committed to you! That I can assure you of.
So if you are ready to do BIG things online, I am ready to help you get there. :)
The WA Affiliate Program, It's Awesome!
The affiliate program here at Wealthy Affiliate is one of the most technologically advanced, sophisticated, and progressive platforms in the world. We were born and raised in this industry as "affiliates" and we are still affiliates to this day. It's in our genetic code!
Because of this and being involved in 100's of different affiliate programs over the years, we have a very good grasp as to what affiliates want and we are constantly working to over deliver.
There are many different aspects to the WA Affiliate Program that you can leverage to maximize your reach, revenue and overall conversions and I am going to give you a brief overview of these now. Of course as we move through the Bootcamp training, I am going to be getting more and more advanced with this training.
A few important menus I want you to understand. The first is the "$" icon in the header, if you click this you will be able to access the full affiliate resource menu (as shown below).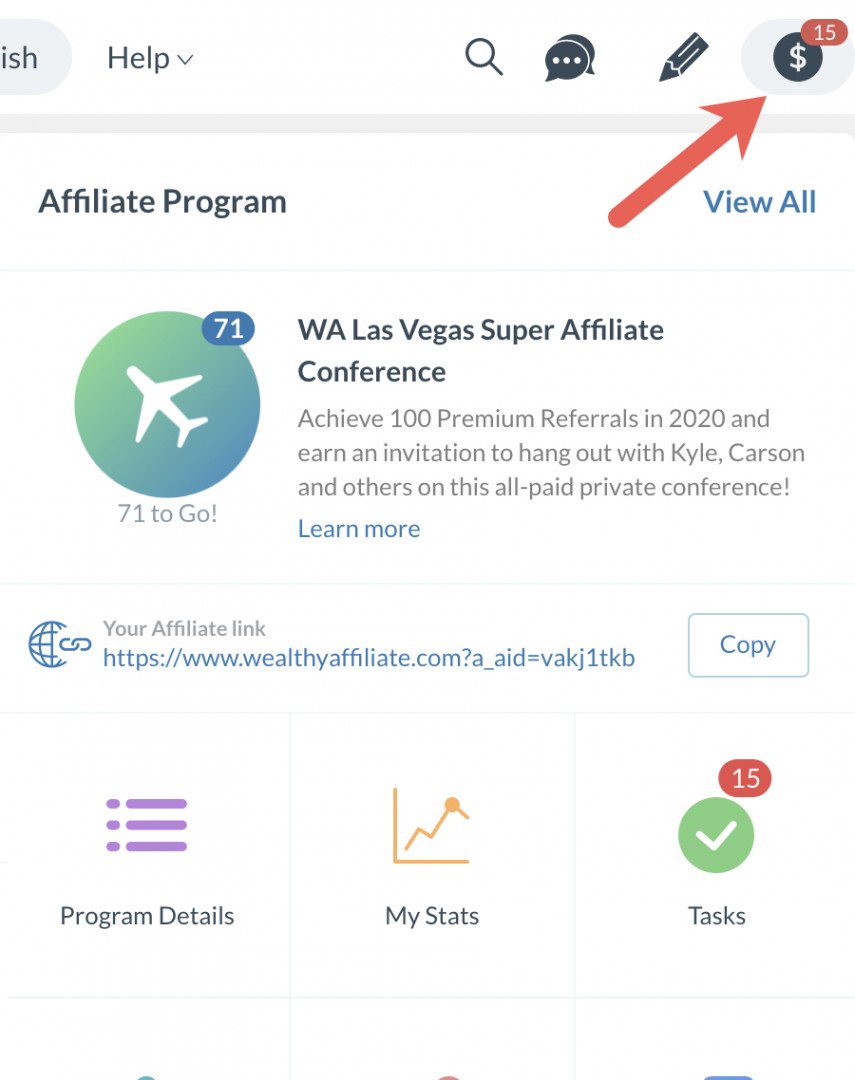 This menu includes several items, I am going to quickly run you through all of them and then provide you with a video walking you through the ALL aspects of the affiliate program in its entirety.

WA Vegas Super Affiliate Conference. This has your live countdown on "sales" needed to reach Super Affiliate status. If you reach 300 sales in a year, you will be invited to an all-expenses paid trip to Las Vegas for our annual Super Affiliate conference.


Your Affiliate Link. This is your unique affiliate link that you can use to promote WA, and earn commissions. If someone signs up through your link, you get full affiliate credit. Feel free to share this link wherever you like, with anyone that you think may be interested in building a business online. It could pay big dividends.


Program Details. This is where you can go to get full details about the Affiliate Program, the commission structures, your main affiliate link, your incentive countdown, etc.


My Stats. This is where you can go to get detailed information about stats and all commissions/transactions.


Tasks. These are all the interaction and communication (questions) that are taking place within WA in respect to your referrals. You will want to complete these as they come in, interacting with your referrals leads to much higher conversions.


My Referrals. This will show you all your referrals that have joined through your affiliate link, both Starter and Premium.


Links & Tracking. This is where you can to get all of your affiliate links, to create your own tracking links, and to add tracking for services like Google Adwords, BingAds.com and Facebook.com.


Messages. These are automated, follow-up messages that you can create for your referrals!


Banners. Self explanatory here, these are banners that you can use on social media, on your website, or anywhere you like that you can add a banner promoting WA.
Within the top menu, you will see the Training button within the menu. Then upon clicking that, it will open the training area and you will see the Affiliate Bootcamp training area as the second item down.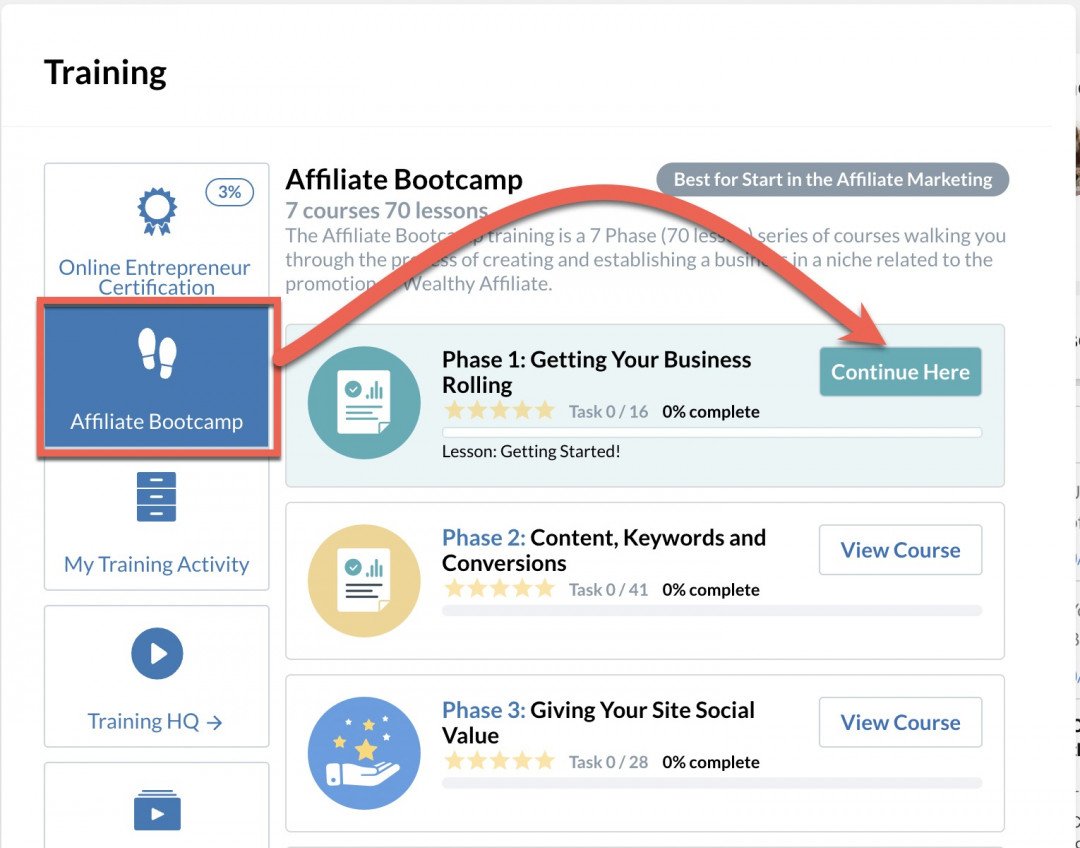 If you click this menu, it will pop open all of the phases of Bootcamp. Each Phase has 10 lessons and as you move through this training and check off the tasks, you are going to notice that the Affiliate Bootcamp button text will update to reflect which lesson you are currently on.

In other words, it is a "smart" button and will always take you back to your last completed task within the training.
Your Potential & Commission Structure.
The affiliate program at Wealthy Affiliate is not just advanced from a technology standpoint, but you are also getting one of the most appealing RECURRING commission structures in all of the affiliate marketing space.
Invites: They Join WA for Free
STARTER Member Commissions:
Initial Premium + Free Domain ($49) = $10 one-time commmission
Premium Monthly ($49/mth) = $11.25/mth recurring commissions
Premium Yearly ($497/year) = $115/year recurring commissions

Initial Premium Plus+ + 2 FREE DOMAINS ($99) = $20 one-time commission
Premium Plus+ Monthly ($99/mth) = $23.25/mth recurring commissions
Premium Plus+ Yearly ($697/year) = $160/year recurring commissions
If you are a Premium or Premium Plus+ member here at Wealthy Affiliate, you get double the commissions as an affiliate and you also get to take part in our $1 credit program, which allows you to earn from free members you sign-up that set-up their accounts. You also earn money with each domain your referrals buy.
Premium/Premium Plus+ Member Commissions: 100% higher commissions!!!
Credits: They Set-up their account => $1 (per referral)
Domain Purchases: => $1 recurring annually

Initial Premium + Free Domain ($49) = $20 one-time commmission
Premium Monthly ($49/mth) = $23.50/mth recurring commissions
Premium Yearly ($497/year) = $230/year recurring commissions

Initial Premium Plus+ + 2 FREE DOMAINS ($99) = $40 one-time commission
Premium Plus+ Monthly ($99/mth) = $46.50/mth recurring commissions
Premium Plus+ Yearly ($697/year) = $320/year recurring commissions
**Note: on average 1:8 upgrade to yearly, depending on the affiliate, and 12% of all free Starter referrals end up going Premium.
When you sign-up someone for free, your goal is to get them to set-up their account. Setting up ones account will lead you to an initial $1 (2 credits x $0.50). These add up when you are a Premium member.
When someone sets up their account, they are granted an initial $49 + FREE DOMAIN first month offer for Premium, or two free Domains with Premium Plus+. This converts very well and almost everyone decides to stay after the first month because of the value, the quality of the services, the help they get, and the overall positive experience offered here at Wealthy Affiliate.
We offer lifetime commissions and lifetime cookies, which is truly unheard of in the industry. If you refer someone to WA, they are your referral FOREVER.
Unlike many programs in the industry that focus on "taking advantage of customers", our focus has and always will be making our service better. The better our service gets, the more people that stick around, stick around for longer, and the better our conversions get.
That is our PATH to making you more money. Striving to make our service the best in the industry is our goal and this will remain our constant focus. The MONEY you earn as a result of this and the trust you build from the people you refer to Wealthy Affiliate will lead you to a long term and INCREDIBLE business online.
**We pay out on the 1st of every month, and we have not missed a single affiliate payment since our inception 17 years ago. We pay on time and we pay out MILLIONS of DOLLARS per year!
Task 1: Add Your Affiliate Goals!
We have created a discussion where you can add your affiliate goals, not just for the upcoming bootcamp though. I am a long term guy myself. I know what can be accomplished in a year...a year is a like a blink in time and before you know it next year is going to be here.

What if you could make 100 referrals by next year...what about 200...what about 500....a 1000? Be realistic, but be unrealistic. You never reach goals that you thought were unattainable if you never set them.
Imagine this. If you can get just 3 PEOPLE in the entire world of 5.25 BILLION Internet users to purchase a yearly Premium Plus+ membership every day, you would $350,400 per year in passive income!

Add your goals here within the following thread.
==> ADD YOUR GOALS: What are your WA Promotional Goals in 2023?
Also, comment on AT LEAST two other people's goals within the thread. This is a community here at WA and we are all here to help and support one another in our journey towards success.
You can begin your networking now and you are going to build some awesome relationships which will only further your online success. So take a minute and encourage at least two other people with their goals as well.
I want to let you know about something as well, something that you may find exciting and intriguing.
If you can reach 300 unique referrals through the course of this year, we are going to fly you to Vegas for a private, "all expenses paid" conference (read below).
Task 2: Las Vegas, We Want YOU There in 2023!
We like to do things differently at Wealthy Affiliate. Other companies try to convince you to attend their "high ticket" conferences, we want to PAY for you to come to our conference.

Every year we run an ultra exclusive WA Super Affiliate Conference in Las Vegas, all expenses paid. You may have noticed a counter in your Airplane Icon in the header, if you can make 300 referrals in a calendar year, you are going to be personally invited by Carson and myself to hang out in Vegas next year.
Read about the experience you can expect, and the path to achieving Super Affiliate Status in 2023. Last years conference was the most powerful, amazing conference to date and we would love nothing more than to have you there next year!
DISCUSSION: Achieve SUPER AFFILIATE Status in the Year Ahead!
Task 3: Watch the Affiliate Program Walk through
Here is an introduction video to Wealthy Affiliate. This is going to give you an overview of your stats pages and show you around the set-up of your affiliate account.

It is important that you go through this so you fully understand the affiliate program here, and the real beneifts to becoming an affiliate and promoting the industry leading platform here at Wealthy Affiliate!

You are off and running, nice work! If you have any questions about the initial steps here within Lesson 1, or anything related to the affiliate program, leave them below. :)


Top Helpers in This Lesson