At this stage of the course you should have your website created! Congratulations, this is a big accomplishment!
Looking back to 2002 when I started my career in Online Business it took me 30 days just to figure out how to build a website. There definitely weren't any platforms like the Website platform you have access to here. What takes 30 seconds now, took 30 days back then.
How things have changed!

In this lesson we are going to be walking you through the process of the initial website set-up. This includes the removal of "default" content that is installed with every website as well as a look around of the back office of your website.
Additionally, I am also going to be walking you through the activation of your "Plugins" and be walking you through the benefits of the plugins (feature extensions) that have been installed automatically with your website.

Below is a video walk-through showing you the process of setting up your website. Click play to watch the "Setting Up Your Niche Website - The Initial Steps" video below.


Task 1: Login Into Your Website Back Office
In order to do this, you need to log into your website. This is very easy to do and can be done using the "Log In!" button (as shown below).

This will automatically show you all your users you have associated with your website and from there you can log into your website.

No more need for manual logins and the passwords within your account are encrypted and secured using SiteRubix technology!
You can also find your website login details, username, and password within the Details link on your SiteManager dashboard.

Task 2: Activate and Update Your Plugins
After you login, you will see your Wordpress administration dashboard for your website (see below).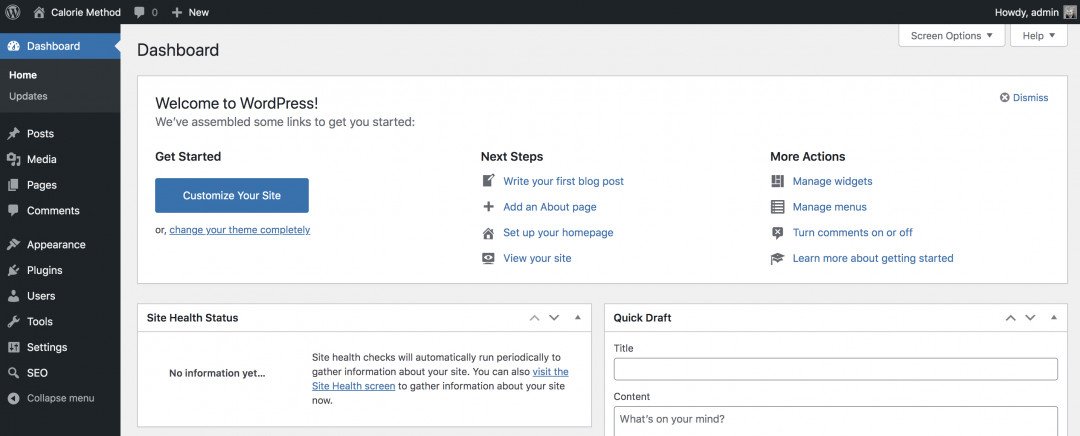 This may look completely foreign to you if you have never logged into a WordPress website before, but don't worry, you will get the hang of this and there is a ton of help here within the community to work you through any questions/issues you may run into.
Wordpress is the most powerful and widely used website platform in the world. It is used by over 30% of ALL websites (millions) and it also has a wide range of "add ons" known as plugins that you can use extend the functionality of your website.
When you install website here at WA we pre-install three of the most useful plugins with your website automatically and your first step is going to be activating these plugins.

You will see the The SEO Framework, which we will be setting up in the next lesson. This is a plugin that is going to help you get found and ranked by search engines like Google, Bing and Yahoo.

Also, the Kraken Image Optimization plugin is preinstalled with all websites here. This helps compress and optimize all of the images on your website automatically. This is really sophisticated and advanced platform that is going to lead to better website speed, a better user experience, and better rankings in Google (and other search engines). This is already set-up optimally for you.


Task 3: Delete Default Posts, Pages and Comments
Every new Wordpress website that you install will come with "default" or dummy content that is added with every website install. You want to get rid of this content before you can start creating content that is relevant to your niche.

The first thing you want to do is delete the default post that is added with each website.

Click on the Posts button, within the side menu.
This will take you to the posts page where you will go to see a list of all the posts on your website. A post is simply a content page on your site (we will be explaining them in more detail later).



Simply "mouse over" the post area and it will reveal the post management buttons. You will want to then click the "Trash" button. This will delete the default "Hello World!" post.

Do the same with the "Pages" link as well. There may be a few different Pages, including the Privacy Policy page. You can delete all of these pages as we are going to be starting fresh with our own content and starting the build out process of this in upcoming lessons.
**Do note that there may not be both default Pages and Posts. If that is the case, just move on.

That is it for this lesson, nice work! You now have a live website that is set-up and ready to go. This is your own Internet "real estate". You will use this website to connect with your niche and ultimately earn revenue through. This website is your foundation for building a successful online business!

The next lesson we are going to be showing you how to get your website ready to rank in Google and other search engines!
If you have any questions about the set up of your website, please scroll down and leave them within the comments below.
-------------------------------------------------------------------------

Top Helpers in This Lesson