How Will YOU Make Money Online?
Great question! The reality is that there are many ways to make money online. However, people often get distracted by the "latest and greatest" product or service, and as a result, they are never able to build a successful and revenue-generating business.
Today, I will guide you through one of the most fundamental yet powerful processes of generating revenue online. It is a proven process that we use, and one that Wealthy Affiliate members follow.
It is called Affiliate Marketing, and it is the ultimate "make money" process that worked 17 years ago and will continue to work 17 years from now.

The best part about affiliate marketing is that you don't have to create your own products or services. You simply find products or services that you're passionate about, promote them to your audience, and earn a commission on every sale.
I have created a video lesson (below) that I recommend that you check out when you get a chance. This is going to walk you through the process of building a business online, and what it looks like. If you understand this, you understand the BUSINESS!

Click the PLAY BUTTON (or anywhere on the video) to watch it!
---
---
There are a lot of really exciting draws to building an affiliate marketing business, and leveraging this business model to generate revenue online.

Affiliate marketing is a great way to make money online because it's:
Simple: Anyone can do it, regardless of their experience or skills.
Scalable: You can earn as much money as you want, depending on how much effort you put into it.
Lots of Options. There are over 550 MILLION products/services that you are going to be learning how to sell as an affiliate marketer.
Passive: Once you set up your affiliate marketing campaigns, you can earn money even while you sleep.
Here is a quick diagram outlining how the simple process of an affiliate marketing transaction works.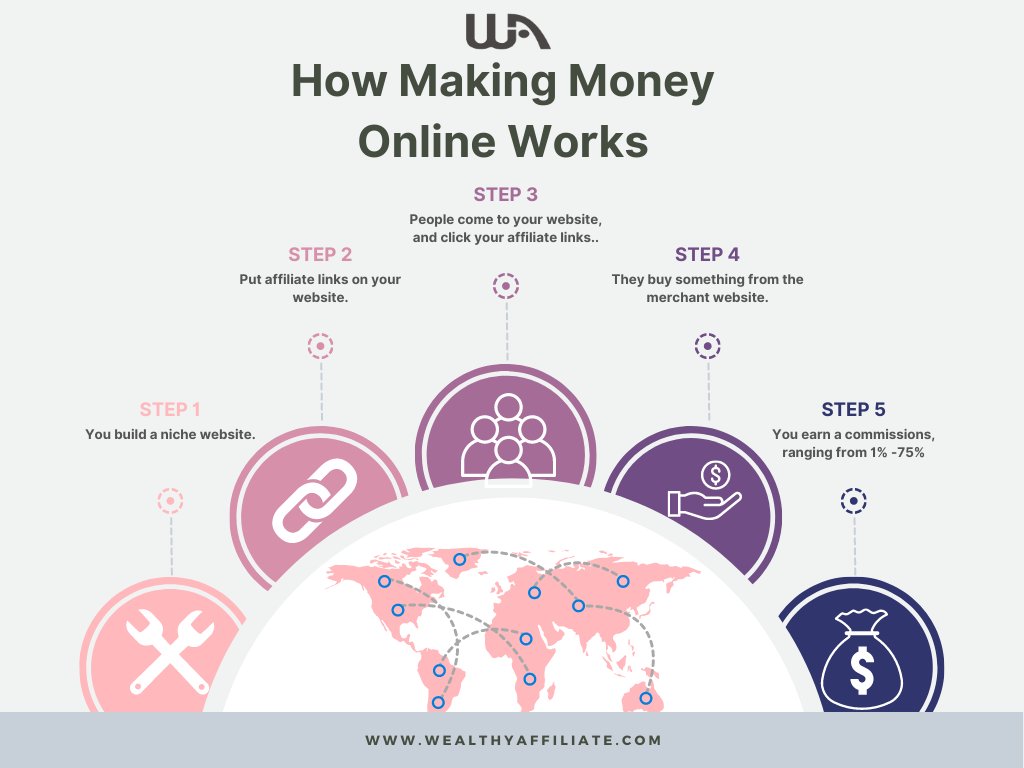 As you move through the training, you are going to be building out your very own affiliate marketing business. It starts with you choosing a direction for your business, which we are going to cover next lesson. ;)
Great job so far!
Top Helpers in This Lesson