Lesson 1, Getting Rolling!
First off, we would like to personally welcome you to Wealthy Affiliate. I am Kyle, co-founder of Wealthy Affiliate and I am going to be the one walking you through the training and the process of building a successful business online.

Carson, the other co-founder works more with the technical team (close to 30 full-time employees) so you will see a bit less of him, although he is still very much active here within the community every day.

Here is a photo of us and our families below (me and my family on LEFT, Carson and family on RIGHT). :)




Our goal in the early stages here is EARN your trust and help you get moving in the right direction with your business. We realize that the industry is full of companies that are not all that trustworthy and it has been our mission over the past 17 years to do things differently. Wealthy Affiliate has been around since 2005, and during this 17 year period we have helped close to 2.7+ MILLION people during this time!
The community here is full of amazing people, with a lot of expertise. I know you are going to quickly realize that. In fact, you are going to be able to tap into this knowledge an expertise at any point as you move forward in the training.

I assure you that you have definitely made the right choice in joining the community here at Wealthy Affiliate, you are going to love it here and you are going to quickly realize we care about YOU and your success online!
In the coming days and weeks we are going to be showing you how online success works and we will help you realize your own potential within the Internet space to earn revenue and leverage the internet to grow a business.
Before we continue, we want to point out a few important things:

(1) YOUCan Accomplish Success Online. There are now over 5 BILLION people using the Internet, spending $8 TRILLION dollars online (and growing). Regardless of the direction you head with your business, there is a very large number of people there that you can connect with and leverage to create a business online. Members here at WA succeed at the highest rate out of any community online!

(2) Anything NEW Can "Appear" to be Overwhelming at First. Like riding a bike, it is normal to feel overwhelmed and even "fall" a few times when getting rolling. Don't worry, you will quickly get the hang of things! Stick with Wealthy Affiliate and you will achieve, and far exceed your goals. We teach what works, and we provide you with help if you ever feel even the slightest bit stuck.

(3) No Technical or Prior Online Business Experience Required. If you have experience that is great, but it is definitely not a requirement here at Wealthy Affiliate. Everything related to online business can be learned here within your membership and you definitely do not need to be a "techie".

(4) Success is a Journey. Success is very cumulative by design. This means that everything you do now, and every step you take will contribute towards your personal success in the future. An exciting journey does lie ahead and the effort you put forth now will pay off later and often times forever!
A Quick Look at How YOU Will Be Creating Success.
Success online is very simple at it's core. There is a 4-step business building process that you are going to be learning here at Wealthy Affiliate. Here is a quick diagram breaking down the process.

Broken, down, the process is actually very simple and looks like this:
Step 1: Choose an Interest. This can be anything at all, any interest, passion or even something you have no personal experience with.
Step 2: Build a Website. Your website is your foundation and we have the most sophisticated and feature rich website and hosting platform here at Wealthy Affiliate.
Step 3: Attract Visitors. You are going to be learning all about how to get traffic and visitors to your website. The first focus is FREE traffic and there is A LOT of it out there. As you progress through the training you are going to capitalize on this.
Step 4: Earn Revenue. Once you have people on your site and traffic, you can earn revenue. There are over 50 ways you can monetize traffic online, and over 550 MILLION products/services that you can promote as an affiliate.
As you go through the training, this is going to be covered in detail. As mentioned, absolutely EVERYTHING you need is here at WA to facilitate this process! It is a true "earn while you learn" environment.
Before we go any further...
We want to give you two simple pieces of advice within the Wealthy Affiliate community.
Piece of Advice #1: Do not be afraid to ask questions! There are 100,000's of people here within WA at any given moment and many, MANY experts. If you need help, please ask! Go to the dashboard and leave a question, or you can contact me (Kyle) directly here.
Carson and I help people all day, so don't be afraid to reach out to me even if it is to say "hi".

Piece of Advice #2: Take action on what you learn! Action leads to success. You could read and watch the training until you are blue in the face, but if you never take action on it you won't achieve any success.

We don't want to put any pressure on you and definitely do not want to overwhelm you as you get started, so we are going to give you three simple tasks to perform (as noted below). Spend a few minutes today and complete these tasks! :)

You are currently reading lesson 1 of a 5 lesson Getting Started course. This course is going to step you through the process of getting started. It will answer all of the questions that you have about earning money on the Internet, and will reveal exactly how to do it.
If you ever need to get back to your training, simply click the Training tab in the upper menu. This "smart" button will always take you back to your last completed task and you will also see your progress through the training.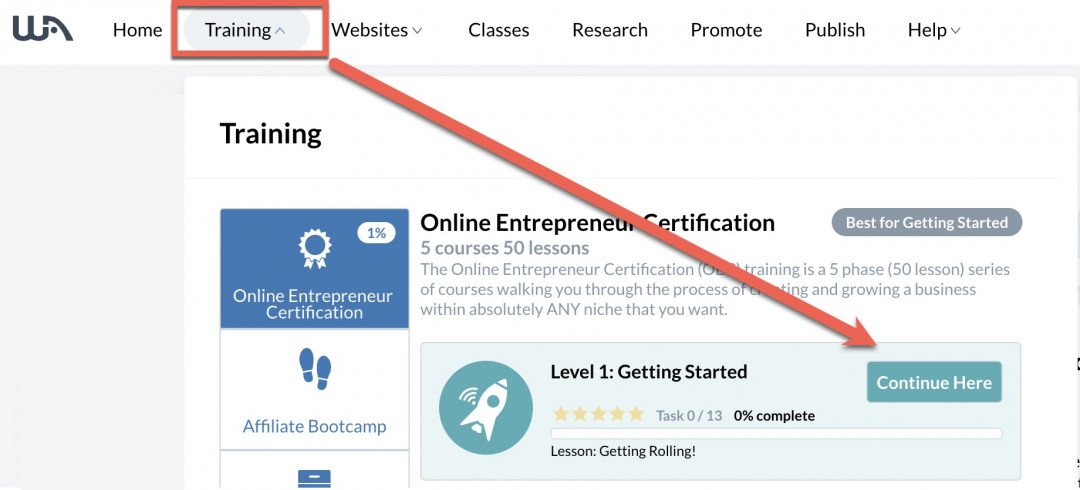 Click the "Continue Here" to get back into your training at any time.

Your Current Tasks :)
In this Lesson you will become involved and immersed within the awesome community here at Wealthy Affiliate. We are a community that cares about your success, and one where you will create wonderful relationships within the industry. You will soon learn that you can SUPERCHARGE your learning and ultimately, your success by being active in the community, and immersing yourself.

This starts with uploading a picture, adding a few words about yourself in your profile description, and getting involved in a live chat with others. These tiny steps are referred to as your "Account Setup" tasks which we will discuss below in a little more detail.

Right now, there is no reason to delay your training, let's get started with your Tasks for today.
Task 1: Watch The Walk Through Video Below
Your first task today is to watch the "Wealthy Affiliate Walkthrough - How YOU Can Benefit From WA" video. This video will walk you through Wealthy Affiliate, show you how to find your way around, show you how to get help, and ultimately show you how WA will help you succeed within the online world.
Click the video below to start watching.
At any time if you have questions as you are watching the Wealthy Affiliate Walkthrough video, simply leave them in the comments section below the video and we will be more than happy to help you out. Remember, there is a TON of help available whenever you need it.
Task 2: Complete Your Account Set-up
Your next task is to set-up your Wealthy Affiliate account. It is fairly straightforward and only requires a few steps and this can be done directly from the dashboard.

You will see a module like this on your dashboard, that quickly allows you to set-up your profile image, description, and set some goals.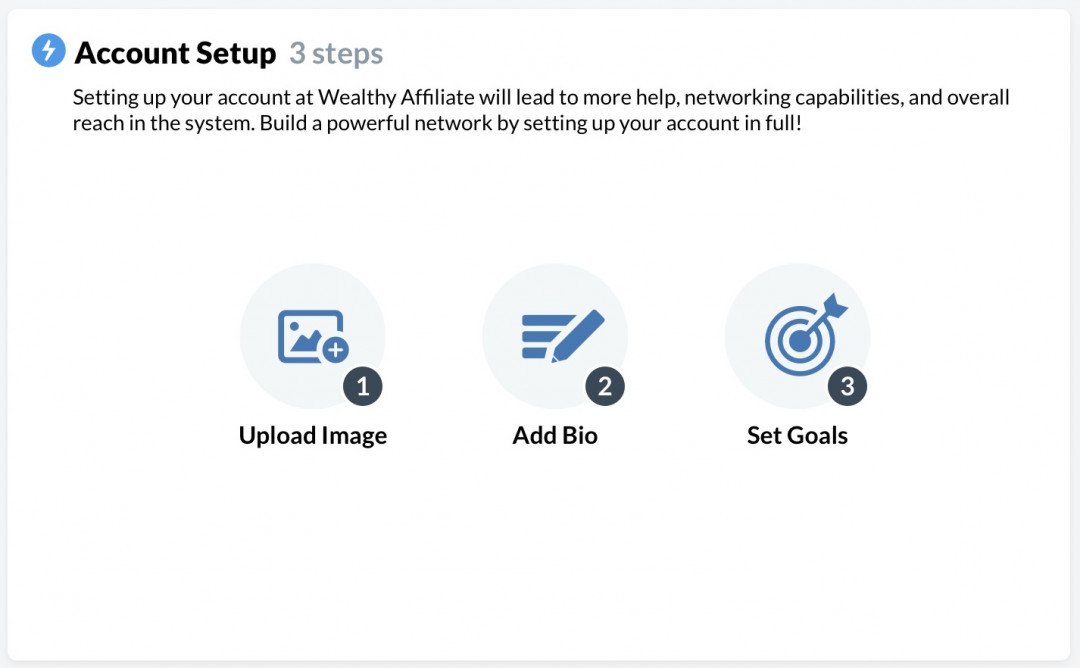 Simply fill these out, and you are good to go.

Setting up your Wealthy Affiliate profile only includes three items:
1. Adding a profile image (can be anything you want, including one of the default options)
2. Add a profile description. Again, you are in control. Share something about yourself, your interests, and perhaps why you are here at WA (and your goals online)

3. Set Goals. Set some "money" goals for yourself here at WA. This is going to be great for motivation moving forward, but also will naturally lead to much more achievement.
==> Edit Your Profile & Complete Your Account Set-Up Here

This may seem very simple (and it is), but there are definite reasons that you are going to want to complete the account set-up process. Here are some benefits to setting up your account:
Leads to better networking within the community
Your "followers" within the community will go up at least 5x (in some cases)
People are more willing to help you if you have a profile
Adds a level of credibility within the community
Shows others that you are serious about SUCCESS
Immerse yourself within Wealthy Affiliate and you are going to experience a lot more success. It is a rare day within WA when you don't get to brush shoulders with millionaire marketers hanging out within the community, so take this serious and make your profile (people's first impression of you) a good one.

Goals are important for achievement and success, so we recommend that you set these early on. And don't worry, as time goes on you can and likely will be setting new goals as you make progress!

One More Thing...
We want you to make us a promise today. We want you to give Wealthy Affiliate a chance first and foremost. We know that you may have had bad experiences online in the past and we want you to allow us to prove ourselves to you.

We care about YOU and we care about YOUR personal success more than you think.

Do we have a deal? :)

Again, we want to personally welcome you to the community and we look forward to helping you achieve success online, and far exceeding your expectations :)

Your friends,
Kyle & Carson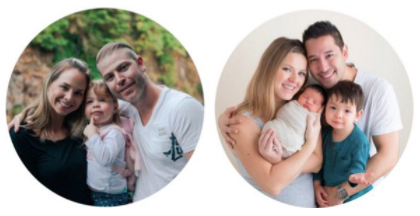 PS. When you are done your tasks, simply check them off below and then move onto the next lesson. And if you have any questions at all, please leave them in the comments below.
I also encourage you to take a second and jump into a live chat, even if it is just to say "hello". We are a warm, welcoming and vivacious community here at WA and it is always a good idea to connect with others in the early stages.
In the next lesson we are going to be talking all about Making Money! :)
Top Helpers in This Lesson