How to Improve Old Content
How to Improve Old Content
Sorry to say, the tutorial description is somewhat misleading and I have no idea how to change it! This is actually about improving poorly converting content, not improving its ranking position.
So, I will start this training by reminding you that it can take up to 9 months for a post to find its final ranking within the search engines (and even then it is subject to fluctuation). In other words, don't rush to try and revamp poorly converting content that is only a few months old. Your time will be better spent adding new content.
Now we've got that out of the way, how do you find content that isn't converting well? One way is to use Google Search Console. If you have a post that is getting a lot of impressions, but few clicks, then that tells you your content is not quite hitting the spot.
Let's see how to find that information. Head over to Google Search Console, and the first screen will be the Overview. Click on Performance from the left-hand menu.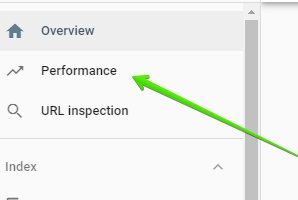 Move to the next lesson for further instructions.