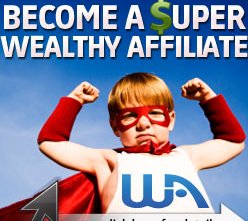 Your passion and vision have brought you to the point where you feel the need to share this with the world. You may have a product, an idea, a new process or a new application of existing data. Whatever the reason, you feel the compelling need to start a business.
This process has involved time to examine the idea and determine if there is a market. There is. It has taken dedication to your vision. You can see how your idea can be beneficial to yourself and to others. You have a need to make this a reality, even though some have said this is not possible to do. History shows those who have a burning desire to move belyond where they are will be the most likely to succeed.
Wealthy Affiliate has taught thousands of people what it takes to be successful. There are five courses with ten classes each explaining each step of the way what is necessary to become successful. Once, you complete these classes you will ready to handle the business that comes your way. You may already have an income from the work you have done but you have now learned that with PASSION, VISION, AND DEDICATION you will be successful.