Build a local template using GenerateBlocks Pro
Build a local template using GenerateBlocks Pro
Create a Custom Template fo you to reuse
I often thought it would be great to have a post template that I could reuse for posts that are about the same category - watches for example. What if I had a post that I could start with a simple click that was edited the way i wanted it to be and all I needed to do was change descriptions, pictures and links and be finished in minutes.
It can be done with GenerateBlocks Pro - they even have some already made that might work for you.
To Start
I will assume everyone knows how to add a new post to their site Simply go to post and, add new - and then on the new post page click the black + sign to choose a block in that post. Once you do - choose Browse all. This will bring you to the choice of Blocks available - With GenerateBlocksPro - these blocks appear first in my selection window.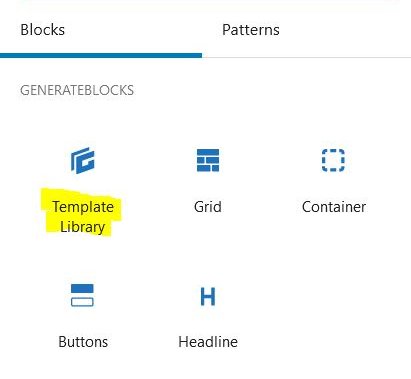 You have the 4 main GenerateBlocks available


Grid
Container
Buttons
Headline

Note the Template library. I have used GenerateBlocks for months and overlooked the template library. Now I know better.

If you click on the template library there are 183 post templates available already - who knew?
Go ahead and check them out - there might be a post template in there that you like, and you do not need to build a custom template. But if you are like me and it was not quite what you were looking for - then read on.
You can see in the picture below, on the far right 183 templates are available (I will allow you to explore them on your own). You can scroll to browse and or you can use the category dropdown menu.
What I want to draw your attention to is the Local Templates tab - also highlighted in Yellow. Here you can build your own template using a group block.
This is different from a reusable block in that when you use the template and make changes - those changes are not global to every place that you used the template.
So the local template is perfect for creating similar posts easily.