Your Mind & The Process
Last Update:
October 06, 2015
With the help of My Grizzly Mentor, I have recently come to realize that I am making more progress than I think. I often find myself feeling overwhelmed with all there is to do. With multiple projects on the go, and the constant need to learn what I'm doing as I do it. Admittedly I also struggle with the a relentless desire to understand everything, and perfect everything all while still learning my way through the forest.
I now see that I'm on the right path, and that consistency is far more important that perhaps I had previously considered. As much as I feel I have spent a considerable amount of time working on developing my business, My Grizzly Mentor assures me that I am close and must stick with it if I am to enjoy the glory of success.
---
You and I must always remember that in our efforts to start and run a successful business we must be prepared to invest a great deal of time into its development and continual growth.
You and I must focus on the steps we must take toward the development of our businesses and our goals before we can ever see them come to be.
If we focus on what we lack, that will be all we see, and all we ever know.
---
So Quit doing and saying this:
And get to work: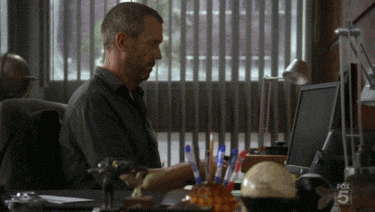 ---
As one breaks down tasks, objectives, and goals in to simplified steps, they are then empowered to act on each bit sized step at a time until their prey is subdued and victory and achievement is realized.
Everything we do in life is based upon the way we view the world and the way we think about things. As we fight the doubt that most often attacks us we will be able to continue forging our path through the forest of internet marketing.
We must be willing to trust and follow our process until we find the success we seek. Consistency is the key to seeing our vision of success materialize before our eyes. As we consistently follow the process that leads us to small victories, the battle both internal and external for attaining and achieving the life have always dreamed of will be won. We will come to see the significance of hard work, and will have learned to value the journey that brought us to the summit of achievement.
Always remember that nothing worth doing is ever easy, and that your hard work and dedication is required to achieve the business you seek and the life you have always wanted to live.
Thanks for taking the time to read this quick blog!
As always I welcome your comments.
I look forward to hearing your feedback, and your determination to stick with it.
Regards,
Evan

TheGrizzly
Premium
Mar 31


2015
1
5
Years
TheGrizzly's Posts
98 posts