My Biggest Commission Since Joining WA
Last Update:
November 18, 2020

It was pretty amazing and a very big surprise to me when I opened my eyes, checked my email and saw the following yesterday morning: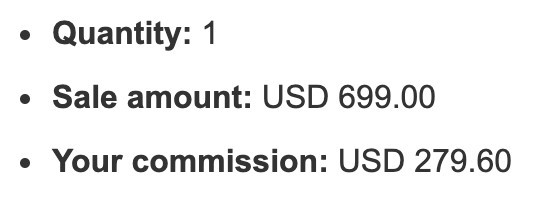 My jaw was pretty much dropped to the floor as this is not a product I have been actively promoting at all, so for this reason it came as a massive surprise, but a very pleasant surprise.
The moral of the story I guess is that you should not underestimate the fact that someone may just click on a banner of yours that was subtly presented in an article that is not even specifically dedicated to the particular product that may result in a sale.
As a result of the big commission this product is generating, I have now decided to actually make a point in doing more in regards to its promotion.
Wishing you all a great weekend and the very best of online marketing success! I hope this brought some inspiration in the sense of not underestimating what can happen at any time in the online marketing world. It can be very unpredictable and your success may very well be around the corner.