2,777,644 Words In Just under Five Years!
2,777,644 Words In Just under Five Years!
Last Update:
February 09, 2021

I have to say that I am writing this blog post for a bit of fun after reading Roy's blog post which you can see below. Roy has averaged 2582 words per day, which is pretty good!

https://my.wealthyaffiliate.com/roysinonline/blog/i-have-wri...


After reading Roy's post I thought I would check my Grammarly stats. So since first using Grammarly back in March 2016, I have written 2,777,644 words. That comes out at about 1,548 words per day over almost five years. In the past week, I have written 27,426 which averages 3,918 words per day.

Unfortunately, not all these words refer to writing content, I guess that the figures refer to everything that I have written on this computer, including emails and many comments to Wealthy Affiliate members!

Anyway, a bit of slightly useful or maybe useless information, although very fascinating!

Thank you for reading.
Roy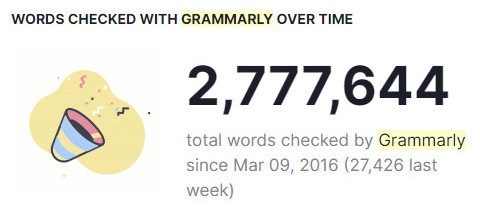 Roybretton's Posts
148 posts