Gearing Up to Throw Myself into Pinterest
Gearing Up to Throw Myself into Pinterest
Last Update:
January 14, 2021

I am not a stranger to Pinterest, but it's been several years since I've posted to it. Back when I did, I was basically using it to drive traffic to my simple living site. I think this was before you could use direct affiliate links from your images.
So today I poked around and found this image of my most popular posts there. What I find noteworthy is that all three of these are from 2016 and 2017, and they are still getting attention. I remember feeling a little foolish when I did that chin hairs one, but hey it's the one with most clicks!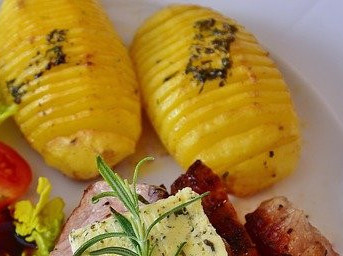 Well, at Christmas I decided to bake Hasselback potatoes and I figured Pinterest would be the best source for a photo and recipe. So I went there and it was terrific. (So were my potatoes... I didn't photograph them before we gobbled them up, but this picture from our free images gives you the idea.)
I'd been thinking to get back into using Pinterest, and that made it near the top of my 2021 plans.
I found good pages here in WA:
This page from Kyle, with tons of contributions:
https://my.wealthyaffiliate.com/kyle/blog/pinterest-the-offi...
And I did a search here in WA for the word Pinterest. That is easy to do from the top right of a page, where there is a search logo of a spyglass with a handle. It didn't give me a URL with the word Pinterest that I could share with you here, but it did give me 18 links to quite a variety of blogs and trainings. I have yet to read them all. Here's a training I found, and I'm a big fan of Israel17, who wrote it:
https://my.wealthyaffiliate.com/training/top-5-tools-to-boos...
The most prolific writer here about Pinterest is Rose with the username Ropesa, and she has some very interesting articles.
I'm also going to read the help files at Pinterest itself and a couple of other things I picked up someplace.
Then, watch out world! I'll be hitting Pinterest big time! And after a while I will do a new blog post here on WA about how it goes.
RosanaHart's Posts
125 posts