Quick YouTube Growth Trick! Did YOU Know This One?
Quick YouTube Growth Trick! Did YOU Know This One?
Last Update:
May 06, 2021

I wish that someone would have told me this EASY but POWERFUL YouTube Trick when I got started.
When I heard about it, I went through all of my videos immediately and implemented it.
I've noticed that many beginner YouTubers don't know this like I didn't know either when I was starting out.
So, I wanted to create this quick post to let everyone know about it
Pin a Comment!
Before you publish a video, I recommend that you always write & pin a comment under your own video!
You can use this in 2-3 ways.
Let me quickly show you 2 examples:
In this example, I've pinned a relevant video/playlist in the pinned comment.
Why?
This has several benefits.
1) This provides further help for your viewers when you provide a relevant resource where they can learn more.
2) When you link a playlist, as I've done in this example, it helps your viewers to stay on your channel even longer as they notice that you've created many videos about the topic they're interested in!
3) This boosts your videos because YouTube favors videos and channels that get people to stay on YouTube. If people click to watch your video, that usually increases the session time (=one of the most important YouTube metrics!)
2nd Example - Affiliate Link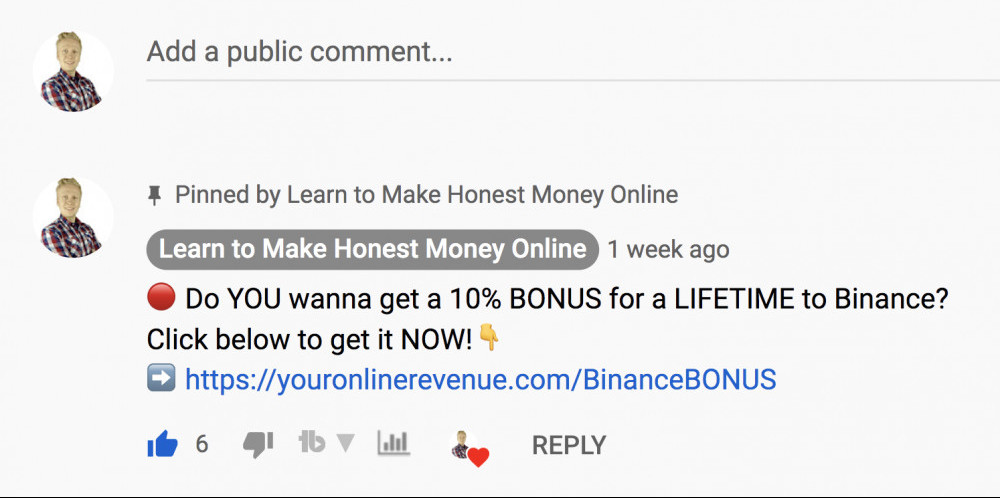 In this example, I've pinned a relevant affiliate link.
The video was regarding Binance so I've left a Binance affiliate link = Ultra-relevant. On top of that, I've given a 10% bonus/discount to increase conversions even further.
You can do the same in your videos!
Think about a relevant affiliate link that you could put in the comments that could also help your viewers.
Write it in the pinned comments!
Word of Warning
If you put affiliate links and people click them, they'll leave YouTube. This hurts the session time on YouTube so YouTube doesn't promote your video that much.
Therefore, you should always evaluate which one is better: Affiliate link or Relevant playlist.

Sometimes you can also pin a relevant question in the comments.
For example, in a video where I was talking about Binance, I could have pinned a comment "Which one of these 7 money-making strategies on Binance are YOU going to use?"
By leaving a question, you'll increase engagement which is another positive YouTube metric.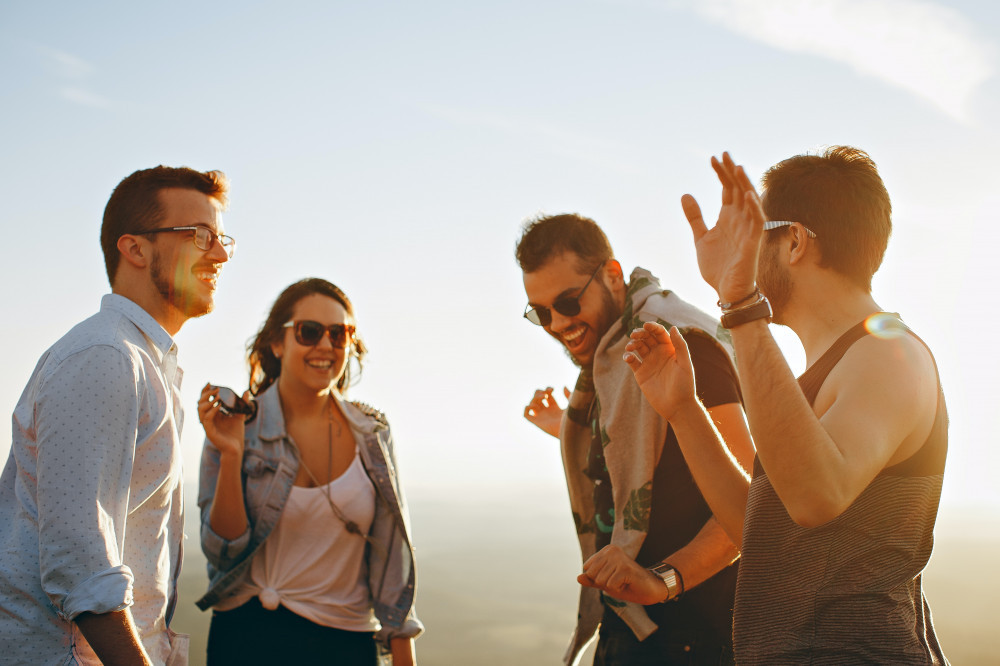 Do It NOW
If you do have a YouTube channel and you haven't done this before, go to do this now.
Many of your viewers scroll down to the comments section and you'll want to control what they'll see first!
It's Your Time!
- Roope "Soon celebrating 100,000 YouTube Subscribers!" Kiuttu
PS. I'd love to hear from you now.
Did you know before that you can Pin a comment on YouTube? Have you done it?
Tell me in the comments below! :)
RoopeKiuttu's Posts
279 posts