Now he spends $65,000,000 on videos!
Now he spends $65,000,000 on videos!
Last Update:
October 02, 2021

In my previous post, you saw 3 real-life examples of YouTube channels that had MASSIVE potential but they decided to quit.

Nobody knows how AMAZING things they'd have achieved if they would have continued.
We can only guess...
Now I'll show you YouTube channels that didn't quit. We don't need to guess what these channels could have achieved because we can see the results in front of our own eyes.
Are you ready?
Let's go!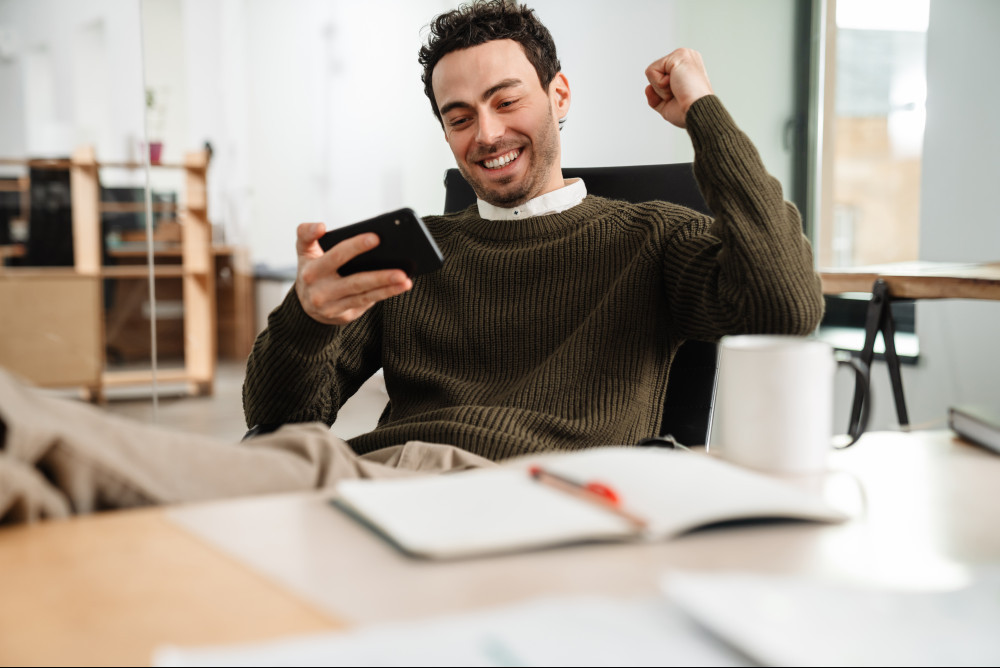 1) MrBeast
MrBeast reached his first 700 YouTube subscribers after a year and 100 videos. With those 100 videos, he gained less than 80,000 views.
Here are just some rough statistics:
Around 1.5 years: 0 => 1,000 subscribers.
Around 2.5 years: 0 => 2,000 subscribers
When I'm writing this post in September 2021 here are some mind-blowing statistics of Mrbeast's YouTube channel (If you're reading this in the future, the numbers are probably much bigger!)
MrBeast Spends $65 Million A Year Making His Videos (according to BossHunting.com). Note that he's probably making much more than that from videos because he's able to afford it.
His main channel has over 70 Million YouTube subscribers and his other channels have 10,000,000's subscribers too.
He had over 700,000,000 views in the last 28 days (almost 1 BILLION views a month) which is much more than the entire population of the US, UK, Australia and Russia combined.
He gives consistently $1,000,000's on his giveaways.
MrBeast Raised $20,000,000 to plant 20,000,000 trees
Donated over 100 cars
Donated several houses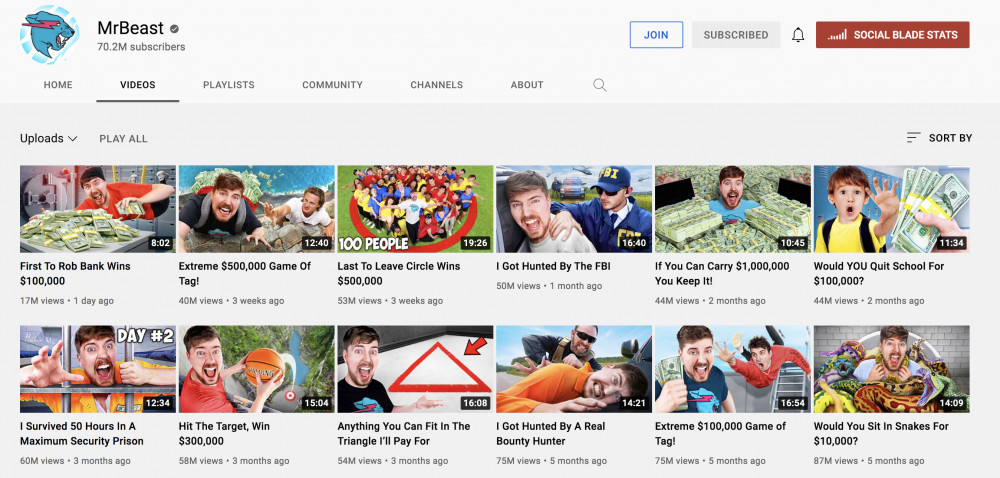 Just to put numbers into perspective...
The Super Bowl got 96M views, MrBeast gets almost 200M per week.
Think about it...
One 23-year-old YouTube creator gets more views every week than one of the most famous TV shows of the year.

He started with 0 views, 0 subscribers.
With no audience. Nothing.
If he can do it, anyone can do it.
In fact, I believe you're already much ahead comparing to MrBeast's starting position.
2) Graham Stephan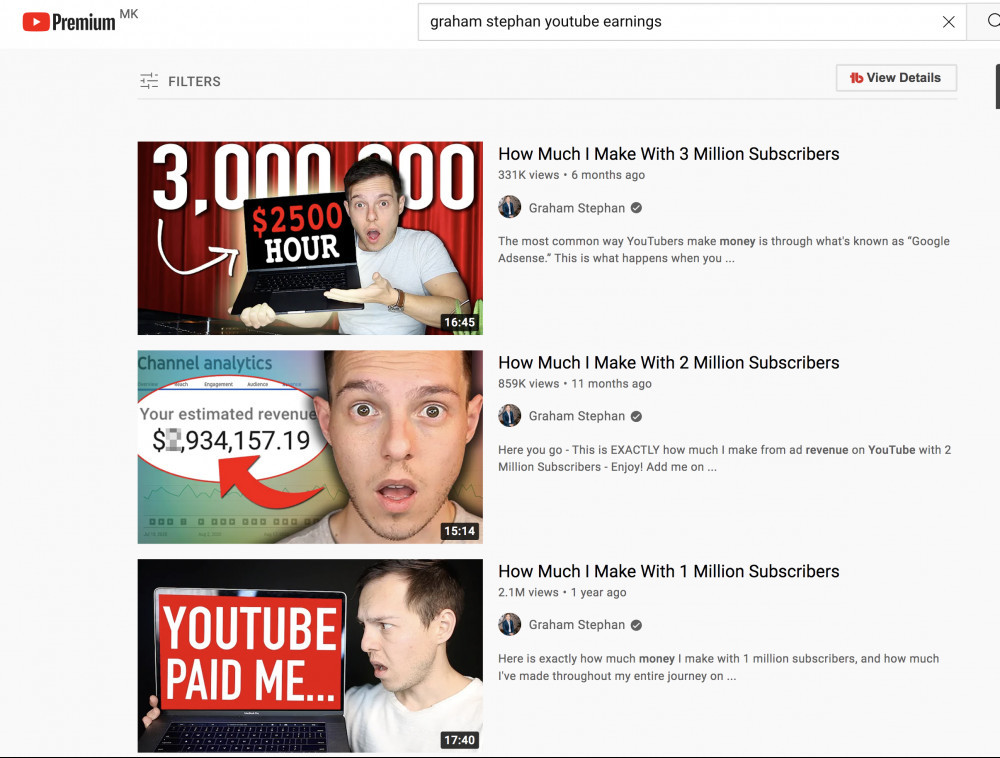 In 2017, Graham Stephan started his YouTube channel filming videos on his phone about the topics he is personally interested in (=finances).
In 2019 he made over $1,000,000
In 2020 he made over $5,100,000 (=$425,000 per month)
I'm writing this post in 2021 and I'm sure he's making a new record this year and on his way towards $10,000,000+/year income.
Pretty impressive, huh?
What if he would have never filmed his first YouTube video?
He'd be missing out on MASSIVE POTENTIAL.
YouTube has obviously opened awesome doors for Graham and he has been able to collaborate with many industry leaders.
3) YOU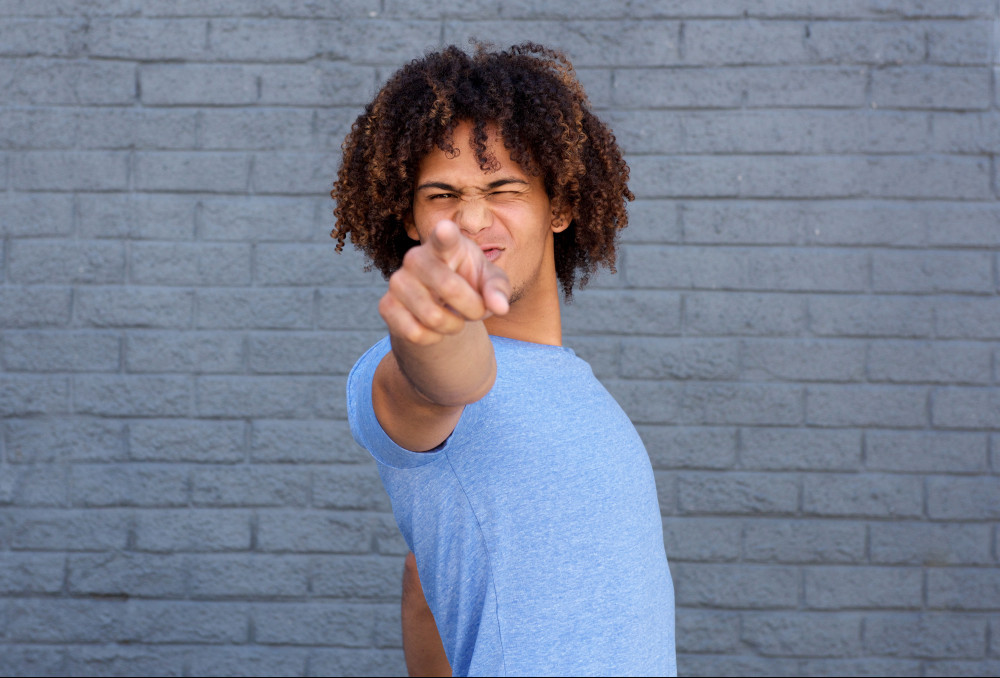 Perhaps you've started a YouTube channel.
You've published some videos.
Now you'll have a choice.
Do you wanna become like channels that quit that will never know much they could have achieved if they'd kept on going?
Or do you wanna become like MrBeast / Graham Stephan that keep on going and achieve things that they couldn't have even imagined before?
Imagine if MrBeast or Graham Stephan would have quit after a few videos.
They'd never know all the incredible things that could have happened in their lives.
If you quit, you'll never know all the incredible things that are coming your way when you just keep on making an effort.
I'm sure that you'll be able to do much bigger things than you can even imagine right now.
The potential of human beings is so amazing but we tend to underestimate it.
Do this:
Visualize your greatest goals/dreams coming true.
Then make those goals 100X bigger.
That's your potential!

It's Your Time!
- Roope "Helping you to see your full potential" Kiuttu
PS. I remember when I had still less than 100 YouTube subscribers. I had an idea that I'll set a BIG goal of reaching one day 1 MILLION subscribers.
Now I'm already at over 113,000 subs and marching consistently towards 1 million. Now reaching 1 million subs seems inevitable and it's just a matter of time when it will happen.
However, I wasn't confident at all to reach that when I first set that goal. I was thinking it's almost too big a goal but after taking steps towards the goal it has become inevitable. Therefore, I've now set a bigger long-term goal for my channel = 10 million subscribers. And the chances are that in the future, I'll need to set the bar even higher.
The point is that I've underestimated my potential and you're probably underestimating your potential too.
That's why I recommend that you will...
Set your goals higher.
Go towards them daily.
Achieve bigger things than you could have even imagined.
RoopeKiuttu's Posts
295 posts