5 EYE-OPENING Pictures Explain Why Most People Never Succeed
5 EYE-OPENING Pictures Explain Why Most People Never Succeed
Last Update:
January 14, 2021

As you probably know, one of the biggest reasons why most people fail with their (online) businesses is that they quit too early.
A lot of people might be in a process of building a multi-million-dollar business or something that could help millions of people, but for some reason or another, they quit.
It's like the picture below.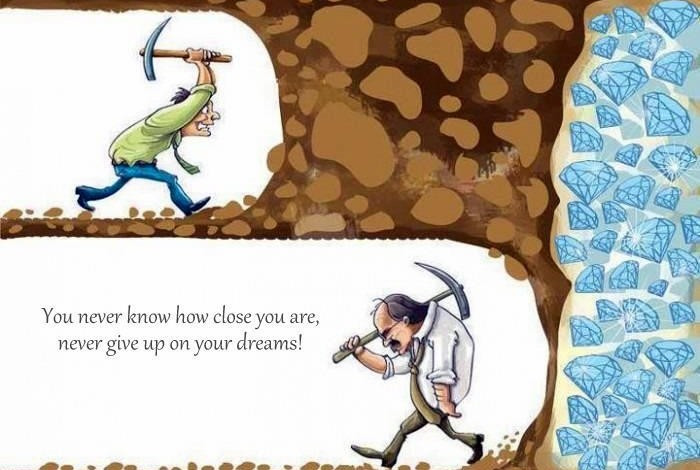 However, you've perhaps seen that picture already so many times that it doesn't affect you anymore. You just put it into a category of "endless motivational images".
Recently when I was planning, researching and creating a video for my YouTube channel with the title "How to make big money online", I came up with 3 pictures that really illustrate the point that I wanted to make across.
These 3 pictures are really eye-openers.
After you've seen these 3 pictures...
You'll Never Be the Same After This!
Before sowing the picutres, let me give you a part of my own story.
During the 1st year of starting my own online business I was asking myself a question "Why wouldn't I just be working on a real job instead of building my own business?"
I was asking that question from myself and others.
I knew that if I would take a job, I could immediately earn money, that I could save, invest and have consistent growth.

But then I heard from more experienced and wiser people that usually your success will compound.
If you keep on building your business, sooner or later the income of your business far exceeds the income of your jobs.
I found that to be true. However, even though that happened in my own life I still didn't realize the full extent of this concept.
But when I started watching interviews, listen to audiobooks and observe successful people who have built their businesses for decades, I realized that the further you go, the bigger the gap will become between job income and business income.
Having a job would be a decision based on short-sighted thinking compared to building your own business.

A funny quote says, "Most people only plan until the next Friday." That's why it's not a surprise that they choose a job over a business. If you only plan a few days, getting a job would be the best choice.
But if you plan long-term, your decisions will be different.
2 Real-Life Examples
2 pictures below show the net worth growth of Warren Buffett and Jeff Bezos. They're some of the richest people on Earth.
Pay attention to how it started growing dramatically in the later.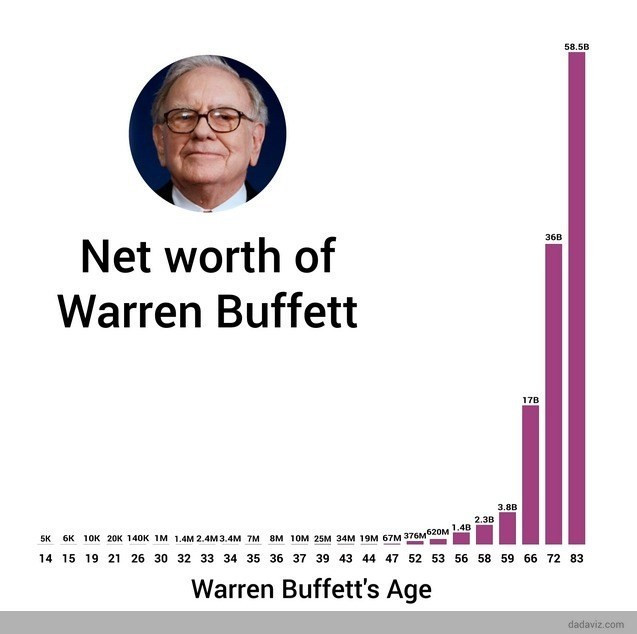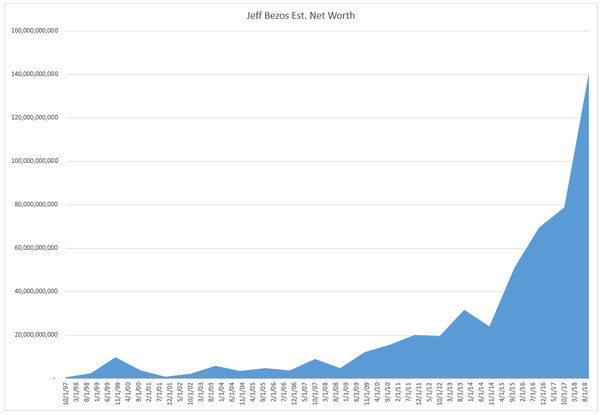 Now you might be saying, "yeah, but those people are exceptions."
But if you start looking at any successful people, you'll see the same phenomenon over and over again.
Success Compounds.
Most people will never experience such growth simply because they quit too early. They change careers, quit their business or retire, for example.
People who keep on building their business long-term tend to experience the growth that you can see below in the red line.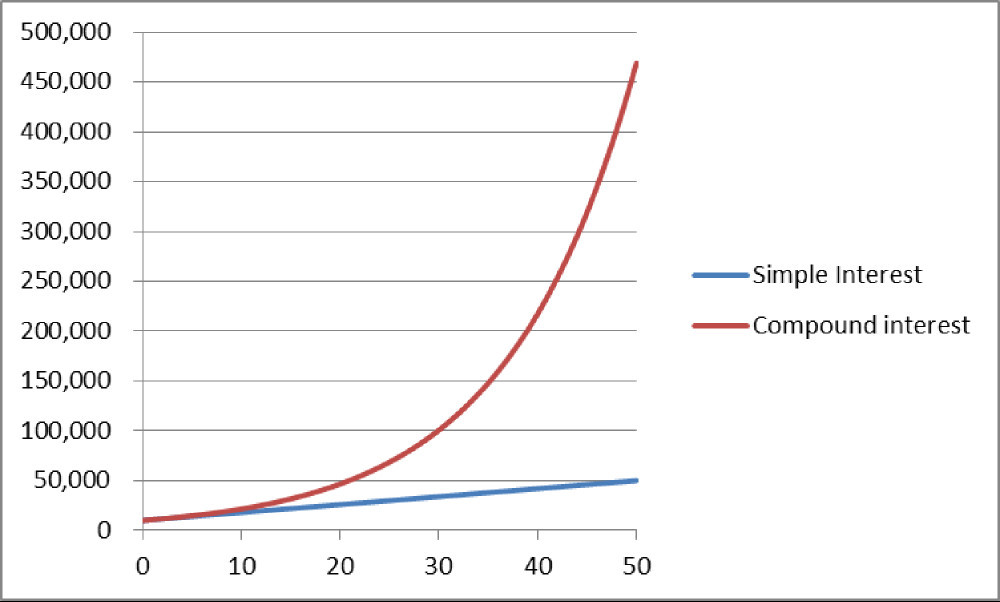 This graph illustrates the growth between simple interest and compound interest.
The same phenomenon happens when you compare people who build their own business vs people who work on a job.
They both start from the same level (or those who have a job may earn a bit more for a while) but sooner or later the business income exceeds the job income. And the further you go, the bigger the gap becomes.
This of course requires that you're building a business where such growth is possible. The good news is that most online businesses enable such growth.
Ask the Right Questions!
Most people have too short-sighted thinking. You remember when I was asking myself during the first year of building a business, "Why wouldn't I just quit this and go to work on a job?" It was such short-term thinking.

People often ask themselves or others:
"How long have you been building your business? How much money do you earn now? Why don't you just take a job?"
In most cases, they're applying the same short-term thinking.
The questions they should rather ask,
"Which path is going to lead to better results in 5, 10 or 20 years?"
The fact is that time is going to pass anyway.
10 years from now, you're going to be 10 years older.
Why not choose a path that will lead you to better results?
It's stupid to compare your business results after 3 months to your job income. You must have a longer time perspective.

If the income of your business exceeds the income of your job after 3 months, you probably just became lucky or you're comparing your business to a bad job. Generally, it takes a longer time than that to see the real results.
Even 1 year can be too short.
2 years can be too short too.
What about 5 years? 10 years? That's when we start seeing major differences. Your business income can grow exponentially each year. While job income generally stays quite stagnant.
I hope they would have thought these things at school.
But I guess it's not a realistic wish.
If a school teacher would know these things, the chances are that he'd start his own business rather than work as an employee...
The fact is that most people never learn these things.
And even fewer people experience these in their own lives.
Because they simply never even try or quit too early in the "Early Stage".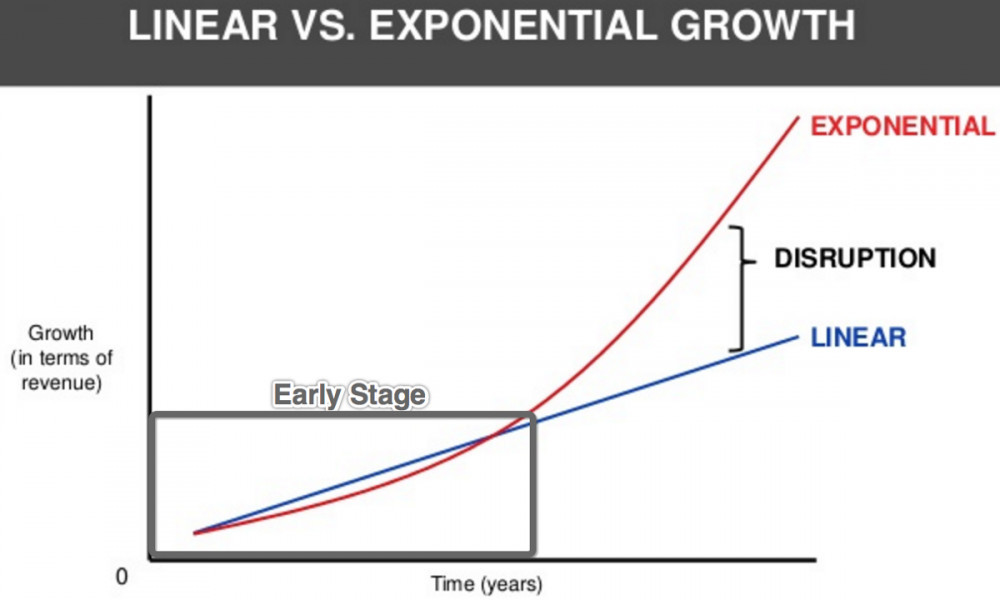 The choice is yours...
Which path do YOU choose?

RoopeKiuttu's Posts
242 posts