3 SIMPLE Steps to Grow a YouTube Channel
3 SIMPLE Steps to Grow a YouTube Channel
Last Update:
July 26, 2021

3 STEPS how I build a successful channel with over 102,000 YouTube subscribers:
Publish videos
Analyze what works
Improve constantly
Let's go through each point one by one.
1) PUBLISH Videos

I know many people who have talked for years about starting a YouTube channel but they never publish the first video.
Once you publish your first video, you'll be 1,000 steps ahead of those who never even start.
Remember: You can do this step for 100% FREE. You can start for 100% FREE like I started.
If you wanna succeed on YouTube, you MUST start. You MUST publish your first videos. Every single video that you publish, increases your chances of success.
Let's think this through an analogy of a coin flip.
Think that each YouTube video that you publish is like flipping a coin. And your goal is to become viral.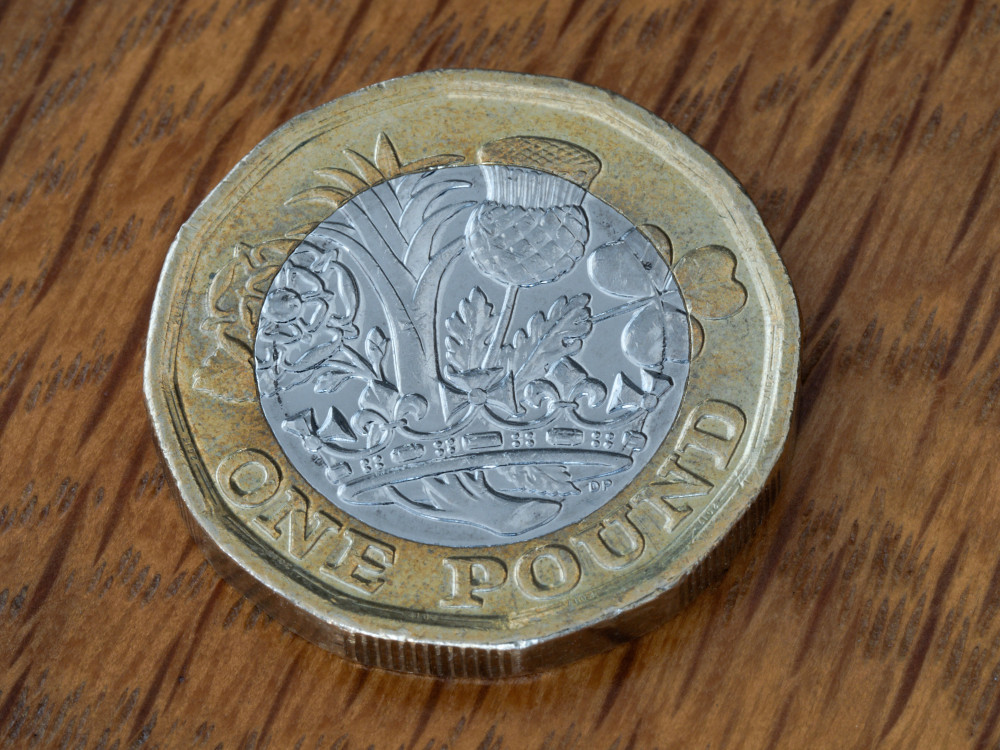 If you flip a coin once, your chances of success are 50%.
If you flip it twice, your chances of success are 75%.
Thrice => 87,5%
…
6 times => 98.44%
…
10 times => 99,90%
…
20 times => 99,9999%
...
In the same way, your chances of success go higher when you keep on publishing more videos.
In the other words, your success will become inevitable over time..
2) ANALYZE What Works
Sometimes people tell me…"Hey Roope, I've already published 10 or 20 videos but I didn't become successful. I think YouTube isn't for me."
20 videos is a good start but it's NOT ENOUGH if you want to succeed on YouTube.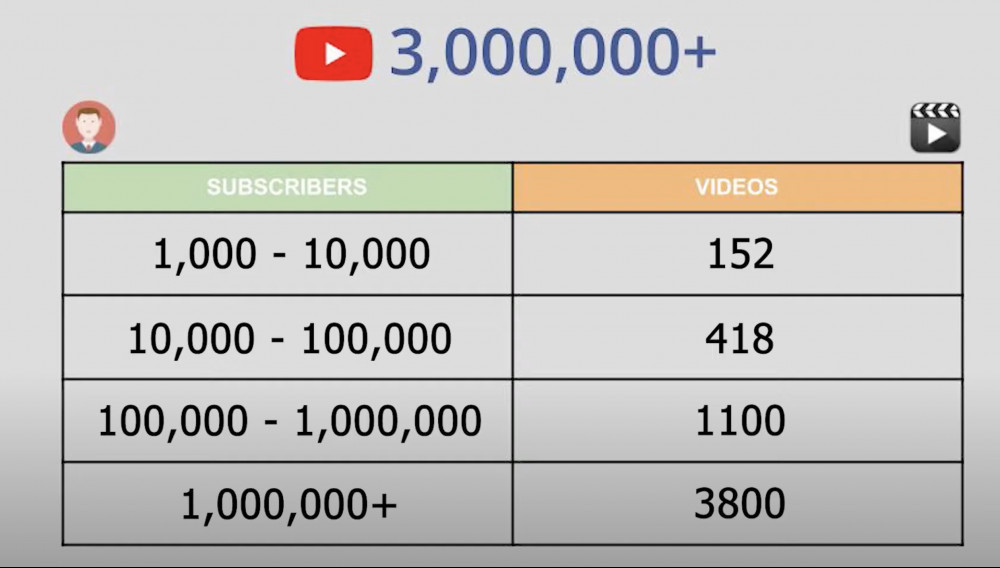 Channels that have over 1,000,000 subscribers have on average over 3,800 published videos.
If you want to have, for example, 10,000 - 100,000 subscribers, you'll have on average over 400 videos published!
Now that you have 20 videos published, it's time to ANALYZE WHAT WORKS!
YouTube makes things pretty easy for you.
Once you publish videos, it SHOWS you what works and what doesn't work. You don't need to guess.
You'll see it with your own eyes on YouTube Analytics.
Let's say that you publish 10 videos.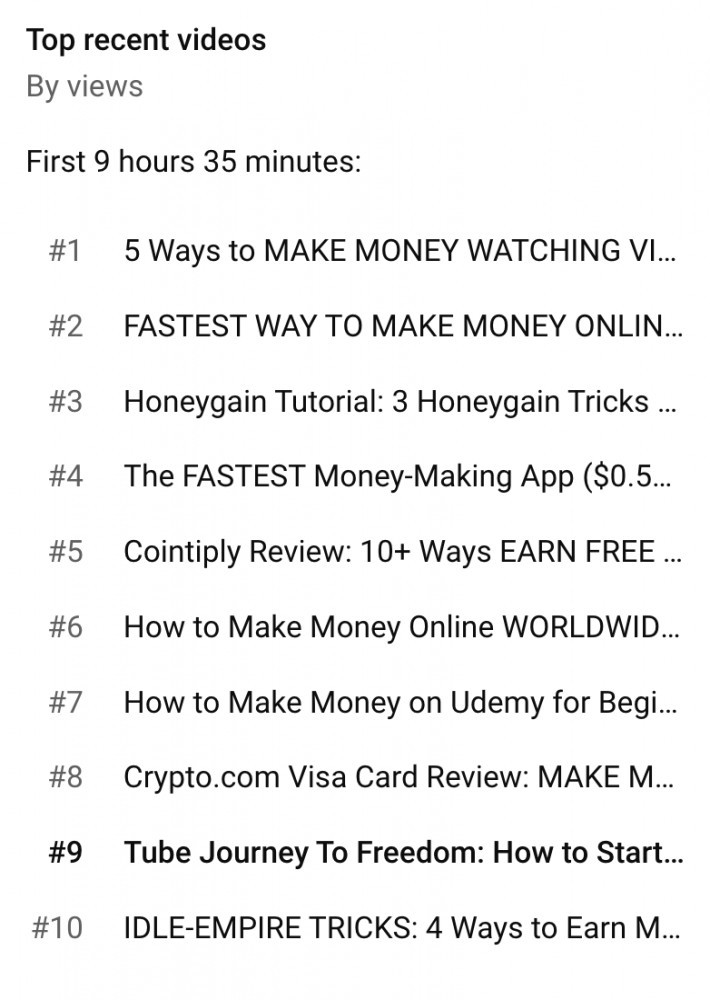 => YouTube shows what works the best.
=> Do more of what works.
=> Do less of what doesn't work.
YouTube gives you so much data.
It tells you how to get more views, more subscribers, earn more money, have a bigger impact & much more!
3) IMPROVE Constantly
Everyone starts their career from 0.
Nobody's perfect.
The difference between successful people and those who fail is that successful people keep on improving consistently.
Your YouTube channel will never be 100% ready. Never.
There will always be room for improvement.
And that's what makes it so exciting.
Every single day you can feel a sense of progress and fulfillment. All the time when I publish more videos, I am able to create BETTER videos because I get more data.
Here's my goal for you:
Your next 20 videos will be better than your first 20.
Then your next 20 videos will be then your previous 20.
And so on…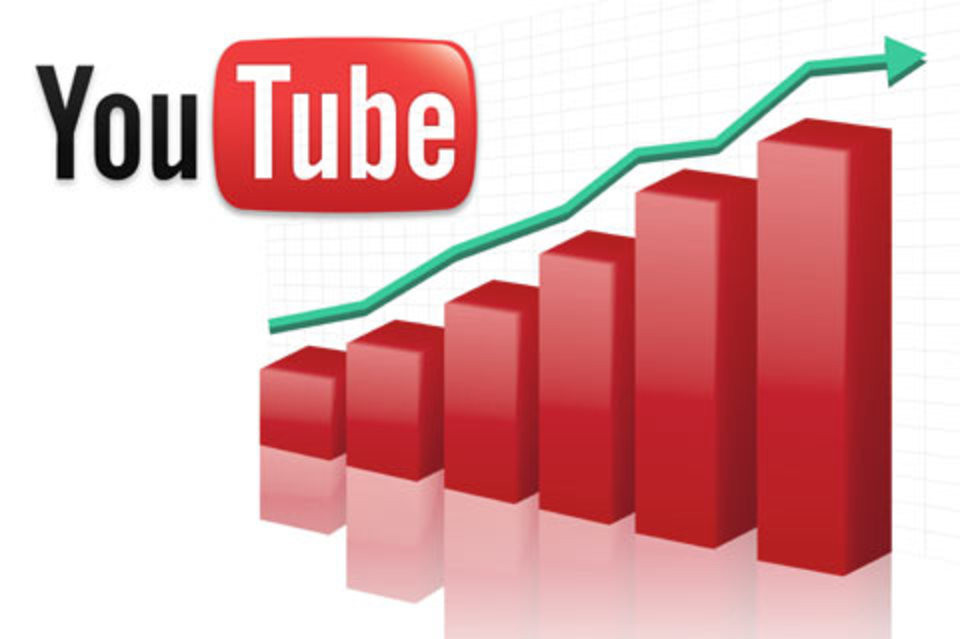 I hope you enjoyed!
If you have any questions about building a successful YouTube channel, feel free to ask me in the comments below! :)
- Roope "YouTube teacher" Kiuttu
PS. This is an overview of the process. Perhaps I may drill down more into specifics of each of these things in the upcoming posts.
RoopeKiuttu's Posts
295 posts