Memorable Easters
Last Update:
April 02, 2021

Candy and I lived on a small lake in East Texas for 17 years, our neighbors were a retired Methodist Minister and his wife [Spurgeon and Thelma Dunnam], wonderful people, we became good friends. Every year we attended a early sunrise Easter service at the neighbors, come rain, storm, winds. we always had the service and several times very adverse weather. Very memorable times
It was during this time that we adopted our son Michael, 3 1/2 year old wild cat. Candy and I were new at parenting, it was definitely a challenge. When we felt we had reached the end of our rope, we would send Michael to Spurgeon and Thelma for a break. Wonderful, patient, and understanding friends, always glad to see Michael, Spurgeon taught Michael to play piano and play chess. They helped us so much raising Michael. Just so you knoe, Michael did a hitch in the Navy, he is married with a fine wife and son, and doing very well. They will be joining us for Easter egg hunt, presents and plenty to eat on Sunday.
After Michael grew up and left, Spurgeon and Thelma both passed, we sold the lake house and moved to White Oak. Several years later was another memorable Easter morning experience. I awoke early Easter morning, and being hungry, was off to town to find some breakfast. When I walked out to my truck, I noticed there was a skunk under my truck. I also noticed that our cat Sassy was in front of the truck. The skunk had moved away, so I got in the truck and drove off. I found b-fast and returned and drove in the driveway, the skunk who was in the front yard came over to the truck, oh my goodness, the skunk had a Yoplait yogurt carton stuck on it's head. Now what do I do. The skunk moved away, I got out and went in the house, asked Candy, what do you think I should. She said call the White Oak police, they should know what to do, so I called, They may have over reacted, 3 police cars arrived with 5 officers, two got out their shotguns, I said what are you going to do? They said they are going to shoot the skunk, and I said what then, they said then it was my problem. Well, I don't want that. Just then an EMS rescue truck showed up. I guess the police and EMS crew didn't have anything to do that Easter morning. One of the EMS crew said don't shoot the Skunk, let me try something. He went to the truck and got a blanket, he snuck up behind the skunk, he dropped the blanket over the skunk, he stepped on both sides of the skunk, on the blanket, which held down the skunk and it's tail, he reached down and pulled the yogurt carton off the skunks head, then everyone ran, including the skunk!!! Pretty interesting Easter, all turned out well!!
Hope Everyone Has A Safe And Happy Easter With Your Families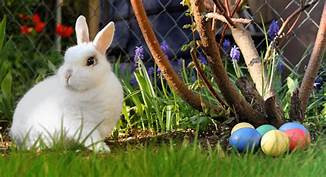 RogerMackley's Posts
34 posts