Why WEIRD and WACKY Keyword Research Always Wins For Me
Last Update:
September 20, 2021

Firstly, for those of you who got overly excited at the mere mention of "Wacky"
I'M SORRY.
No, this is not the continued adventures of PP, Old Fluff, and Wonky Donkey.
For those of you who have no idea what I'm talking about - it's about to get WEIRDER.
I've always had a penchant for the weird, the wacky, and the wonderful.
It's always fascinated me.
(Probably explains why I like so many of you guys and gals).
However, when it comes to keyword research, WEIRD is definitely the way forward (as far as I'm concerned).
By this I mean finding keywords or article topics that are just a little bit "out there".
Things that you'd never normally think of.
Yes, I know you all love writing your Top 10, Top 7, Top 5, Best of, How to, Top Tips, Review, articles.
I have read many of them, but in truth, zzzzzzzzzzzzzzzzzzzzzz, I usually fall asleep halfway through.
For this I make no apology.
No, I am not being mean, I'm being honest.
I'm bored of reading the same things said 10,000,000 different ways.
The internet is full of people writing the same things over-and-over again.
If you're not ranking or getting traffic, I'll let you into a little secret, ssshhhh, don't tell anyone else.
(What you're writing about has been written about a million times before - this means you've immediately got competition, so you have to wait… and wait… and wait… and wait… 6 months… 8 months… 12 months… 18 months… even 30 months… to outrank those who've written these types of articles before).
Time for some creativity.
Be like me, Be Weird!!
Find What Works & Repeat it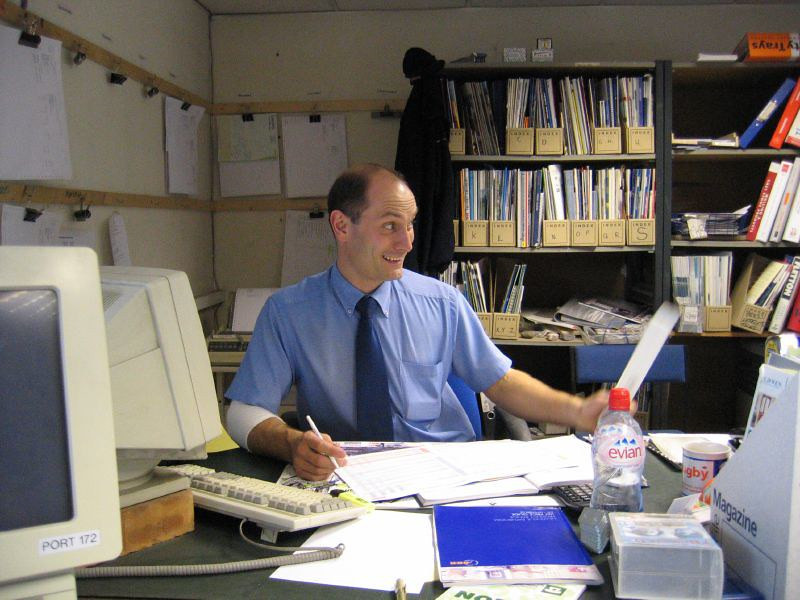 Okay, a great strategy is if you find a particular article of yours working well, is to replicate what you've done before.
Once again, you all know where to find the website I'm currently working on, and you know the subject matter (yes, subject matter, not niche, because I am going to write thousands and thousands and thousands and thousands, and outsource as well, of articles. So, I can write about a huge subject rather than a very specific niche).
Anyway, it's exercise-related.
Now, I've spotted a couple of articles that are doing quite well, and they've only been going for a short amount of time.
They both focus on the calf raise exercise.
The first article published on April 14th 2021, "Why Do Calf Raises Hurt My Feet?" has received 864 visitors in the last 30 days.
Not Bad
The second article, only published 3 months ago on June 15th 2021, "Why Do Calf Raises Hurt My Glutes?" has received 1,022 visitors in the last 30 days.
Gooood, I Like.
I've previously spoken (many times) about how one article will rank for more-and-more keywords as it ages.
So, month-on-month is like a compounding effect, with traffic.
It's not until you get to around the 8-9 month that traffic usually starts to even out (but it can still continue to get better, or worse, after this, there are no REAL rules).
So, realistically these two articles should continue to increase in monthly traffic for a while yet.
I written about and provided proof of the traffic compounding effect in my blog post, "Allow Me to Blow Your Keyword Research Mind"
Plus, they're a little bit weird, i.e. feeling an exercise in the wrong place.
So, I decided to do some more keyword research around calf raises to see what I could come up with.
It's about to get REALLY Weird.
What Did I Find?
I used the Google Autosuggest method that I have spoken about 7,205,228 times before.
I went to an incognito tab, typed in Google (dot) com and came to a fresh search bar.
I typed in
Why Do Calf Raises
I then went through the alphabet placing a letter exactly in the middle of this phrase.
So:
Why Do a Calf Raises
Why Do b Calf Raises
Why Do c Calf Raises
Why Do d Calf Raises
And eventually I got to p (literally).
This is what I found: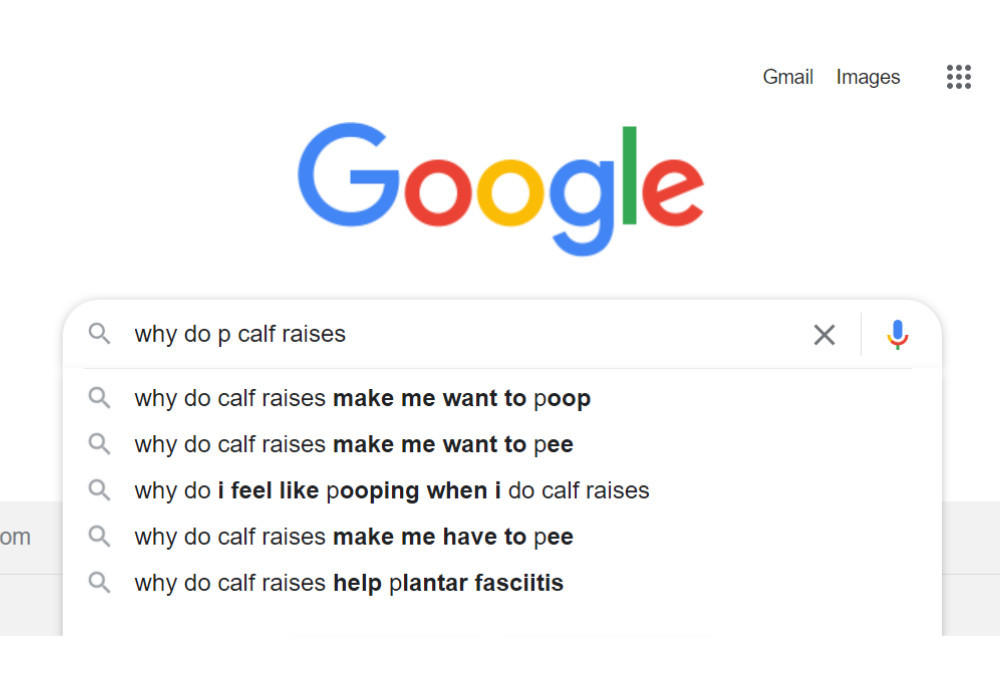 PERFECT.
And it's so true.
Whenever I do calf raises in the gym I really do need to pee (not so sure about the poop, but yes I definitely need to pee).
So, I set about writing the article.
Me being me, I obviously DIDN'T check Jaaxy, Ubersuggest, AHrefs, or any other keyword tool (I'm such a rebel).
In fact, I only checked it today in order to write this blog post.
Here's the results
As with pretty much ALL my articles - no average, no traffic, not great SEO, and it says only 7 for QSR.
So, only 7 websites with this EXACT PHRASE WITH THE WORDS IN THIS EXACT ORDER.
That doesn't mean there aren't 1,000,000 websites who rank for this phrase, it simply means they may not be using these exact words in this exact order.
I would hazard a guess that at least 3 of those 7 QSR are now me (the original article, then shared on Facebook, and shared on Pinterest).
So, I checked page one of Google (at the time, I have no idea what's on there now), I found Quora, Reddit, Forums, etc.
JACKPOT,
I wrote and published the article on August 2nd 2021.
So, exactly 7 weeks ago today.
I know that if an article is going to do well it usually gets some traffic in the first 7 weeks.
It doesn't have to get a lot (remember the traffic compounding effect month-on-month).
But if it receives perhaps 10-30 visitors in the first 7 weeks, I can pretty much guarantee that this will be a 1,000+ visitors a month article.
Here's the Analytics for August (and this is ALL traffic from Google)
So, it received its first visitor exactly one week after being published, and 20 visitors in total in August.
Here's the results for the first 19 days of September.
So, already 47 visitors so far this month.
I would guess the article may get to around 80-90 visitors a month by the end of September.
Okay, this isn't huge when compared to a LOT of my other articles.
But all of the 1,000 visitors PLUS a month articles I have written literally had around the same amount of visitors after 7 weeks.
From small acorns, mighty oaks grow.
I would think that traffic to this article will dramatically increase in October (and each month thereafter as it starts to rank for more related keywords. Plus I did mention "poop" in the article, so it should start ranking for "poop" related keywords within another month or two).
The Power of Google Autosuggest - REAL QUESTIONS that are being asked by REAL PEOPLE. (even if they are weird, e.g. pee and poop)
Final Thoughts
Short and sweet today.
I know many more of you are using Google Autosuggest and writing article titles in the form of a question, and then using the content to ANSWER that question.
Trust me, in terms of traffic it works (even if a keyword tool tells you there isn't any traffic).
You know where to find my WA blog posts on keyword research, SEO, Traffic, etc.
If not, just ask.
My main aim today is to tell you not to be BORING.
Be like me, Be WEIRD.
It's the weird, wacky, and "out there" questions that people in your niche want the answers to.
Yes, writing articles with commercial intent (Best of, Top 10, Reviews, etc) are your MONEY articles.
However, I have also written about how an article doesn't need to have any commercial intent, it doesn't need to sell a thing, in order to earn you money.
Allow Me to Blow Your Traffic and Money-Making Mind
That's me done.
Right then my beautiful little weirdos, go forth and do some WEIRD keyword research.
Thank You For Reading
Partha