ONE ARTICLE Receives 1,500+ Visitors in 3 Days (Still Not Happy)
Last Update:
December 22, 2021

Hey Everyone.
Okay, I want to take you through a journey of one of my articles over the last few days.
Basically, I've received a tiny spike of additional traffic since December 9th 2021.
It's not huge, but I've received between 100-500 extra DAILY visitors to my website from a "NEW" traffic source.
However, the vast majority of this traffic is due to just ONE single article.
In fact, this one article has received nearly 2,000 visitors in the last week, with 1,503 visitors coming on 19th, 20th, & 21st December 2021.
And don't forget this is just ONE article on a website that has well over 400 articles now.
I've also mentioned in the title that I'm "Still Not Happy" (I never am).
This is purely because I don't believe it's a permanent source of traffic (for this one particular article, but it could be seen as a permanent source of traffic for many different articles on your website).
In fact, after some further research I've found that even Google's John Mueller has told many SEOs not to become overly reliant on this form of traffic.
Basically, it can come and go as and when it pleases.
So, let's get to it.
Breakdown of the Article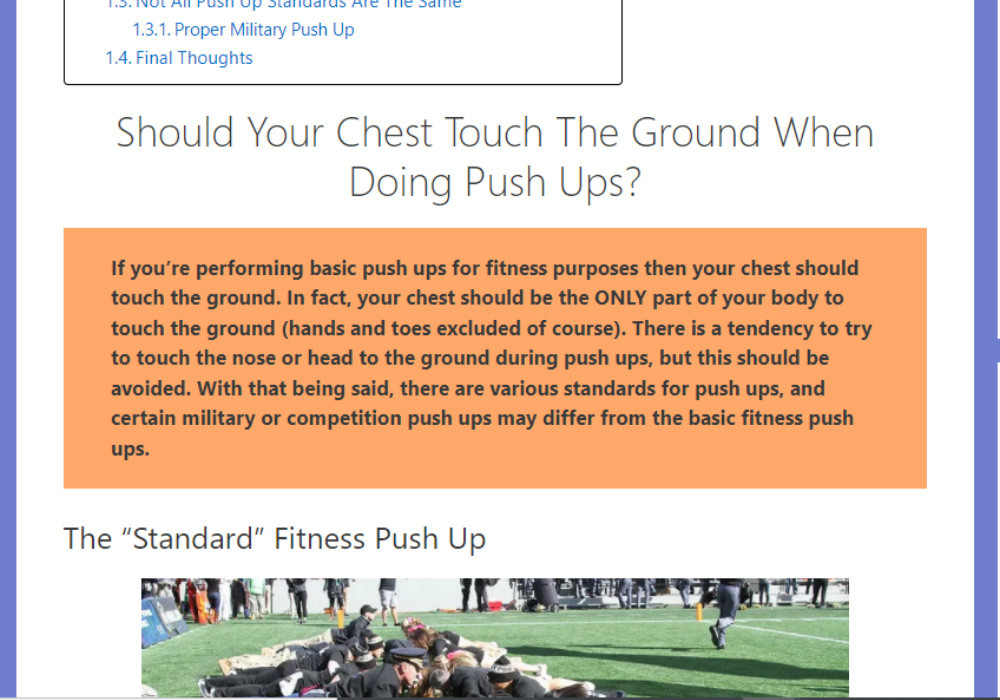 The article is titled, "Should Your Chest Touch the Ground When Doing Push Ups?"
It was published on June 16th 2021.
It went through the normal stage of receiving a trickle of organic traffic in the first couple of months.
It was then producing regular traffic of 14-28 visitors PER DAY during October and November.
And in December it has really taken off.
In fact, in the 3 days I'm looking at (19th, 20th, 21st December 2021) it has received 106, 80, and 80 visitors respectively just from Google Organic Search..
So realistically, going forward, this article should produce 2,000+ visitors a month (probably much more) JUST from people searching for it in Google.
I found the article topic (keyword if you must) via my normal method of Google Incognito Search.
Here's what I typed in and as you can see it's one of the Google Autosuggest queries.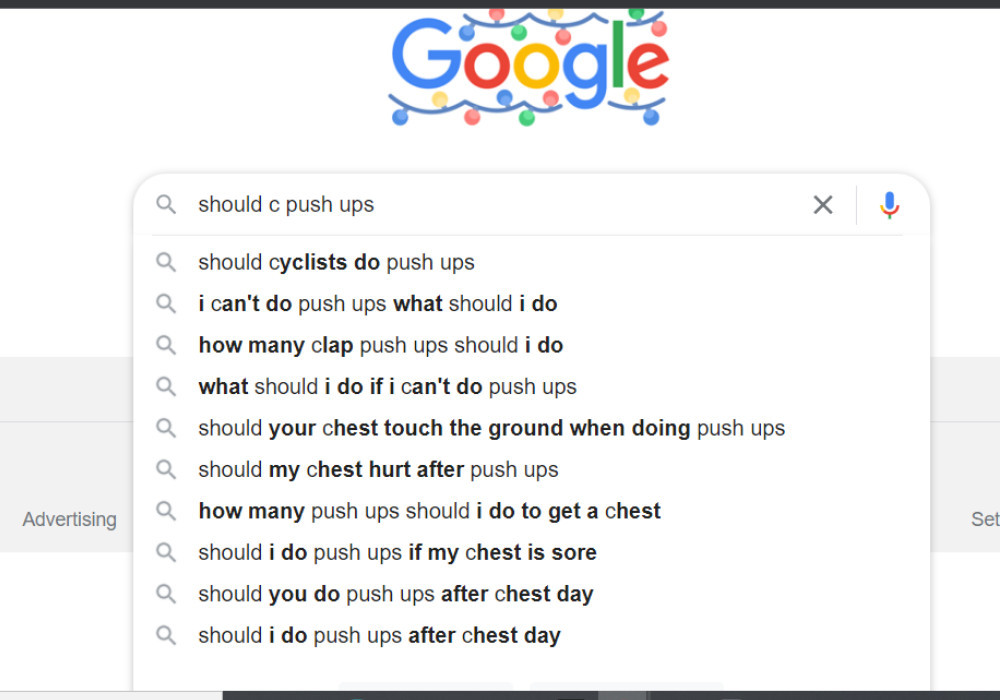 So, I literally just typed "Should Push Ups" in Google and then went through the alphabet until I came to "c"
And just to prove that my Autosuggest method works regardless of what a keyword tool tells you, here's what Jaaxy has to say about this keyword.
Basically, I'm told that I won't receive any search engine traffic from this keyword.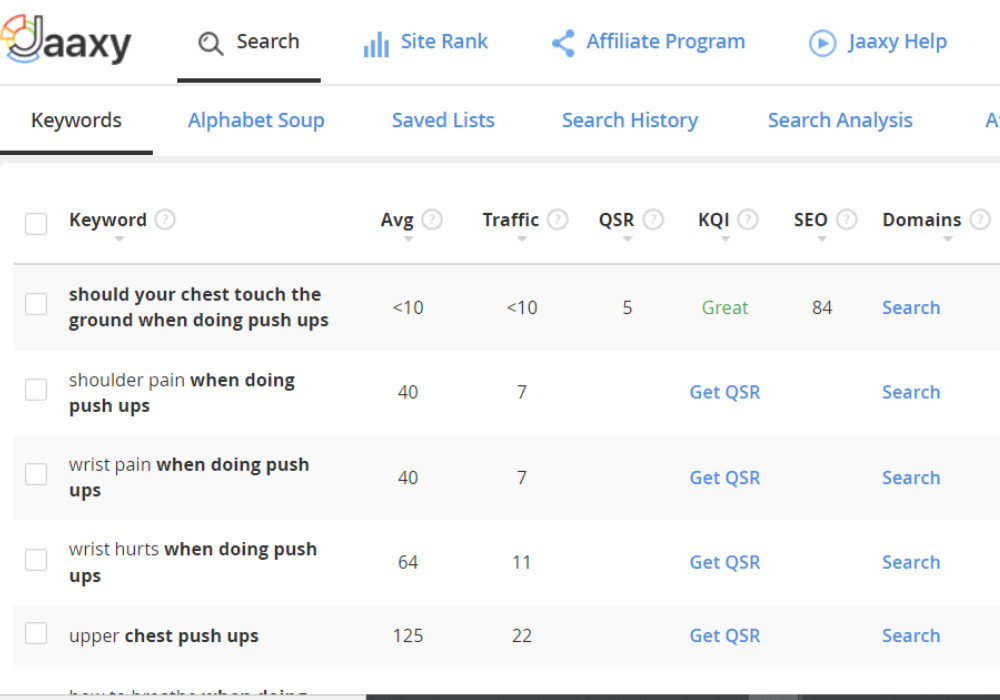 2,000+ visitors a month to the article tells me otherwise.
Now, the interesting thing is that I am now receiving traffic for this article from an alternative source.
The breakdown is as follows:
December 19th - 495 visitors
December 20th - 432 visitors
December 21st - 305 visitors
Plus, at the time of writing, the article has already received 164 visitors so far today.
What's the "Secret" Traffic Source?
So, the "additional" source of traffic is Google Discover.
Google Discover, which used to be known as "Google Feed", is the personalised content feed on the Google Smartphone App.
So, if you have the Google app installed on your phone you'll be greeted by mainly news and entertainment stories.
Basically, it's a running news feed that updates throughout the day.
However, Google will also try to personalise the information on YOUR Google feed.
This is based on your search history.
Therefore, if you have been searching for 50inch Smart TVs then you'll notice information about 50inch Smart TVs on your Google Discover Feed.
So, for me, I am obviously appearing on people's Google Discover Feed who have recently searched for exercise information, or maybe even specifically about push ups.
In other words, people aren't specifically searching for my article on Google Discover, but it is being shown to them as Google believes it is relevant to their interests (search history).
It appears that I've been receiving Google Discover traffic since December 9th 2021.
I've had a total of 8 articles featured and they have produced around 3,500 visitors in just 12 days.
However, a large percentage of that has come from just this one article I've mentioned here, especially over the last 3 days.
Why Am I Not Happy With the Traffic?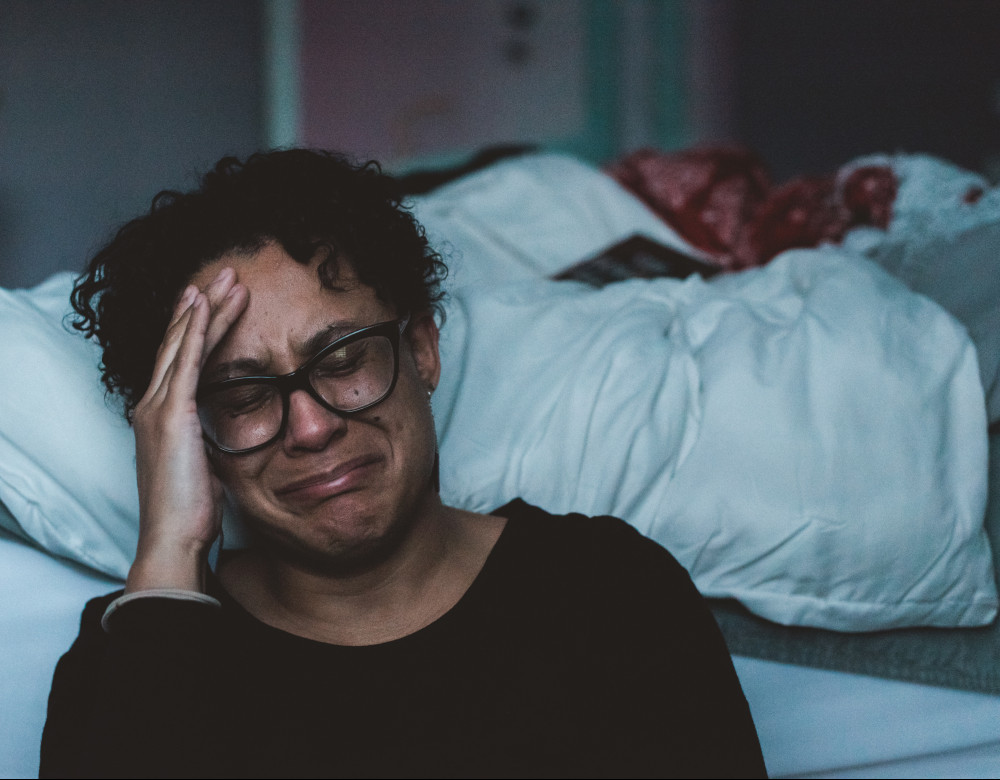 To be honest, it's not so much that I'm not happy (always grumpy), but rather that I'm pretty sure that this won't be a permanent traffic source for THIS PARTICULAR ARTICLE.
That's not to say that I won't regularly have articles appearing in Google Discover.
So, I could in effect be receiving an additional 500 visitors a day from Google Discover for various articles on a more permanent basis.
However, I believe that each article will only typically feature for a week or two.
In fact, I have another article that received around 700 views over the course of a week from Google Discover and it is no longer featured (no longer receiving traffic from this source).
I decided to investigate Google Discover a bit closer.
It appears that if you have something relevant and newsworthy then you can be featured on Google Discover.
But, as with all news and entertainment stories they have a specific lifespan.
Basically, what's news today will typically be forgotten about in a few days time.
With that being said, if your content is evergreen (just like my content is), as in, there is no specific lifespan to your content, then you may feature for slightly longer on Google Discover.
However, the whole point of Google Discover is to provide fresh and up-to-date information for users.
So, in essence, it's much like getting a spike of traffic to one article from social media.
You may get a few thousand visitors over the course of a few days, but that will eventually die out.
But, my hope is that now I've been "Discovered" (do you see what I did there?) that my articles will regularly be featured on Google Discover.
As I've said, it's not a huge amount of traffic in terms of how much traffic I receive on my website anyway.
But, an extra 300-500 visitors a DAY is always welcome.
John Mueller Has Said Not to Overly Rely on Google Discover
I found an interesting conversation between various SEOs and John Mueller earlier this week on Twitter.
An entertainment website said that the main source of their traffic had been through Google Discover for the last 6-7 weeks.
They were receiving around 10,000-15,000 visitors a day from Google Discover.
However, this suddenly plummeted to around 100-200 visitors last week.
John Mueller, Webmasters Trend Analyst @ Google, explained that you shouldn't become overly reliant on Google Discover traffic.
Yes, you can definitely receive a lot of traffic in a short space of time, but you have to remember that Google Discover is "rolling news".
Therefore, things can change from day-to-day.

Final Thoughts
I will say it's nice to receive a boost in traffic to a few articles via Google Discover, but I'm aware that there may be a time limit to how much traffic you'll receive per article.
With that being said, if this means that my website receives an additional 10,000-15,000 visitors a month, who am I to complain?
Something else that was quite interesting about the last 3 days - the article in question is purely information, i.e. it's not a product review, best of, etc.
However, I do link to a relevant product review on my website at the end of the article.
It appears that quite a number of visitors have clicked through to the product review and 17 people have purchased the product in question in the last 3 days.
Again, nothing big, but this has provided an additional $254.87 in commissions.
(As I always say, you can make money from purely informational content).
Going forward it will be interesting to see how Google Discover impacts my traffic.
With the website in question, I haven't even monetized it properly yet.
My main source of income is going to be through premium Ads through Adthrive.
This requires that I receive 100,000 visitors per month.
At the current rate of growth I expect to be there some time in February or March (and remember this website is currently only 16 months old).
I know many of you will think I'm mad, as I currently have enough traffic to be receiving $1,000-$1,500 purely in ad revenue from one of my current ad networks (Adsense, Ezoic, or Mediavine).
But, I've decided to hold off until I get to 100,000 visitors a month so I can see what Adthrive is all about and how it works.
Plus, the affiliate commissions roll in on a daily basis, so no worries there.
Search Engine Journal has written more in-depth information about how to succeed in Google Discover.
How to Succeed in Google Discover
Okay, that's me done.
Definitely have a read through on what SEJ has to say about succeeding in Google Discover.
And who knows, soon YOU could be "Discovered" too.
Thank You For Reading
Partha