The Xmas Scammers are Her.
Last Update:
November 20, 2020

Hello WAers,
Hope you are all well and keeping an eye on what flows into your inboxes. I just looked in one of mine and there was an email from someone who had filled out one of my subscription forms.
Problem was It was more indepth, so I opened it and as you can see in the screen shot it is someone requesting I pay them some money.
They have hidden the address by using the Bitly link shortner. The other problem for him is I am pretty sure most of us know where we have our domains registered.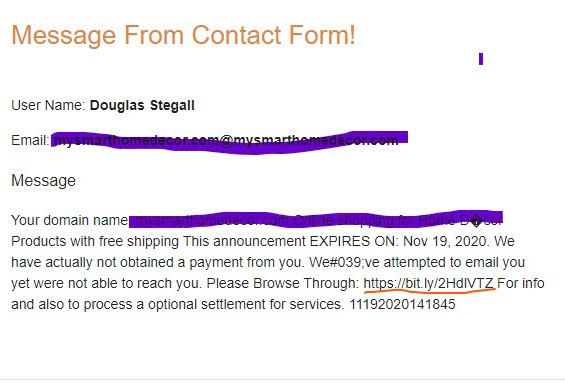 This looks a pretty amateurish attempt by Douglas Stegall. But...
It is that time of year, and after the disjointed year this has been, there is likely to be many more of these scams floating around, and done at a more professional level than this one. .
So be aware, be careful, it was about this time period last year PayPal was sending me invoices for shoes I had supposedly bought from some dude in England.
That took a little fixing, including cancelling two debit cards and having new ones issued, but I got the money back. About $500 AU.
Michael.