Is Wealthy Affiliate a scam? - ABSOLUTELY NOT!
Is Wealthy Affiliate a scam? - ABSOLUTELY NOT!
Last Update:
December 08, 2014
So, I'm on lesson #9 and with each that I've covered I perform the same educational functions.
1) I scan the page to see what it entails.
2) I assess how long it might take to complete the lesson.
3) I take a gander at the tasks asked of me for the lesson.
4) I read and stop to watch videos and access links where they appear.
5) I scan the member comments.
6) I do the work to complete my tasks.
Now, I did a ton of research before I even considered joining Wealthy Affiliate. I watched videos of people reviewing the site and followed as they navigated through their own starter membership pages. I read reviews from credible websites. And I also browsed some affiliate pages that were created through the bootcamp to promote Wealthy Affiliate.
Initially, I was skeptical; as I should be. There are a ton of scams on the internet... Or are there? I'm convinced that there aren't as many scams as the general public would have you believe. Most people don't read the fine print or research the companies and programs that they enter into a contract with. Those people are surprised later to find out that there was more to the deal than expected; more work involved, more money involved, and/or additional commitments. Is that a scam? It most certainly is not if you receive what was promised in the end. It was your choice to enter a contract with an understanding of what was expected of you and what the contractor would deliver.
I'm seeing skepticism within the community and I wanted to share my thoughts on Wealthy Affiliate. First of all, hard work is the key to the success of any endeavor; online or tangible. Secondly, Kyle and Carson share a cornucopia of advice, tips, and structured methods to follow in the starter membership alone. I can't imagine the amount of wisdom I'm missing out on by not going premium, but maybe I'll get there eventually. Lastly, I've not entered any credit information or given out any personal data other than my name and email. How in the world could these two guys scam me with such little information? They simply can't!! They don't even know what country I'm in, let alone how to get money out of me.
I was concerned that I would lose some amount of control over my website that I built here, but that is no longer bothering me after just a few days as a starter member. There is ample opportunity, as well as help, should I choose to move my website to another host. In fact, I've read in the community that Wealthy Affiliate actually encourages it. So, no more worries there! I do suggest that if you plan to move your site that you do it early on. The more established your site is, the more complicated it will be to move it. Just saying... as a noob with good sense.
In closing to my very first blog, I'd like to say that I'm satisfied I made the right choice by joining Wealthy Affiliate. The free training is worth its weight in gold even if I didn't utilize the two free websites, which is a remark I heard on a video review, by the way; the very remark that made sense to me and sealed the deal. But I am building my first sites here because they've made it so easy and I can follow along with Kyle while doing it, getting my feet wet in the baby pool, before committing to any paid services elsewhere.
So, Thank you, Kyle and Carson, for your personable and engaging training!
A sincere and satisfied member,
Meli
P.S. - The way Kyle pronounces 'about' is just as cute as the dickens. It sounds like 'aboat'. Hee hee!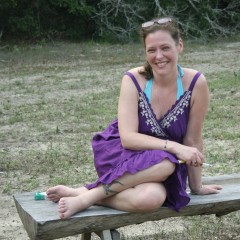 MeliTharpe
Starter
Dec 05

2014
1
MeliTharpe's Posts
2 posts