She's Gone Viral! (One Life Can Make A Difference)
Last Update:
October 08, 2021

I wrote a WA blog recently called Focus is Key, in that article was a poem by Ashish Ram which spoke about one voice, one heart, one life. This week we have been privileged to witness a young lady who has and still is fighting to have a life and through her one voice, she's gone viral!
Have You Seen Her?
This young lass has knocked the socks off people around the world, starting with Simon Cowell on AGT.
She knocked his socks off with her voice and with her song, but it was more than that, she knocked his socks off with her wisdom!
Check this out!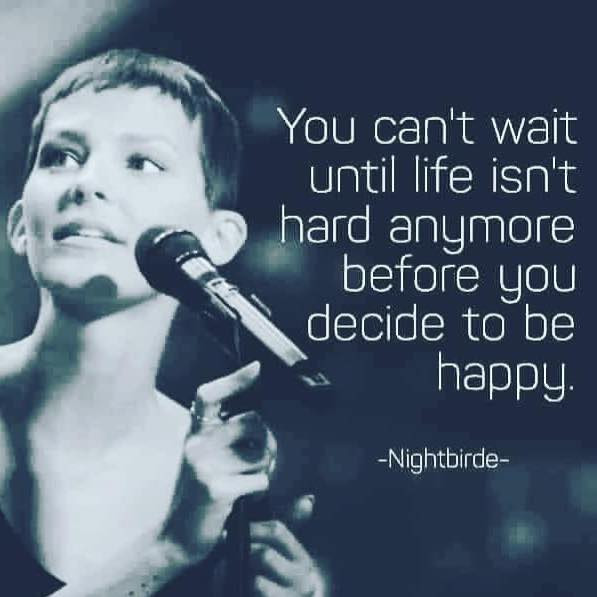 What Is So Remarkable About Her?
Nightbirde has gone through and continues to go through, more than most people do in their lifetimes.
When you visit her website, and I hope that you do, you will see these words written on the landing page:
"God is on the Bathroom Floor
I don't remember most of Autumn, because I lost my mind late in the summer and for a long time after that, I wasn't in my body. I was a lightbulb buzzing somewhere far.
After the doctor told me I was dying, and after the man I married said he didn't love me anymore, I chased a miracle in California and sixteen weeks later, I got it. The cancer was gone. But when my brain caught up with it all, something broke. I later found out that all the tragedy at once had caused a physical head trauma, and my brain was sending false signals of excruciating pain and panic."
See, this young lady is in her fourth battle against cancer and she is only just in her 30's!

Despite the battle, despite the trauma, despite everything, Nightbirde entered America's Got Talent ... and received the Golden Buzzer from none other than Simon Cowell!
It's Not Because of Her Illness But In Spite of It
Don't be misled, Nightbirde did not receive the Golden Buzzer as a result of pity. She received it because she deserves it. Here is what she did:

She presented her beautiful voice to the world on the AGT stage

She shared her wisdom in song and spoken word
She made a difference to everyone who heard her
Facebook, YouTube, TikTok
Everywhere I look right now I see this young lady. Her impact on the world has been nothing short of phenomenal!
The people sharing her wisdom, sharing her Golden Buzzer moment, sharing her voice, come from all walks of life, all ages, and all over the globe!
Our Deepest Fear by Marianne Williamson
Watching Nightbirde explode onto every screen also makes me think about the words written by Marianne Williamson:
"Our deepest fear is not that we are inadequate. Our deepest fear is that we are powerful beyond measure. It is our light, not our darkness that most frightens us. We ask ourselves, 'Who am I to be brilliant, gorgeous, talented, fabulous?' Actually, who are you not to be? You are a child of God. Your playing small does not serve the world. There is nothing enlightened about shrinking so that other people won't feel insecure around you. We are all meant to shine, as children do. We were born to make manifest the glory of God that is within us. It's not just in some of us; it's in everyone. And as we let our own light shine, we unconsciously give other people permission to do the same. As we are liberated from our own fear, our presence automatically liberates others."

― Marianne Williamson, A Return to Love: Reflections on the Principles of "A Course in Miracles"
We All Have A Voice

Whilst we cannot all be a Nightbirde or an author like Marianne Williamson, we do all have a voice, we do all have something to share with the world around us.
Just as Ashish Ram ends his poem:
One voice can speak with wisdom
One heart can know what's true
One life can make a difference,
You see, it's up to you!
What Is Your Plan?
Being part of Wealthy Affiliate affords us the opportunity to make a difference in the lives of other people.
When we share this platform, the training, the community, the tools ... we show others the way to change their lives and the knock-on effect has the potential to be massive. Literally, life-changing for many people!
Not only those who sign up on the platform and create financial success but their children and their children's children.
I don't know about you, but for me, the big picture is extremely exciting and motivating.
My Hope
I hope you read these words and a sense of wonder and awe floods your being. Not because of my words but because of the incredible opportunity that lies before you.
My hope is that you don't wait, as Nightbirde said, for life to not be hard before you decide to be happy.
My hope is that you will grab every opportunity by the horns and give it your everything!
My hope is that in your lifetime we will be able to say these words of you too: She's Gone Viral! (One Life Can Make A Difference).
Blessings always
LouiseBT's Posts
134 posts