I'm not sure if this is correct? I'm sure you will say if not Page 1 on Google
Last Update:
November 19, 2020
Hello wonderful WA family.
I hope you are all well. I'm still suffering from my cold, getting better slowly. Took a day off from the day job today and slept for a while.
Before sleeping i was tinkering around on Google, putting in some of my post titles. some i found somewhere on the first 10 pages. they are moving forward slowly as i'm adding more content and my site is getting older.
Then I came to this title "Mastering Stress Naturally Review"
It is on page 1 position 1 on Google, Well you could have knocked me over with a feather. After reading a few posts where it was said that typing the title into Jaxxy gave a false positive reading of a page 1 number 1. I thought i would try it on Google directly.
I am aware a lot of people are not sure how to find this out correctly and i'm one of them still. Perhaps you can explain in the comments on how to find it in Google Analytics please?
Here are my screen shots :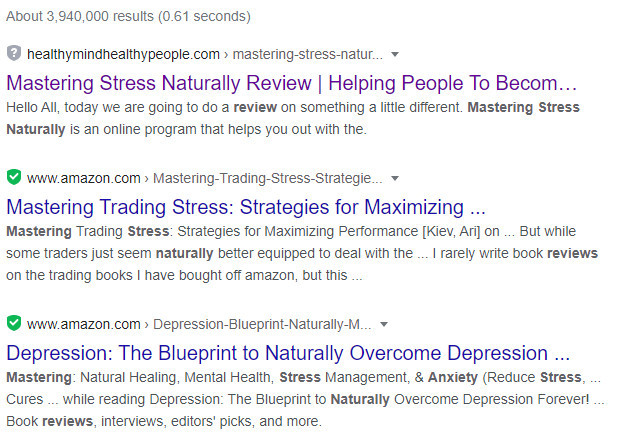 Going to leave you with this quote:

"I always did something I was a little not ready to do. I think that's how you grow. When there's that moment of 'wow I'm not really sure I can do this' and you push through those moments, that's when you have a breakthrough." Marissa Mayer


Thanks in advance for any advice.
Take care and stay safe.
Lisa. :-)
LMH1968's Posts
173 posts