180 blog posts on WA and 180,000 words written In Less Than A year.
Last Update:
March 08, 2021

Hello my WA Family, I hope this finds you all well?
I have just realized this is my 181st blog post in Wealthy Affiliate.
I went premium on 14th March 2020 so nearly a year has passed since I started this journey.
Wrote a lengthy post today of 2357 words and that took me over over the 180,000-word mark.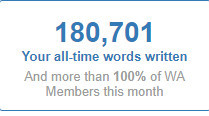 When I joined I was hoping to get to 150,000 by the time I had been here a year.
It's good to celebrate small successes, it helps to keep you going while you are waiting on Google to rank your posts and traffic to come.
As you know I did have 2 sites and the words are a combination of both sites.
The new blog is coming along nicely it has 45 published posts and is now 3 months old. Time to step up the pace a bit.
Going to leave you with this quote:
" I always did something I was a little not ready to do. I think that's how you grow. When there's that moment of 'Wow, I'm not really sure I can do this,' and you push through those moments, that's when you have a breakthrough." – Marissa Mayer
Have a great week and stay safe.
Lisa :-)


LMH1968's Posts
262 posts