150,998 words goal Smashed!
Last Update:
January 23, 2021

Hello everyone, I hope you are well?
When I first went premium I had a goal at the one-year mark 14th March 2021 to have reached 150,000 words as I wasn't much of a writer. Today I completed the goal.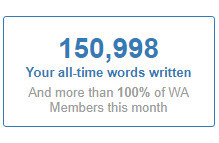 This has been accomplished over 2 sites.
My new niche is going awesome!! I started it 6 TH December and over 50,000 of the total words are on that site.
Have an amazing weekend and stay safe.
Lisa:-)
LMH1968's Posts
183 posts