You CANNOT Fail, It's Impossible.
Last Update:
May 24, 2021

I have long looked at failure I think differently from most. I realize that we all have moments that we deem as "failure" in life, but the reality of what is happenin is much different from most people think. So today I wanted to take a moment to discuss failure.
First, what does failure even mean? How do you know when you have failed, and I am going to beg to ask if there is even such a thing as failure? When is that moment where you know that you have failed?
Failure, Is it All An Illusion?
We have all heard the famous quote from Thomas Edison:

"I have not failed. I've just found 10,000 ways that won't work."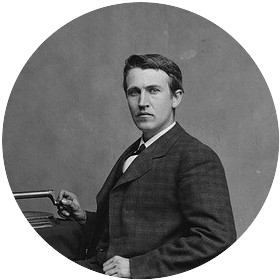 When he was attempting to create the light bulb, his approach was that a failure was just a learning experience. That is a correct presumption, because that is all a failure is.
One little trick I want you to do here is to think of your very last thing that you feel like you failed at.
Maybe you tried cooking, and the smoke alarms went off. Maybe you edited your theme on your website, and it completely broke your site. Maybe you had a very unproductive week, and didn't accomplish anything. These could all be deemed as failures right?
What if you changed your view? What if these were all GREAT learning experiences.
Yes, you smoked out your kitchen because you burnt whatever you were cooking, but you also learned a lot. Next time you will set a timer...or turn the heat down, or use less oil. You learned, and you will become a better cook as a result of that.
Same with your theme update that went wrong. Now you know how to not update your theme, and perhaps which theme you should avoid. This is useful information to have, and through the process you learned how to efficiently recover your website and manage different themes.
And what about that unproductive week that turned out to be a failure? Well, that was actually a brilliant learning experience. You can look back at the reason why it turned out to be unproductive, the fact that you didn't organize your schedule, you were wasting time on social media, and you were not focusing on specific tasks (you were trying to multi-task). That served as a really good learning experience.

See where I am headed here? If you replace any time you say "failed" with "learned", not only will your outlook on success change, but you will realize just how much you are learning as you move forward with your business.
When you "fail", you are ruling out ways that don't work...or don't work as well as you would like them to work. Simple as that. :)
---
Let's get a discussion rolling here. I would love to hear about recent "failures" that you had, that were actually learning experiences. What did you learn?

Also, have you always deemed a failure as exactly that, something that inhibits your progress indefinitely? If you have, you are not alone but you need to be honest with your views on failure, in order to overcome this significant hurdle in accomplish massive success!