Wanna Meet an Expert? (and Become One)
Last Update:
November 27, 2021

Hey Folks,
Today I want to talk about "experts".
The idea of "learning from an expert" is one that we at Wealthy Affiliate are HUGE advocates of. But what does that even "mean"? What defines one as an expert, and what role can an expert play in the actual creation of YOUR successful business?
It Starts With an Understanding of the Road to Success...
In all reality, the road to success is a bumpy one. I can attest to that.
I have failed more times than I can count on my fingers and toes combined. But failure comes with the territory of being an entrepreneur, trying new things, and actually not knowing what specific actions will produce positive results.
There is a lot of "trial and error" in business. You only know what you know. It is hard to understand what will lead to success, until you work to understand this. You might get lucky the first time doing something, but more often than not it becomes a process of elimination as to what "doesn't work", before you truly arrive upon what actually does work.
But...what if you could KNOW before you even attempt something what the exact process is to achieve success. What if you could remove this trial and error...and the fumbling around...and the time and money it takes as a result? Would that interest you?
Well you absolutely can.
This is done by learning from experts, people that have been in the trenches and have come out alive (and successful). People that have already gone through trial and error, and can help you avoid all the same hurdles they experienced.
And I would like to introduce you to Expert Classes here at Wealthy Affiliate...
Throughout the week, EVERY week there are expert classes being run within WA. If you are a Premium Plus+ Member, you will be able to fully appreciate that almost daily, you have access to a live strategy session with an expert where you can learn new skills, and also discuss the subject matter LIVE with the expert themselves.
Since the release of this platform, people are not only getting access to the MOST CURRENT training in the world here at Wealthy Affiliate, they are learning faster than ever. The community is becoming more skilled than ever, and at the end of the day, creating shortcuts for themselves to success.
We have 52+ slated classes in the year ahead for Premium members, and 250+ classes slated for Premium Plus+ members. If you take advantage of the Black Friday offer, you are going to get access to these.
But this year we wanted to put even more emphasis on the "Class" platform here, and give you some never-seen-before-insights into some of the top experts within the internet entrepreneurship world.
We wanted to get inside the mind of all of these experts, and dig out the finite details and oftentimes, the unshared details about their daily activities that are contributing to their success. Not only that, their mindset on how they approach failure, and successes.
You are going to get to truly step inside the minds of SEVEN of the most successful Internet Entrepreneurs here at Wealthy Affiliate.
Building a Business in 2022 and Beyond: 7 Experts, 7 Blueprints, in 7 Days
When I sat down to come up with a concept for this year's bonus training, I took influence from a conversation I recently had with a member at Wealthy Affiliate. They were curious as to what I would do if I had to start over and build a business from scratch.
The answer was easy. "Go through the training."
But that might not have been completely appropriate, as to the short winded nature of the response. Though the training will walk you through the process of building a business online, there are likely many things that I would personally think about when I go to build a business, mindset stuff, how I perceive the online business world, and the things to watch out for, and things to focus more attention on.
I mean, I have been at this for 19 years. Surely there are some things that I think about when I approach a new niche...or when I fail...or when I succeed that are natural at this point, that I don't typically have to think about.
So to fulfill my own selfish desire to find out MORE insight into what I personally would do, I came up with a list of questions that dip more into the mental side of building a business and that would allow me to touch on some of the more subtleties of "success" that may not initially be apparent.
In particular I wanted to look at it from the perspective of building a business in 2022...
Here are some of the questions I asked myself.
What are some niches that you would consider, and why?
What are some critical things that you have learned about mindset over the years?
What do you feel are the KEYS to success in the year ahead?
What would you avoid if you were to start a business today?
What are some changes/evolutions you have seen within the last years?
If there was ONE thing you recommend someone focus on, what would that look like?
What do you think would be the main culprits to a business failing in 2022?
I have put a lot of thought into these answers, and I know you are going to find them very insightful.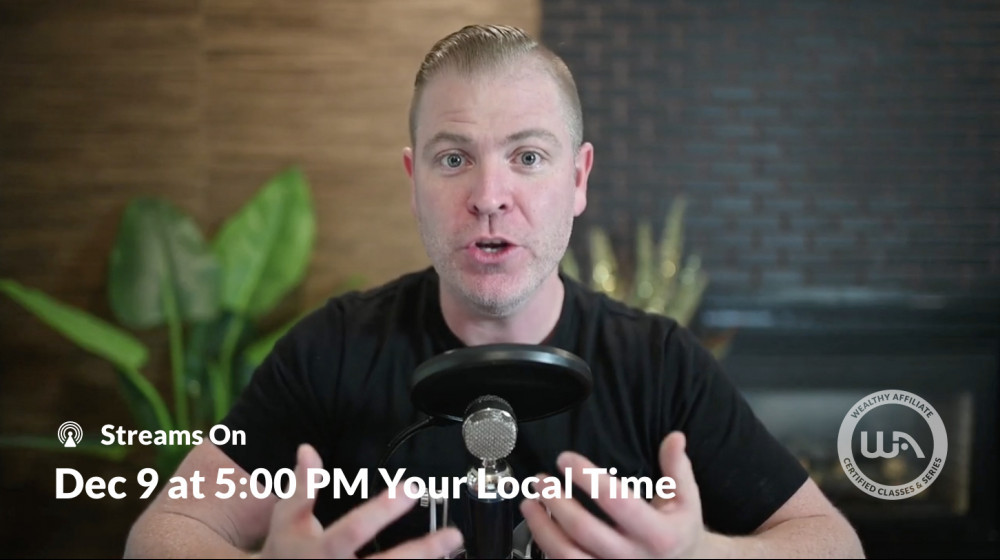 This is going to be my personal take, and my insights into building a successful business in 2022. But the "brain share" is not going to end there. You are going to get insights from SIX other very successful Internet entrepreneurs all with very different skill sets, all that are operating full time business, and all that carry different approaches to business.
I think this is going to reveal not only a lot of new ideas for you and your business, but is also going to showcase the characteristics behind those that have achieved success and plan on growing success in the year ahead.
This is a combination of over 80 years of experience online, packed into a week of brilliant training. Here is a list of the full schedule, and within the links below you are going to be able to watch the "preview" to all of these classes as well as subscribe to them.
---
Expert: Tim (included in Premium Plus+)
Key Skill Sets: Outsourcing, Content Creation, Research, Ecommerce, SEO, Scaling Niche Websites.
Class Date: December 20th, 2021 (Watch Preview Video & Subscribe here)
---
Expert: Chris (included in Premium Plus+)
Key Skill Sets: Youtube Influencer, Video editing/creation, Social Media, Customer Relationships, Product Development
Class Date: December 6th, 2021 (Watch Preview Video & Subscribe here)

---
Expert: Vitaliy (included in Premium Plus+)
Key Skill Sets: Building Successful Niche Sites, BingAds, Google Ads, Affiliate Marketing, Refining Conversions, SEO
Class Date: December 7th, 2021 (Watch Preview Video & Subscribe here)

---
Expert: Kyle (included in Premium)
Key Skill Sets: Google Ads, PPC Marketing, SEO, Keyword/Market Research, Customer Comprehension & Conversions, Long Term Success Creation
Class Date: December 9th, 2021 (Watch Preview Video & Subscribe here)
---
Expert: Eric (included in Premium Plus+)
Key Skill Sets: Instagram, Video Creation, KISS principles, Mindset & Goal Management, Wordpress, Keyword to Ranking, Travelling With an Online Business
Class Date: December 13th, 2021 (Watch Preview Video & Subscribe here)
---
Expert: Roope (included in Premium Plus+)
Key Skill Sets: Youtube, TikTok, Blogging, Becoming an Influencer, Email Marketing, Facebook Ads
Class Date: December 14th, 2021 (Watch Preview Video & Subscribe here)
---
Expert: Jay (included in Premium)
Key Skill Sets: SEO, Local Marketing, Graphic Design, Web Development, Video Streaming, Paid Advertising, Customer/Client Management, Conversions
Class Date: December 16th, 2021 (Watch Preview Video & Subscribe here)
---
SEVEN different classes, seven different outlooks, seven fresh perspectives from folks that are not only thriving online, but are excited to share their detailed insights with you.
We hope you are able to take part in all of these classes. You may have noticed that the Premium Plus+ membership includes all 7 bonus classes, and the Premium membership will include my class, as well as Jay's. So choose accordingly, but you cannot go wrong either way.
==> Get Our LOWEST Yearly Prices Ever! (few days left)
I'll be sharing some good stories about my windy road on December 9th, and hope to see you all there!
Cheers,

Kyle