The monsters have returned. Rant revisited
Last Update:
June 12, 2021

A couple of years ago, right about this time of the year, I wrote a post about the monsters coming to our home. Here is the link to that post: https://my.wealthyaffiliate.com/karin13/blog/the-monsters-ar...
I'm sad to say that once again, the monsters have returned only this time they came bearing gifts.
My granddaughter is now 8-years old. Her mother left her when she was 6 months old. We have been raising her since that time.
Sometimes her "mommy" won't call for months at a time. Then for a while, she will call every day for a week or so. My granddaughter is so confused I don't know how to help her except to just keep on loving her and trying to protect her from the "momsters."
One thing that we did this week is worked together on some fun videos for her YouTube Channel. The temperature has been in the 90s the past few days so we decided to see if an egg would literally fry on the sidewalk.
We did videos showing the progression. I think the egg actually dried out more than fried, but it sure was fun to do something with her to keep her mind off of her confusion.
I have to keep my mind off the confusion, too. It has been sad to worry about her life when she is visiting with her mommy... I don't trust her mommy. I am really struggling, so I made a list of things to work on for my blogs so that I don't think about things so much.
Today was especially hard because the "momsters" were taking her shopping with them (again! What are they trying to buy? Her affection? Most likely...) and out to a Chinese restaurant because she likes that. When I saw that car pull out of the driveway I was scared. What if they decided to try taking off with her? Just because we have primary physical custody doesn't mean they wouldn't try to kidnap her...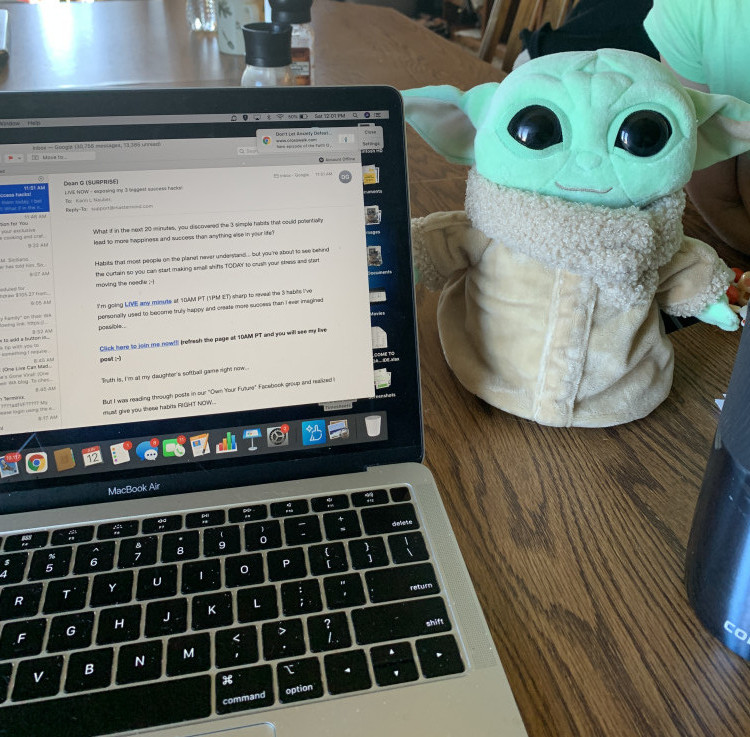 When she left, my granddaughter put her special Baby Yoda stuffed animal next to my computer so that I would "think about her." Trust me, she didn't need to do that. I am always thinking of her!
Anyway, the momsters leave on Tuesday and I am so happy about that... End of my rant...
I hope you have all been enjoying productivity!
Best wishes,
Karin
Karin13's Posts
347 posts