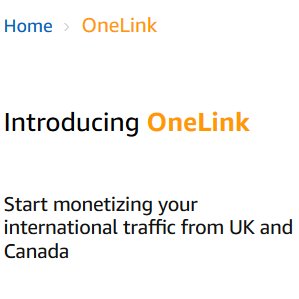 How to add Amazon One Link to your Amazon Associates Store and link them together. How to add Amazon One Link to your website

Hi, Sammie!

I have that same issue, The code doesn't show up for me.

Did you have that sorted for you?

Natalie
Answer

Hi Jeremy,

I've been trying to do this all day! \ud83e\udd26‍\u2640\ufe0f

I've signed up amazon associate accounts to the other countries and it says they are linked and "verified", however, when i go back to the OneLink home page, the 2nd option with the OneTag script code to paste never shows up. So frustrating, do you know where I'm going wrong?

I have more than one affiliate link on my site, one them is still for a product that's only available in the UK if that helps.

Thank you!
Answer