WA Premium For Only $0.82 a Day! - Crazy Black Friday Offer
Last Update:
November 26, 2021

Imagine investing only $0.82 every day into an online business and a year or two from now, your online business is worth $50,000 and makes easy 4-figures per month in passive income.
Would you call it a good investment?
I bet you would :D
That's the opportunity that you get if you avail of the WA Black Friday Offer!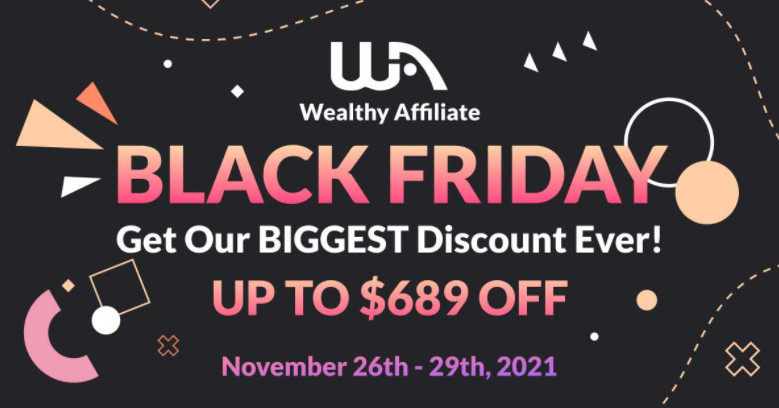 By the way, Happy Thanksgiving to all folks here who celebrate the holiday :) I hope that turnkey (or whatever you serve in your part of the US) is delicious!
As you know by now, WA Black Friday is almost here. This means you are up for a crazy discount on WA Yearly memberships!
Here is the deal in case you didn't see it yet.
When Does It Start?
November 26th - November 29th
How Much For Premium?
$299 Premium Yearly ($289 off)
How Much For Premium Plus?
$499 Premium Plus+ Yearly ($689 Off)
Who It's Available To?
EVERYONE (Starter, Premium Monthly, Premium Yearly, Cancelled Monthly, Cancelled Yearly)
What Do You Get?
100+ Step-by-Step Video Lessons (Value $999)
Enhanced Web Hosting (Value $299)
SiteRubix Website Builder (Value $199)
Domain Marketplace (Value $149)
Jaaxy Keyword Research Tool (Value $99)
Affiliate Program Research (Value $99)
Unlimited Help & Tech Support (Value $499)
52+ Expert Classes Per Year (Value $999)
Unlimited Private Coaching (Value $999)
and much more!
TOTAL VALUE: $4,341+
Imagine! All these tools, training, classes, features, coaching, and community help for only $0.82 per day if you upgrade during the next few days!
It's a no-brainer...really!
But I Have Forgotten the Best Part...
Once you've grabbed this offer, you're grandfathered to this price for LIFE!
In other words, you will pay the discounted price every 12 months!
So What Will You Do?
I have personally upgraded about two years ago and it was the best investment of my short life so far.
As I said in the opening lines, thanks to this decision, my site is now worth $50K and it makes easy 4 figures in passive income every month (hoping to hit five figures a month soon).
Will you do the same? Let me know in the comments below!
WA Black Friday Offer Bonuses

In case a discount is not enough, Kyle and Carson have prepared more for you this year!
Once you have upgraded to Premium Yearly, you will get these bonuses too.
Premium Bonuses
Bonuses Classes: Building a Business in 2022 and Beyond. 2 Experts, With Jay & Kyle
Access to EVERYTHING with Premium
Access to ALL Premium Classes in 2022 (over 52+)
Premium Plus+ Bonuses
Bonuses Classes: Building a Business in 2022 and Beyond: 7 Experts with 7 Blueprints in 7 Days
Access to a Brand New "Beta" Keyword Research Tool
Access to EVERYTHING with Premium Plus+
Access to ALL Premium Classes in 2022 (over 200+), and all past Premium Plus+ classes (over 250)
Early "Beta" Access to Exciting New Platforms

Take ACTION! Grab WA Black Friday Offer!
Black Friday offer is live in less than 15 hours! Set your alarm, mark your calendar, don't fall asleep because it might be gone when you wake up!
And if you have any questions, feel free to drop them below. I'll be happy to answer!
Best of luck! Your friend,
Ivan :)
IvanBroz's Posts
53 posts