How WA Black Friday Offer Changed My Life!
Last Update:
November 19, 2021

Two years ago, I was sitting in my living room, quietly thinking about what have I done so far in terms of affiliate marketing.
The thought made me mad because all I was doing is spending money and not making any.
I kept thinking and realized that one of the reasons for such bad results was the constant worry about spending the money that I don't have.
In other words, instead of focusing on making money, I was thinking about spending it. As a result, my wallet was getting thinner and thinner. And my results were obsolete.
And then, it dawned on me!
I realized that I need to stop worrying about spending money and invest all my thinking energy into ways and means of making money!
At that time, WA Black Friday was around so I got the idea.
I decided to take one-year Premium membership.
Moreover, the decision was followed by another one. I made up my mind to stop thinking about and doing things that are not going to help me to start earning a full-time income from my website.
In other words, I stopped worrying about my expenditures and started focusing on my income!
Even though I had just enough to pay for the membership, I did it and never thought about it again.
Two years fast forward, I earn enough each month to pay for multiple Yearly Premium and Premium Plus memberships!
So how did I make this change?
Believe it or not, it's all in your mind. The training works! But we tend to undermine ourselves by negative thinking. Therefore, we are destined to get negative results.
That said, I simply change my way of thinking and the results started to change accordingly!
Do you want to change your results? Do you want to be able to pay for your Premium yearly membership without having to worry about the amount this time next year?
Well, I invite you to follow in my footsteps!
In other words, grab the WA Black Friday offer!
Then, stop thinking about how much money you spend and start focusing your train of thought on the amount of money that you want to be earning this time next year.
Seriously!
Is it $1000, $2000, $5000, $10000, $50000? Is it more? No problem!
Just write yourself a check, fix it in your mind, and devote 12 months to writing at least 3 posts per week by following Kyle's instructions from the training.
This time next year, your WA Premium yearly membership could be easily paid from your affiliate earnings!
But that's not all.
Here are a few bonuses that are designed to help you to achieve your goals and will be sent your way once you grab the Black Friday offer: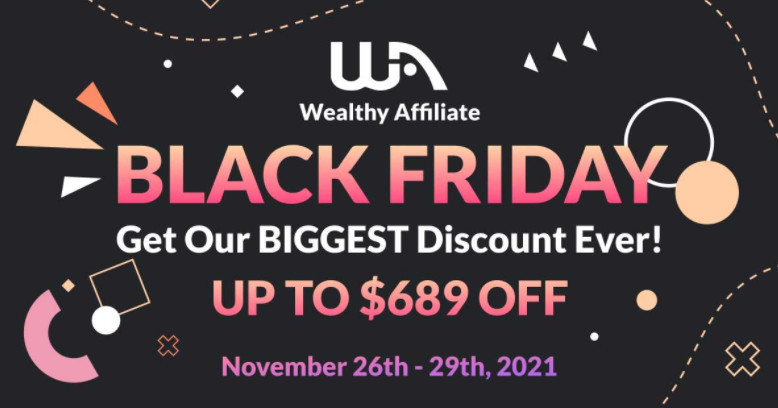 Premium Bonuses ($299/year)
**$289 discount off regular price
**Bonuses Classes: Building a Business in 2022 and Beyond. 2 Experts, With Jay & Kyle
**Access to EVERYTHING with Premium
**Access to ALL Premium Classes in 2022 (over 52+)
Premium Plus+ Bonuses ($499/year)
**$689 discount off regular price
**Bonuses Classes: Building a Business in 2022 and Beyond: 7 Experts with 7 Blueprints in 7 Days
**Access to a Brand New "Beta" Keyword Research Tool
**Access to EVERYTHING with Premium Plus+
**Access to ALL Premium Classes in 2022 (over 200+), and all past Premium Plus+ classes (over 250)
**Early "Beta" Access to Exciting New Platforms
Who It's Available to?
EVERYONE (Starter, Premium Monthly, Premium Yearly, Cancelled Monthly, Cancelled Yearly)

When It's Available from
November 26th - November 29th (maybe a few bonus days after...you never know)
So once again! Stop worrying about spending money (if you are doing it right now, of course).
Instead, start focusing on the money that you can be making this time next year!
Why You Should Upgrade to YEARLY NOW!
I'm looking forward to hearing your own success story that is going to happen thanks to your decision to grab the Black Friday offer and focus all your energy during the next 12 months on your website!
To your success!
Your friend,
Ivan :)
IvanBroz's Posts
52 posts