3.14 Million Impressions & 218K Clicks In Last 18 Months! Crazy!
Last Update:
September 08, 2021

Wondering if Wealthy Affiliate training works? Not sure whether or not you can get tons and tons of free traffic to your site through blogging? Do you have doubts about SEO?
Well, if that's you then this short post is a must-see!
I have started a website in 2018. However, I have really taken action with that site in 2019 (it was sitting dormant for an entire year).
From 2019 to 2021, this website has been viewed by 218,000 people from all over the world and has appeared in Google's search over 3 MILLION times!
Actually, these stats are from the last 16 months, which means that the numbers are even higher for the entire two-year period!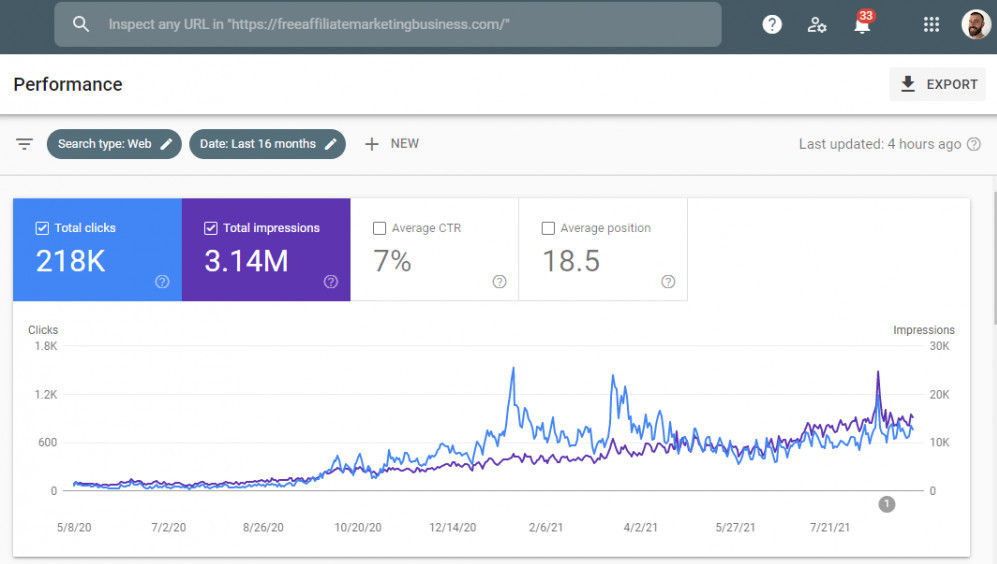 So what have I done to get these numbers?
In short, I followed Kyle's training on writing SEO and user-friendly blog posts to the last letter.
I wrote about 500 blog posts to this day, shared them across social media channels, submitted them to comments here at WA, and as a result, traffic started to flow.
And the more I follow these instructions, impressions, traffic, and other stats related to this site just keep growing and growing.
So if you have doubts about WA's training methods, STOP DOUBTING NOW!
Wealthy Affiliate blueprint for creating websites, writing content, getting free traffic from search engines, and making money with affiliate marketing WORKS!
And if you want to get results like these (even better), you just have to keep publishing high-quality, keyword-rich, and well-researched posts or reviews on your blog.
Remember, it's all just a numbers game.
The more you publish on your blog, the more traffic you can get.
And as a perfect analogy to this journey from 0 to 3.14 MILLION impressions and 218K clicks, here's a post from Kyle's blog where he compares web traffic to something we can all relate to:

Website Traffic is Like a Mountain, Stream, and River
One last note, free traffic from search engines takes time and effort.
My advice to all of you guys reading this post is to publish at least 2-3 posts per WEEK for at least one year. You will be amazed by your results!
And to grow your traffic, you just have to publish some more :)
Keep working hard. Keep hustling. Keep dreaming and believing.
Best of luck!
Ivan :)
PS: If you're on the fence about Wealthy Affiliate Premium membership, here's a little push on the right side! Upgrade today and start working on your site like there's no tomorrow. Your future self will thank you for it ;)
IvanBroz's Posts
39 posts