How Much is my website worth at the moment?
How Much is my website worth at the moment?
Last Update:
January 30, 2022

When I started in Wealthy Affiliate I used the free website builder Siterubix here in Wealthy affiliate to learn how to create a website from scratch.
I went through the WA bootcamp and followed the training videos.
After 7 days I became a Premium Member.
When I had created my website I moved it to a domain and started adding content.
I bought the domain for around $13.
I remember when I started how people in the Wealthy Affiliate community talked about how much a website could be worth over time.
My mind was never on this. Only to learn how to create a website and monetize it.
Value estimation 💵
A year ago I read a blog post here at WA about this topic and I tried a website value calculator that estimated my website to be worth around $500. My website had increased its value with $487.
How much is my website worth now?🤔
My website is now almost 2 years old and just for fun I went on Google today to see how much my website is worth now. I used a website called worthofweb which is free.

Worth Of Web Rank scores a website comparing it with the best websites in the world.
Here is the result: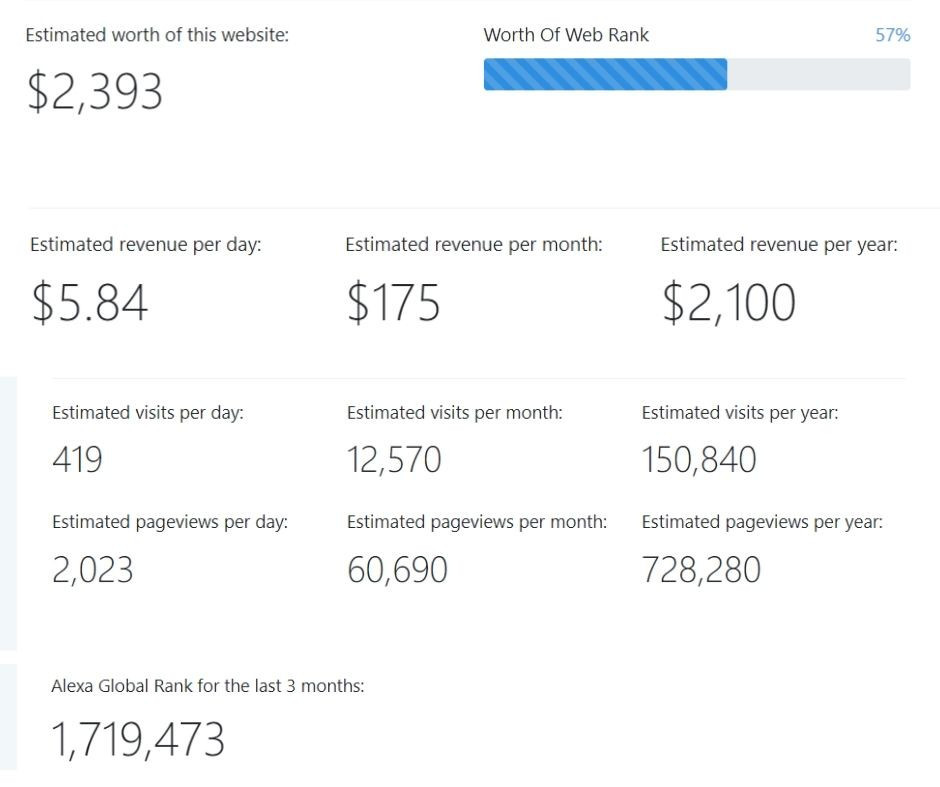 *Just to make it clear -
There are different calculators out there so the estimates may differ from what type of calculator you use and what metrics they use to calculate.
So the real Value of a website will only show when you actually sell it to someone.
I am not planning to sell my website at the moment, but I might do it in the future.
It feels good to know that the content I have put out have helped increased my website value and it feels good to know that my website have potential to increase in value over time.
A website is an asset. It will grow in value.
If I never had started here at Wealthy Affiliate I would never have created a website and I would not have learned how to create content and work with Keywords and SEO.
Wealthy Afiliate have given me lots of value back something I think this estimated website value shows.
So to all of you who are thinking of starting learning with Wealthy Affiliate there is only one thing to say:
Just sign up to the Wealthy Affiliate bootcamp today and start your free training now
Just do it - It is worth it if you do not give up
😊😊😊😊😊😊😊😊😊😊😊😊😊😊😊😊😊😊😊😊😊😊😊😊😊😊😊😊
HildeRegine's Posts
254 posts