How long has it taken you to earn what you earn?
How long has it taken you to earn what you earn?
Last Update:
June 19, 2021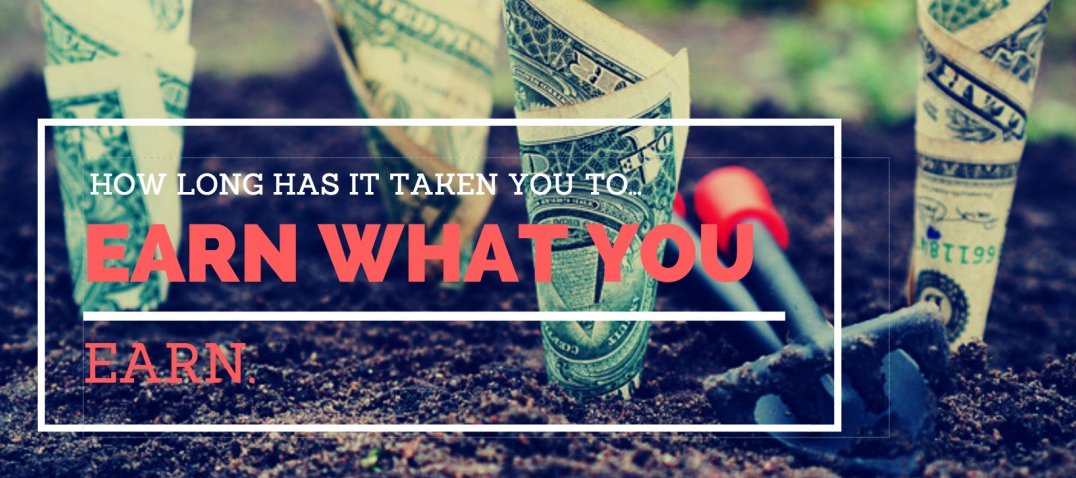 One of the most common questions I hear from aspiring entrepreneurs is...
"How long does it take you to earn money?"
OR
"How long did it take you to go full time online?"
Personally, it took me around 3 months to make my first income online...and close to a year actually before I really had a handle on what I was doing and 2 years before I completely was running a self sufficient business.
2 years, a long time right?
WRONG. COMPLETELY WRONG.
If you are working a job, how long have you been working that job. Say you have been working at your place of employment for 10 years and you are earning $60,000 per.
It has taken you a full 10 years to get to $60K per year. And maybe if you work another 10 you will get up to $70K...or even $80K.
Big deal.
That is 10 years.
What if you took a year, invested it to yourself and your business online. What could you accomplish?
A LOT.
What if you decide to spend 4 years at this instead of going to school for 4 years to get an education that will likely be useless when you come out of University? Imagine what you could accomplish in 4 years working for yourself.
EVEN MORE!
So the next time you go to ask someone how long it took you to earn what you earn, think of your current situation and think about how long it has taken you to get into your position you are in now.
If you are 40 and you make $40K per year. You have spent 20 years (post high school) of your life working to reach a salary of $40K.
Why not take some time to yourself and see what you can accomplish. A lot can happen in 6 months...a year...2 years...5 years...online. You just need to do it!
I just wanted to mention before I leave you today that if I gave up in my first few months online, I would not be where I am at today.
I have been full time online for the last 15 years, working from wherever in the world I like, truly enjoying the freedoms and the lifestyle of the Internet.
A month, even a year is a blip in time to invest into yourself and your business. If you put forth the effort, the sky is truly the limit and you not only have the education and the tools here at WA to take you to any level you want online, you have an incredible amount of expertise to "lean on" every step of the way.

I would love to hear your feedback on this topic and if you have any comments, questions, or stories to share, please leave them below.