Recovering From Surgery (Update on Personal Life)
Recovering From Surgery (Update on Personal Life)
Last Update:
July 19, 2021

Hello, my wealthy affiliates! Today was a very eventful day so I haven't had time to follow some of you back like I said on my last post. When I was younger, I was born with a birth defect on my ears that caused the tops of my ears to be flat. It's actually more common than I thought. I had this for my whole life and after much consideration, I decided to get my ears fixed with plastic surgery. ( it was actually one of the only surgeries Ive ever needed or wanted to do apart from getting my wisdom teeth removed.)
Basically, it was an exciting and slightly nervous experience because finally my ears were going to be normal but I also had the irrational fear of never waking up again.
For those of you who are curious to know what being "knocked out from anesthesia" is like, I'll give a basic description that derives from my personal experience. After the IV is injected, you might stubbornly try to keep your eyes open only to find they close for longer periods of time as the seconds pass by. Then BAM! You literally feel like you're teleported to the recovery room with the snap of a celestial finger.
When you wake up in the recovery room, you feel pretty exhausted and have to rest for a few minutes until you get some strength back.
So after that, a family friend picked me up and drove me to my house. I have this huge cast over my head that I'm supposed to keep on my head until Wednesday. Recovery from surgery should take 8 to 10 days from now and I'm looking forward to witnessing the results.
Below is a picture of me resting at home earlier this afternoon , waiting for the pain killer to kick in. I'm feeling a lot better tonight.
Please send me good thoughts and positive vibes :)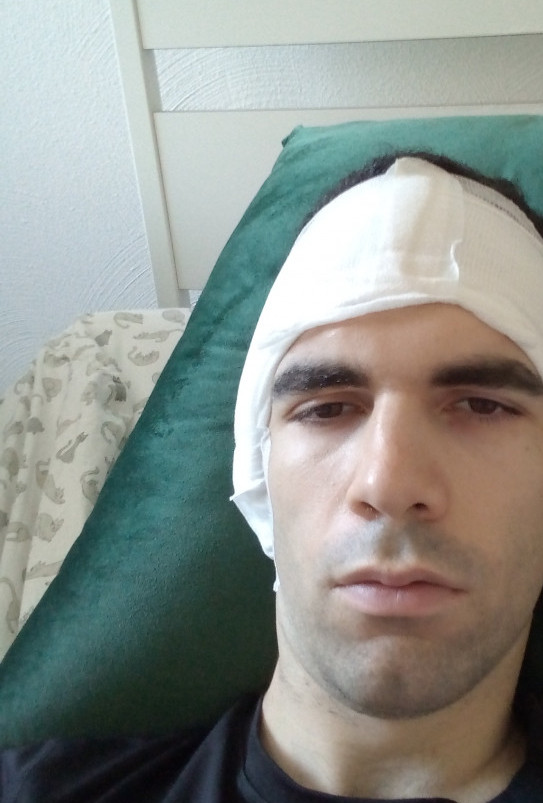 GabrielJ2021's Posts
32 posts