I Discovered An Amazing Offer To Starter Members
I Discovered An Amazing Offer To Starter Members
Last Update:
April 13, 2021

Hello fellow WA members, I discovered something amazing on the WA site recently and want to share it with others. A caveat first. I have not been active on the WA Platform like I used to be and may have missed a possible announcement of this offer. If so I apologize for the duplication.
I created a new blog post that discussed the WordPress Block Editor. To help my viewers learn more I decided to add affiliate links to the Block Editor webinar series Jay gave in September 2020.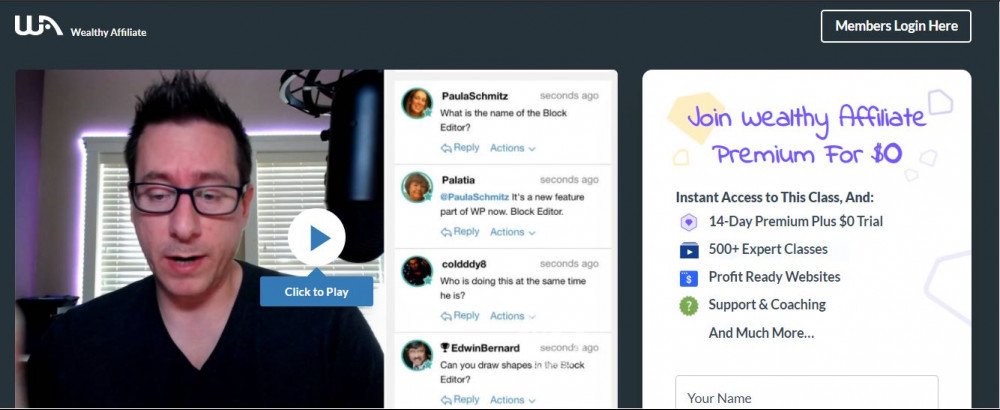 Just for fun I used Google Chrome in Incognito mode to see what would appear when I entered my affiliate links. I used this process so that WA would not think I was already a member. If you try this in the regular browser, WA will take you directly to the webinar on the website and you would miss seeing this offer.
I placed what I discovered in the header. Notice what the offer is. Anyone who clicks the affiliate link to the webinar can have access to Premium Plus for free for two weeks. This means they can actually watch the webinar and more within that two weeks period.
Of course, they have to sign up as a starter member first. Just think, You will have two weeks to communicate with your referral while they have Premium Plus access. The irony is if you are only a Premium member yourself, your referrals will have more access than you do in that trial period!
This is a brilliant move by WA. First, it does not tee off those who click your webinar affiliate link when they find out they need to pay for Premium membership to watch it like it used to be. Now they can watch the webinar and are able to make an informed decision to upgrade to Premium or Premium Plus before their two week trial period ends.
This opens up a whole new world to market WA to those who need what WA has to offer to help them build their online businesses. Needless to say I am going to take full advantage of this situation in adding more posts to my MMO website that is designed to promote Wealthy Affiliate.

I'd love your feedback on what you think about this option. Especially if you have been using it and the kind of results you have been receiving.

Cheers!

Edwin Bernard

Sorry I have not used pretty pictures to illustrate my post. Too busy working on my website.
Note also that the webinar links do not allow joining as a starter member. This two week offer is a new experoment WA is trying out per Kyle in his comments bellow. Please read what he wrote.
EdwinBernard's Posts
239 posts