I'm back! Long time no see!
Last Update:
April 27, 2021
It's been a while since I blogged here at Wealthy Affiliate. It actually seems longer than January.
That's not because I've been idle, anything but.
Since the start of the year I've made some major changes to my online operations and have also been helping my partner with her website, which is in the real estate niche.
Change of Domain
The changes on my own main site have been the main thing that has tied me down. The main one has been a change of domain. I finally decided that it was the right thing to do because my original domain name, which was eponymous, wasn't contributing to the relevance of my site.
On top of that, because my site didn't really start off as a pure MMO site, there were legacy posts which diluted the relevance of the site niche.
I decided to change the domain name from dkohara to the make money online thing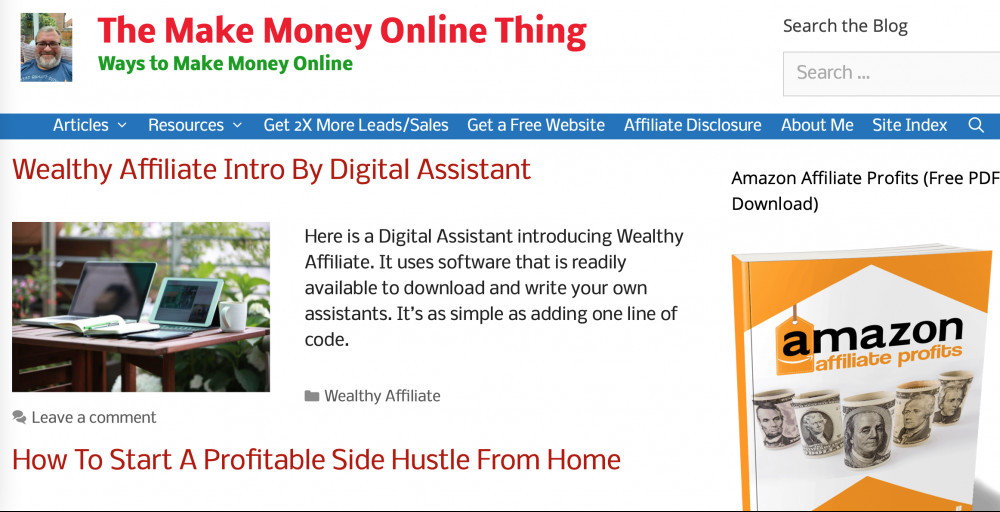 At the same time as I transfered all the posts and content over, I archived all of the legacy posts that were not strictly in the MMO niche.
This has led to a much more streamlined and focused site, but because it's a relatively new domain compared to dkohara, Google is not ranking it as high, so i've been super-involved in streamlining the SEO.
I've been using the tools at UberSuggest, run by the excellent Neil Patel. His site allows me to SEO-audit my site and i've managed a 99% rating, so it's as good as it's realistically going to get.
Building my partner's website
My partner's website has now gone live too (it was VERY time consuming and she's a bit of a perfectionist, so wouldn't launch until she was 100% happy). The site has an interactive form which produces a property valuation for potential clients and forwards queries to real estate branches, meaning she can pass leads to business partners.
All good stuff.
I've now embarked on writing a training course for affiliates, which will have 30 lessons on how to start a business from scratch. This is taking a while to research, but will be good for me in the end.
I'm not yet sure if i'll charge for the course. I have the option to do that, but I think it will be more successful if I lead people through the steps
Domain Name
Hosting
Autoresponder
Premium Themes
and monetize the site by referring them to affiliate versions of each, like Bluehost, GetResponse etc. I intend to collect email addresses at registration so I can build my list accordingly.
Busy, busy, busy.