YouTube Links in WA Blog Posts
YouTube Links in WA Blog Posts
Last Update:
March 26, 2021

So, there seems to be increasing use of YouTube videos within WA blog posts. As far as I am aware, at one point, it wasn't even possible to add a YouTube link. And it certainly seems to contravene the spam rules, which state:
Do not post content where your readers are required to go to an external website to "read more" or "watch". All of the content must be self-contained within the post itself.
So, wondering if the rules had changed, I asked Kyle in Live Chat. Please see a screenshot of his response below. I don't have any further information and don't intend to enter into any discussion on this, as to how to interpret what he said. Any further questions as to what is acceptable should be addressed directly to Kyle.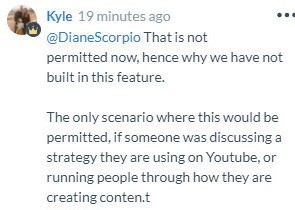 DianeScorpio's Posts
112 posts