What are Manual Actions in Search Console?
What are Manual Actions in Search Console?
Last Update:
May 27, 2021

So, there is a lot of information to be found in Google Search Console, and most of us probably only use half of its functions. One section you should check on a regular basis is that of Manual Actions. See the screenshot below on where to find it on the left-hand side of your console.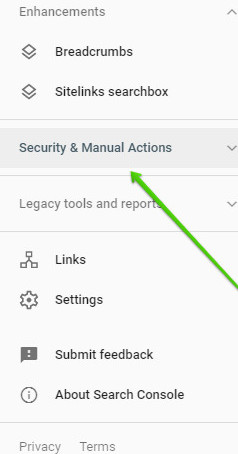 Having clicked on Manual Actions, you would hope to see "No Issues". If however, there is a report in there, then you have upset Google in some way!
So, what are Manual Actions? This is when a human reviewer has checked your website and found something that doesn't meet Google's Webmaster Guidelines.
This could be unnatural links to or from your site, or thin content, or keyword stuffing, or cloaked redirects, etc.
One thing that may be occurring on your site without your knowledge is User Generated Spam. This is when Google has detected that visitors have left spam on your site and you might not even know it! This can happen with your comments section.
Hopefully, you don't allow comments without moderation. You can often spot when a comment is spammy, as it will appear to be advertising a product or service or the content won't relate to your post.
However, spammers can be sneaky and have hidden links in their comments. These links do not change color as expected when you hover over the words, nevertheless, they could still be a link that Google can see.
If this is happening, then Google will have reported it to you in your Manual Actions section and you need to deal with it.
If you allow spam anywhere on your site, this could affect your rankings, so it is worth checking for it on a regular basis.
DianeScorpio's Posts
125 posts