How to Find Secondary Keywords
How to Find Secondary Keywords
Last Update:
May 03, 2021

So, as you know, keywords are an important factor for ranking. To remind you of the basics, use one primary keyword for each post and include it in the title, in the first paragraph, and perhaps once more as a subheading or in your conclusion. It should also be in your meta description and in at least one Alt Image tag, if it looks natural.
Now, this lets Google know what your post is about and if it answers the searcher's intent. However, you can give Google a few more clues and that is by the use of secondary keywords, also known as LSI keywords. So, how do you find them?
Simple - Google will actually tell you! Let's take a look at an example. I have chosen the keyword "why are dogs scared of thunderstorms".
All you need to do is put this in Google and scroll to the bottom of the first page of results. This will bring you to the Related Searches section. This shows you other examples that Google thinks will relate to your primary keyword. Simply select as many as are appropriate to your content and add them, but they must look natural, be grammatically correct and not forced.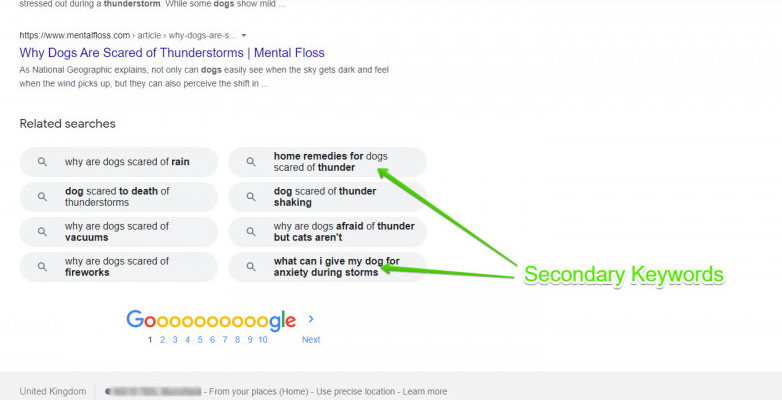 Take a look at the results from the keyword I have chosen. As you can see, there are a couple of secondary keywords that I would use. "Home remedies for dogs scared of thunder" looks good, and also "what can I give my dog for anxiety during storms". The second example would lead nicely to a product review.
As a bonus, you can also pop your choice of secondary keyword into Jaaxy, to see if it is worthy of being a primary keyword, and to write a specific post based on it. Hope this blog helps!
DianeScorpio's Posts
125 posts