National "All is Ours" Day!
Last Update:
April 08, 2021

My calendar says that today is "All is Ours" Day.
I had to stop and see what that was supposed to mean. It turns out, it is intended to seek positive, rather than negative, thoughts and ideas.
Well, being a positive realist, that's not too challenging most of the time. But then I realized that for many, it is more difficult.
So I thought this might be a good time to write about the incredible power of positive thinking and how it empowers us. In fact, you may not realize the way it influences your entire life.


"One small positive thought can change your whole day." – Zig Ziglar
Of course, we each face negative thoughts at some point in our days and weeks. What do you do when they happen?
I find that challenging that negative thought helps to break its power. Then, I choose to replace it with a positive one.
Sounds simple?
Yes, but not always, of course.
The process is simple. I refuse to allow the negative thought to have power over me, my work, or anything in my life. That's an important step. I look at the thought and tear it apart.
For instance, sometimes when I'm writing, I get interrupted and lose my train of thought. Yes, it just jumps off the track, onto a new one, and is lost. Gone. That inspiration I had? Gone with it.
It's easy to get frustrated when that happens. After all, I was writing with such speed, fueled by inspiration. And now, twenty roadblocks later, I can't even remember what the next word was to be.
I have two choices. I can get upset, maybe even angry. And honestly, that is probably the easiest reaction.
But the alternative is to make lemonade from lemons.
Right now, I have one of my beloved furkids begging for attention. And normally, that's not a problem. But she apparently went rolling into something rather unsavory when she was outside and now has the fragrance of... well, it's not roses, that's for sure! 😀
She is a darling Cavalier King Charles Spaniel. They have those eyes that just melt your heart. But I am not allowing her onto my lap. Not until she has her bath. Nope!
And so I am getting interrupted from writing this as she continues to prod me with her nose and tap my arm with one foot.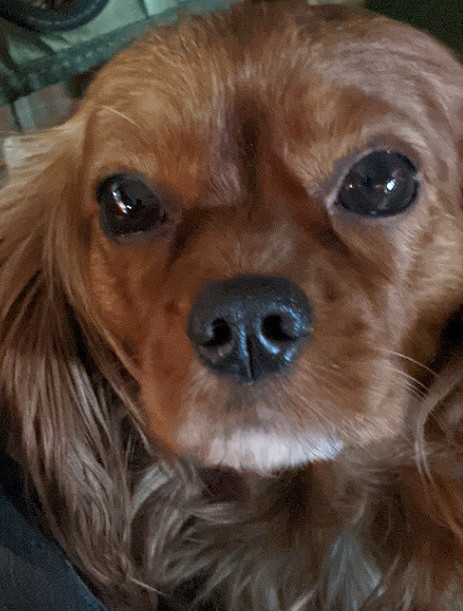 This is Victoria, very sad that she can't sit in my lap right now. But don't worry--I keep several seats next to me so each of the furkids can be near me at anytime!
Now honestly, this interruption is not going to make me angry. She's adorable and sweet. And it's certainly not her fault that she likes doggy smells that don't intrigue me.
But even if it did. I am reminded that I have such sweet furkids that have the power to interrupt me. And as soon as my daughter (who normally bathes the dogs) gives Victoria her bath, her not quite dry self will be wiggling in my lap once again. It's just the way it is.
The positive?
You are reading it.
This article had a much different slant before Victoria's approach. I don't even remember what it was now. But it's ok. I have a dog (well, several dogs) that love me so much that they want my attention and adoration. How wonderful is that?!
But back to the "All is Ours" Day--
I think every day should be a day to see the positives.
Yes, we do have work to do on our sites. But then, we are blessed to have those sites to work on and a training program to guide us.
Yes, sometimes family (including furkids) cause those random interruptions. But I am so thankful to have family and furkids always near.
Those times you can't come up with a good topic or keyword? I'm thankful for the WWW-- how I would have enjoyed access to all of this when I was in school!
The list is endless. And I think it should be.
Keep it positive all day, every day!
Happy "All is Ours" Day!
Make it your daily practice!
DianeK59's Posts
180 posts