Ninja Way To Get Unlimited Niche Ideas & Inspiration
Last Update:
July 13, 2021

Some of the most common questions I see new members asking are;
How do I find a niche?
Is my niche idea good enough?
Can I make money with my niche?
What type of content should I create for my niche?
...and can I see examples of successful sites in my niche?
So I've decided to put this quick blog post together to share a simple, yet "little-known" ninja technique for finding new niche ideas, gathering inspiration for new content & uncovering some of the most successful affiliate websites to use as live examples.
The best part?
It's completely free to do, requires no tools (other than Google) & can be done in 30 seconds.
So, how does it work?
Well, remember that if we become an affiliate of Amazon we need to add a disclaimer specifically to disclose our affiliation with Amazon that reads something along the lines of "As an Amazon Associate, I earn from qualifying purchases" or "This website is a participant in the Amazon Services LLC Associates Program"?
This means that we can simply use a phrase match search in Google to easily find websites that are affiliated with Amazon... And more importantly, if we couple that with an additional keyword, we can find affiliate websites that are related to our interests or passions.
Or, to be honest, we can find affiliate websites related to ANYTHING at all.
For example, if I decided I wanted to create a niche affiliate website related to teabags, I could simply search for: teabags "as an amazon associate" (as shown below):

And guess what?
Straight away I'm presented with 2 niche affiliate websites related to teabags: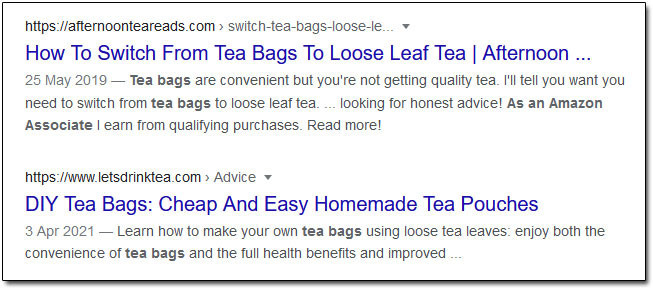 Pretty simple, right?
And this means that not only can I now check out those sites to see live examples of what a successful site in my chosen niche may look like, but I can also use them to gather new content ideas & potentially discover other lucrative affiliate programs related to my niche.
So if you've found yourself struggling to think of a niche idea or struggling to think of new content ideas for your existing website, hopefully, this little trick will help you out :)
Just remember - taking inspiration is fine, but copying is not. Use this trick responsibly.
And to leave you on a quote;
Affiliate marketing has made businesses millions and ordinary people millionaires.
So now with this trick, you have no excuse to make it happen 😉