Be Sure To Accept Your Commissions (Don't Lose Them!)
Last Update:
May 07, 2021

You are here at Wealthy Affiliate because you want to earn commissions, right?
And you're working hard on the training to begin generating them...
So why, when the commissions arrive, would you reject them?
The answer is, you wouldn't... (I hope).
But sadly rejecting commissions is a mistake that I see many newcomers making.
They put in all of the hard work & then when the commissions begin to arrive, they reject them... And continue to reject them, without even knowing that they're doing it.
You see, when you add content to your website, search engines discover it & they list it within their search results, which gives you the opportunity to begin getting visitors.
And that's a pretty powerful thing.
That means the search engines literally have the power to provide you with unlimited amounts of revenue. They can send you as many visitors as you desire, all for free.
So ask yourself this...
If your website is relatively new, then WHY should the search engines do that?
WHY should they send you all of those customers, to help you make all of that money?
Are you going to help them in return by regularly providing them more helpful content?
Or are you just going to shut down your website & disappear?
You see, the trick to achieving MASSIVE success is simply proving to the search engines that you're in it for the long-haul & that you're actually going to help them, if they help you.
But sadly, all too often I see people coming to Wealthy Affiliate, creating a website, pumping out content & then disappearing just as the search engines were about to return the favour.
They think that "it's not working" but by the point the search engine starts sending them visitors, their website is now offline - meaning they're rejecting all those potential customers.
More importantly, they're rejecting all of those potential commissions.
They worked SO hard for it & they disappeared without taking their rewards.

Thankfully, one of my referrals didn't: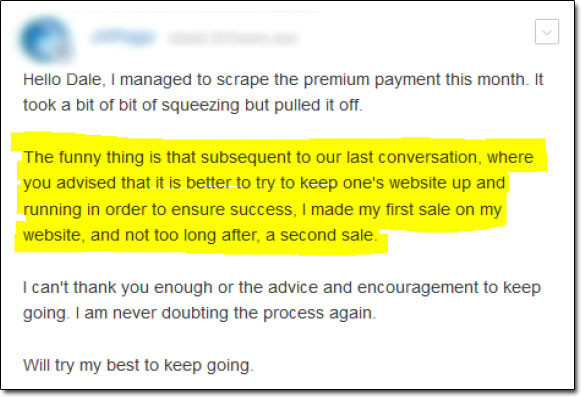 Instead, he took my advice to as an absolute minimum keep his website online.
And shortly after, as you can see - his first commission came through, and then his second!
How amazing is that?
I mean I totally get it. Sometimes financial hardships happen & it can feel like the "easy option" to cancel your membership... But I urge you to find an alternative.
As an absolute minimum, do whatever you can to keep your website online.
Don't reject your commissions!
And on that note, with the Yearly Membership Deal currently being active there has never been a better time to take advantage of it & make sure that your website(s) stay online for the full year ahead, without having to make any additional payments whatsoever once you've secured it.
One payment, job done for an entire year... With the benefit of massive savings.
AND the benefit of proving to the search engines that you're in it for the long-haul so that they'll begin to rank your content & so that you can begin to earn those commissions.
So make the decision. Accept those commissions.