Completed a Year at the Wealthy Affiliate - Earned a Dedication Badge!
Completed a Year at the Wealthy Affiliate - Earned a Dedication Badge!
Last Update:
January 30, 2022

Hey, I am Lula

First off, a New Accomplishment One-Year Dedication Badge Earned!
Before joining the Wealthy Affiliate platform, I knew affiliate marketing. But I decided to enroll to promote the Wealthy Affiliate program, i.e., The Affiliate Bootcamp.
I used to spend awful long hours on the platform; I shot myself in the foot with that activity. I realized to attain results; I need to change my strategy.
I went deep in quiet mode writing content for my interest niche site; now, I have published over 100 + posts. And I have made my first sale. My site is monetized, ready to rock and roll.
One year has passed, and I made very little progress on the Affiliate Bootcamp. However, after receiving sound advice from the Wealthy Affiliate community, I can finally go in quiet mode and publish acceptable succinct content adequate to the Make Money Online niche.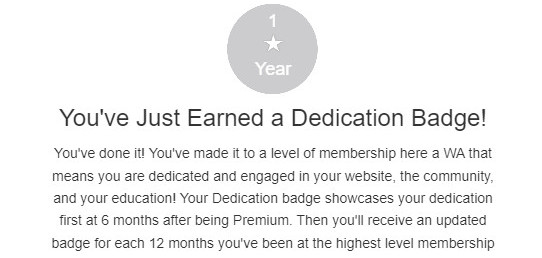 I also have a couple of sites concerning rodeo shows and small towns' close-knit communities currently on the backburner.
Outside of the Wealthy Affiliate, I continue to support my family businesses to help grow our ranch; building projects are underway.
On a personal level, I have depression. However, that will not stop me from accomplishing my goals.
You can read up my previous blog posts
Six Months In With The Wealthy Affiliate And Progress So Far
Let me know how's your business aspirations have been so far. Are you winning?
I would really love to learn more about you, and if there's anything specific you want, kindly comment below, and I will try to reply to the best of my understanding.
Thanks, y'all - Wishing you well, continued success, and a terrific day!
Lula
@CountessCtry
The Country Countess
CountessCtry's Posts
28 posts