I made a HUGE mistake!
Last Update:
November 19, 2020

Yep! I gotta own it!
Huge!
Major!
Serious error!
Can't believe it!
I didn't follow my own advice!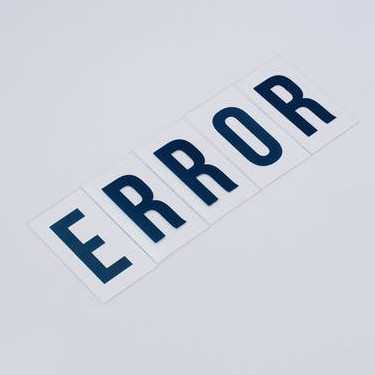 What on earth was I thinking?!
How could I do such a thing?
And now you're wondering just what in the heck I did!
I STOPPED
Well more like stepped away. I was AWOL!
But it was a huge mistake!
Writing is a skill and art that must be practiced!
Especially when you're writing for a purpose as we do on our blogs, these posts. We have to be able to connect with people throughour writing. And that's hard to do when you're not writing regularly. Oh, I've been writing. Business plans, proposals and contracts, but it is absolutley not the same thing - and nowhere near as fun or cathartic as writing here. When I started, I wrote a post daily. My laptop was at the kitchen table and I would write while I had breakfast. It was my WA time. Of course, it was usually nearly lunch time when I stopped and went on to other things. I made the mistake of taking action for progress and I got wrapped up in rankings. Just a hint for the new folks... don't worry about it. It doesn't reflect how much you know or have learned. And it sure doesn't feed your bank account. I've gone from the top 10 to... what is my ranking today..... 4k????? Not a big deal, but it used to be. It was validating and it enabled me to become seriously engaged. But I mistook being engaged with progress. Yep! Another mistake!!
When you step away from the fire, you get cold!
I have friends here and I value those relationships dearly. With all that's going on in the world right now, I don't know about you, but I need those more than ever. I've truly missed my friends around the world!!! And worse, I have not been available for my friends when they may have needed support. I hope you will forgive me.
Learning is never a bad thing
And the only way to learn is to be engaged. You have to be actively involved. Back in the day, the learning model I used was 'tell, show,do'. I would discuss the concept, demonstrate it and then let the students do it, guiding as needed. It works, but again, you gotta have hands on and work with it to learn this stuff. And there's always more to learn.
Must be present to win!
You can't win the game sitting on the bench. You have to have the football to score the goal. Bad sports analagies aside,there is simplly no substitute for being present. You can't wish to succeed. It takes effort, time and then more time. It takes practice, and then more time. There's just no way around it!
I miss this community and my WA family!
Y'all don't realize just how special this goup can be and is. There are people who have been a part of my journey within WA and who have become a part of my life. I'm the kind of person who keeps that inner circle kind of small, so for me, this is huge! And while several of us have connected on FB,it's not the same thing. We are of like minds entrepreneurially. And while our backgrounds and interests are varied and we live literally around the world. I appreciate hearing what is really going on around the world from friends rather than the 'news'. I have come to care deeply about many of the folks here and my life has become so much richer and better for them being a part of it. I don't want to lose this, so if you're among my people, you had better let me know how to reach you outside of WA because I seriously don't want to lose you!!!
Just when you thought you've learned it...
Things up and change! Dammit!! Even the format of WA. What the heck?!!! It's like starting over in the format. Plus, this industry changes and advances more by the minute. I will never know it all and as much as I've learned this past year, I know I have oh so much more to learn.
There is so incredibly much knowledge here.
It's like being a part of a virtual university of experts who had been there, done that, got the shirt - and the success that goes with it. You become a reflection of the 10 people you hand out with. With everything going on right now, virtual counts and the people here are amazing. Generous with their knowledge and experience. They know more than I can ever learn. And they have created a path that I can follow. I don't have to recreate the wheel.
So, yeah!
Even stepping away for a little while was a big mistake!!!
So learn from my mistake! DON"T DO IT!!! Stay!
Be here a year from now!
Stay engaged and keep writing!!!
But most important, stay well!

Hugs and howdy's from San Antonio!

Christine

CMKetay's Posts
189 posts