The Gift That KEEPS ON GIVING - How Wealthy Affiliate Changed My Christmas Season
The Gift That KEEPS ON GIVING - How Wealthy Affiliate Changed My Christmas Season
Last Update:
January 03, 2022

My 2021 Chinese Lantern Wish
---
Once we are in Trinidad, we spend our Christmas Season with our friends and family on the North Coast of the island. There we enjoy some of the best natural environments close to the sea, hiking mountains, following river courses, sharing recipes, drinks, laughter, memories and creating new experiences to take with us into the future.
A New Year's early morning tradition is to light Chinese Lanterns and send them into the sky with our dreams and wishes for the year ahead.
At 12:41 AM on 2021's New Year's morning, one of my wishes was to get my online business to a profitable place so I could have more time to enjoy myself with my daughter.
In 2020, I made a lot of sacrifices and worked many long, 18-20 hour days. We were also in the belly of the pandemic and the year proved to be a heavy one. I wanted to come out of 2021 with more of what I value most - time - to invest in our growth and relationship.
My Income High In 2021
---
In March of 2021, I booked 1 year of contracts for my online services business that propelled me into the 5-digit income arena. It was an exciting time and I continued with my efforts to turn night into day and make good on these contracts.
By June 2021, after 20 months of consistent building, I could see a 6-digit income on the horizon. It was clear to me how my year would end and I kept going.
My brand, Cassi Of Troy, was gaining greater engagement and my marketing efforts were more targeted. My experiments with Social Media was paying off and rather than reaching out to prospective Clients, they were now reaching out to me.
My strategy was working.
Time Is My #1 ROI
---
As much as I am enjoying the income from my online business, my #1 reason for doing this is time.
Time to live life on my terms.
Time to shape my lifestyle to suit me.
Time to invest in my daughter and her education.
Time to spend with friends and loved ones.
Time to develop and coach others.
Time to get more involved in my community and help where I can.
But not just any time.
Establishing an online business gives you the time to step away and grow your business in the process - once you have invested well and structured your business to do that.
How Passive Income Works
---
While Affiliate Marketing is not yet a major contributor to my revenue, it is growing steadily and it is consistent income.
During the end of November and December 2021, I took some time off to enjoy the Christmas Season. Yet, my income sources never dried up. Actually, they continued flowing and even grew in some cases.
Here in Wealthy Affiliate, (WA), it kept flowing.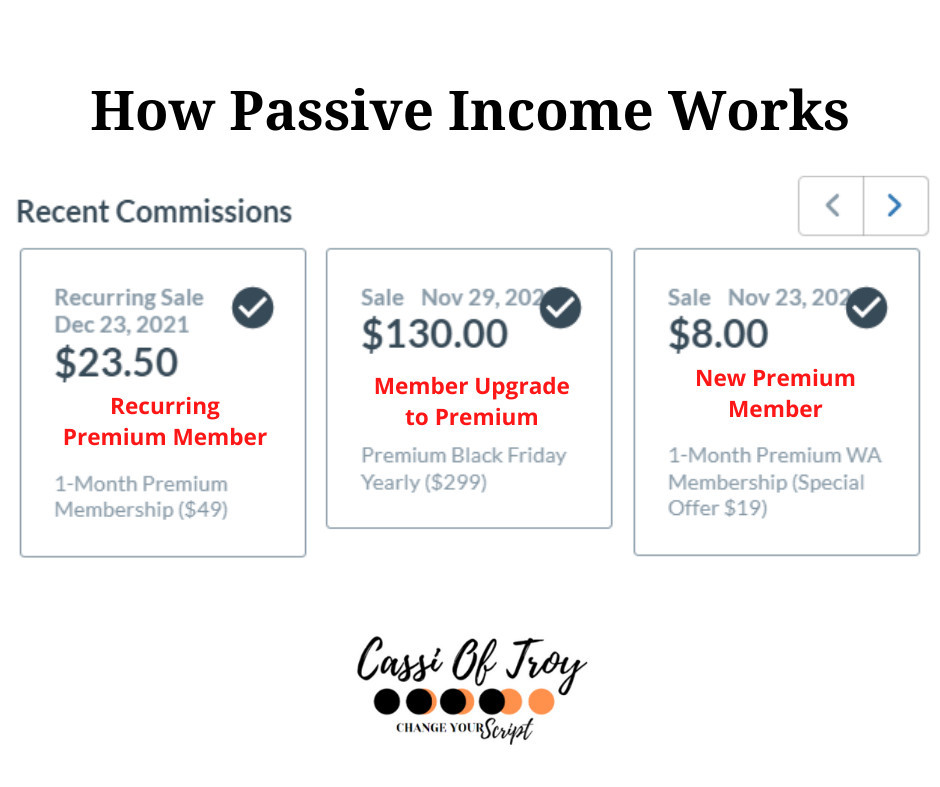 I am back from my time away and just slipping onto the block I was standing on prior. Nothing lost and even some gain. There is no other profession that offers this much flexibility and opportunity.

WA University Junior
---
2022 marks my 3rd year at WA University and I intend to use my Junior and Senior years to grow my Affiliate Marketing revenue and establish myself as an authority and serious player in the profession.
January to October will be intense months and, once I achieve my goals, I will be enjoying another Christmas Season - on my terms.
I wish each one of you a remarkable and memorable year ahead!!
Remember: If you are not where you want to be you can always Change Your Script.
Cassi
---
DISCLAIMER:
In 2019, I became a member of Wealthy Affiliate and started learning how to build my online business. Today, I not only manage my own successful online portfolio but I also manage portfolios for others. In addition, I train and coach other online professionals. I enjoy good, consistent income from my online investments and am now scaling up my business to enjoy greater revenue and more time to shape my lifestyle on my terms.
CLICK HERE to get started today, if this is a gift that you would like to enjoy as well.

CassiOfTroy's Posts
325 posts